The recent downturn in the market has provided us with one of the most sobering pieces of analysis. It will help us with a strong footing and conviction for more than a few long and fundamental positions for analysis. For many firms across the board, nothing has changed in terms of fundamentals. During the last few weeks, the only factor changing has been price, causing increased cheapening. Wynn Resorts (NASDAQ:WYNN) is one of those firms where the fundamentals have not changed in any way, shape or form.
For some clarification on the people who are going to scream, "Las Vegas is a dying place", I would like to point out that as of its most recent 10-Q, WYNN has generated TWICE as much revenue from Macau than it has from Las Vegas. Although critics have recently spoken about a global recession and the slowing of the Chinese market, evidence of this recession is hardly ingrained in the revenues WYNN is generating from Macau. In the 3 months ended in March of 2010, WYNN generated $590,647,000 while in the same quarter for 2011 WYNN generated $865,682,000. This figure clearly shows that even if China GDP is "slowing", the upper class in China is not slowing any of its gambling.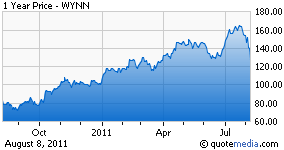 The most recent quarter for WYNN shows that the company generated $10.96 in revenue per share and $1.71 in operating income per share, compared to a year ago figures of $8.28 and $1.16 respectively.
If you average the growth rate in revenues per share over the last 5 quarters, WYNN is growing its revenue at a rate of 7.69% per quarter. This substantial amount of revenue growth has shown clear signs of not letting up any time soon. The current P/E ratio of 43 sounds expensive, but when you compare this ratio to WYNN's 3 largest competitors, WYNN has the second lowest ratio only to LVS.
The long term growth prospects of WYNN remain intact and will continue to provide investors with a generous upside potential pending no black swan events.
Disclosure: I have no positions in any stocks mentioned, but may initiate a long position in WYNN over the next 72 hours.