Here we offer an interesting way to find companies that have recently outperformed in a persistent way. Although past performance is no guarantee of future results, winning streaks may indicate upward momentum and positive sentiment.
We compiled a universe of rumored takeover/leveraged buyout targets from various sources including Seeking Alpha and Wall St. Cheat Sheet. We then screened this universe for stocks that have seen a persistence of days in which the stock beat the S&P 500 benchmark over the last month and little persistence in underperforming the S&P 500, i.e. long winning streaks and short losing streaks, as measured by a ratio of the longest winning streak to the longest losing streak.
Interactive Chart: Press Play to compare changes in analyst ratings over the last two years for the top six stocks mentioned below. Analyst ratings sourced from Zacks Investment Research.

We also created a price-weighted index of the stocks mentioned below, and monitored the performance of the list relative to the S&P 500 index over the last month. To access a complete analysis of this list's recent performance, click here.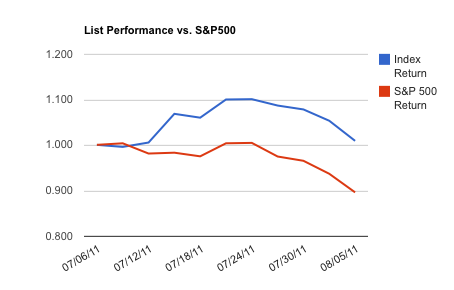 To access the complete list of takeover targets, click here.
Do you think these companies are likely takeover/LBO candidates? Use this list as a starting-off point for your own analysis.
List sorted by win streak/lose streak ratio.
*Price data sourced from Yahoo Finance, all other data sourced from Finviz.
Disclosure: I have no positions in any stocks mentioned, and no plans to initiate any positions within the next 72 hours.