The top ten sectors now show a risk-off stance in the market. Bonds are clearly outperforming equities at the moment, along with precious metals, gasoline, and utilities. Retail also made the list, but at the moment I consider this an outlier.
The economy is clearly weakening by any reliable measure and the market is starting to reflect the dissemination of this knowledge throughout the public. A bearish to market neutral stance seems to be the best choice at the moment given the uncertainty in the marketplace and the current high risk-to-reward ratio.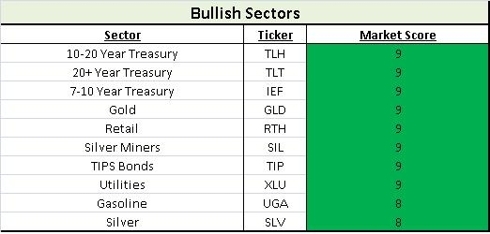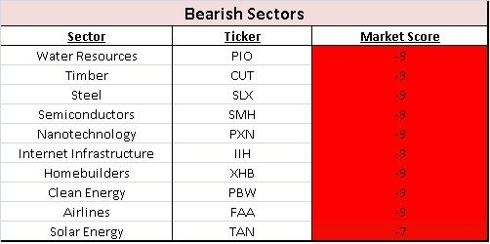 click to enlarge
Looking at the worst ten sectors can also help us in our mission to predict the future direction of the market. The first thing that stands out to me is that the semiconductors, homebuilders, and steel sectors are all having a hard time recently. This isn't a good sign for the US economy. Homebuilding and construction are still in a supply glut. Until the country's excess capacity is sold off, jobs will not return to these sectors and will continue to weigh on unemployment. The timber industry is experiencing the runoff from this situation.
Also, technology has been one of the bright spots in the US since 2009, but seeing semiconductors on this list is not promising for the tech industry going forward. Barry Ritholtz, chief executive of FusionIQ, says the "U.S. slowdown is starting to accelerate." Check out the video here.
So, is he correct? Now, we'll take a look at our business cycle chart and see if we can decipher where exactly our economy is at in its current phase.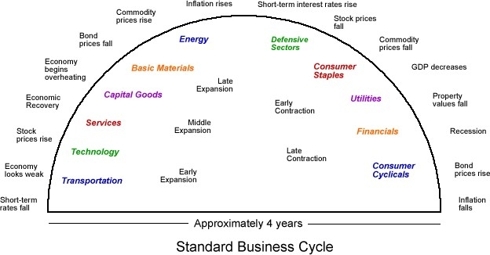 This graph details the standard 4 year business cycle. There are a million other variables that influence the length and course of a business cycle such as government and central bank policy, other larger degree cycles, and how quickly information is transmitted. However, understanding the business cycle is incredibly helpful in making financial forecast.
Currently, we are seeing bonds and utilities easily outperforming other sectors and defensive sectors such as consumer staples and food & beverages are not far behind. Stock and commodity prices have started to fall and short-term interest rates have started to rise. In my honest opinion, we are now in the "early contraction" phase of the economic cycle. More details to come later.
Disclosure: I have no positions in any stocks mentioned, and no plans to initiate any positions within the next 72 hours.