Sometimes it's worth looking at the glass half full. While it has been a very tough time for stock investors, particularly over the last few trading days, it has been a fantastic time to be an investor in U.S. Treasuries. Lately, they've been unstoppable. Even the first credit rating downgrade in U.S. history was taken fully in stride, as Treasuries rallied sharply on Monday. Given the recently strong gains, how much further can we expect U.S. Treasuries to rise from here?
U.S. Treasuries are now overbought and face some potential resistance going forward. A look at the yield curve illustrates this point. For the charts below, when the yield goes lower, this means that the price goes higher. As a result, everything on the charts should be viewed upside down.
We start at the short end of the yield curve. The 2-Year U.S. Treasury yield broke through the previous low yield of 0.33% set in November 2010, and now stands at 0.27%. While we could see 2-Year yields continue lower, the room for further movement is limited at current levels. (Related investment allocation: iShares Barclays 1-3 Year Treasury Bond ETF SHY)
(Click charts to enlarge)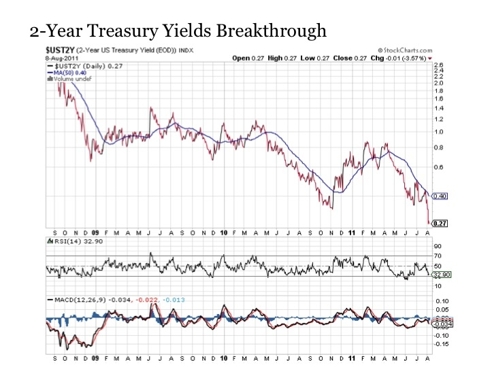 Click to enlarge
Moving out on the yield curve, the current 5-Year Treasury yield at 1.11% is still above the previous November 2010, lows at 1.04%. Given that yields are well below their 50-day moving average and technical indicators are already running at peak levels, the 5-Year Treasury yield may be hard pressed to break below 1.04% barring some financial calamity breaking out in the near-term. (Related investment allocation: iShares Barclays 3-7 Year Treasury Bond ETF IEI)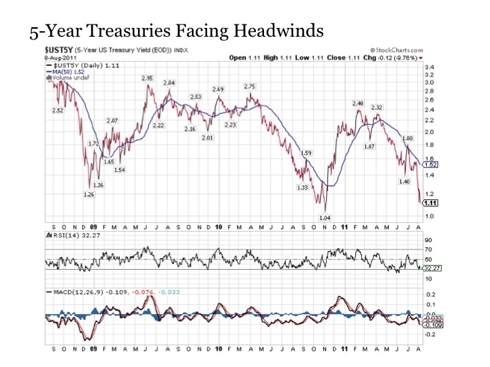 Click to enlarge
A similar story can be told for the 10-Year Treasury. As of Monday, the 10-Year Treasury yield stood at 2.40%, effectively matching the recent low levels set in October 2010. With technical indicators running hot, we may be reaching a juncture where 10-Year Treasuries may be set to pull back. However, this is still 32 basis points above the post crisis low yield levels reached back in December 2008. Thus, if 10-Year Treasury yields were to break decisively below 2.40%, the next level would be 2.08%. (Related investment allocation: iShares Barclays 7-10 Year Treasury Bond ETF IEF)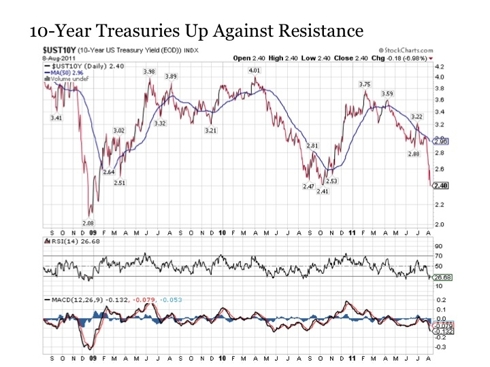 Click to enlarge
The final stop is all the way out on the curve. The 30-Year Treasury yield has quickly shifted down below the 4% level and currently stands at 3.68%. This is still 16 basis points above the recent low yield levels of 3.52% set back in late August 2010. And with 30-Year Treasuries appearing overbought and trading at peak momentum levels, further upside may be limited in the short-term. However, if the 30-Year yield breaks decisively below 3.52%, the next stop would be the historical low yields of 2.53% set in December 2010. Increasing concerns over a global financial crisis would be the likely catalyst to spark such a move lower in yields. (Related investment allocation: iShares Barclays 20+ Year Treasury Bond ETF TLT)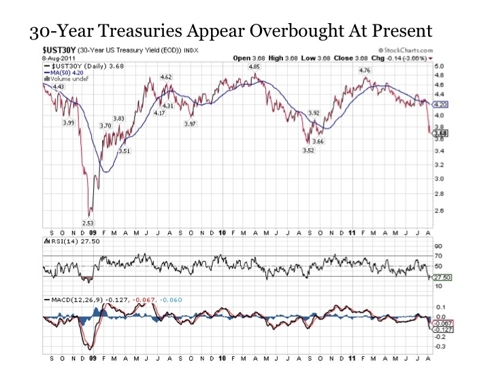 Click to enlarge
Bottom Line – The U.S. Treasury market has had a great run and has been a welcome bright side for investors grappling with a gloomy stock market. But Treasuries now appear overbought and are up against some technical resistance. As a result, a pullback or consolidation of recent gains is likely in the near-term. However, U.S. Treasuries remain a safe haven for investors. Thus, if concerns over a global financial contagion were to continue to mount, another leg lower in Treasury yields (and leg higher in Treasury prices) is more than likely.