The preferred stock market is dominated by financials. Overall, the financial sector makes up roughly 85% of the entire preferred stock market. And given renewed fears of a global financial crisis in recent days, these financial preferred stocks have taken a beating. But what about the remaining 15% of the preferred stock market that exists outside of financials? These have been delivering solid outperformance while offering attractive trading opportunities along the way.
In past posts I have introduced a variety of non-financial preferred stocks worth considering for a Post QE2 market environment. These have included the following, all of which I currently own:
Alabama Power 5.875% (NYSE:ALM)

NextEra Energy 7.45% (FGE)

Xcel Energy 7.60% (XCJ)

Dominion Resources 8.375% (NYSE:DRU)

Entergy Louisiana 5.875% (NYSE:ELA)
While all of these non-financial preferred stocks have traded lower in recent days, the magnitude of the decline is a small fraction of that of the broader preferred stock market. For example, preferred stocks as measured by the iShares S&P U.S. Preferred Stock Index (NYSEARCA:PFF) have declined by -15% over the last three trading days. However, each of the preferred stocks listed above have declined by -6% or less. This includes Alabama Power 5.875% down less than -1%, and NextEra Energy 7.45% down less than -3%. Thus, these non-financial preferred stocks are delivering the relative portfolio defense anticipated heading into the Post QE2 period.
The incremental declines we've seen in these non-financial preferred stocks has also opened up good trading opportunities to buy up these positions on short-term sell-offs. The trading activity in Alabama Power 5.875% provides an ideal example. [Click to enlarge]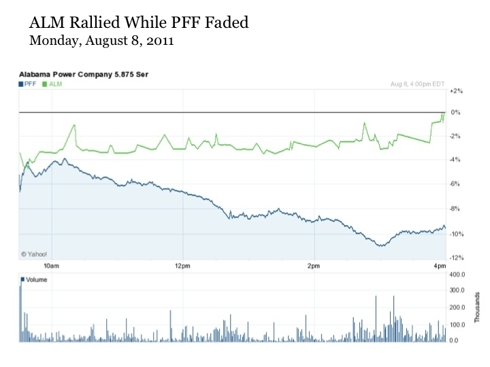 At the open of Monday's trading, Alabama Power 5.875% (ALM) was down -4% while the iShares S&P U.S. Preferred Stock Index ETF was also down -5%. Given the heavy volume of PFF traded at the open on Monday, it seems that investors started the day by dumping their broad preferred stock ETF exposure. And given that ALM is a constituent of the PFF, this likely placed at least a considerable degree of downside pressure on ALM at the open.
But for the rest of the day, ALM steadily climbed while the PFF continued to sell off. By the end of the trading day, PFF ended down -9.51%, while ALM closed incrementally positive at +0.08%. Thus, those investors that stepped in at the open and purchased shares of ALM in the $24.10 to $24.50 range were rewarded with a +4% to +6% gain on their position by the end of the trading day. Adding to the appeal, investors also seized the chance to purchase a security at a discount to par and can benefit from the stable yield from here on out until the security gets called.
Attractive trading opportunities like these, to purchase high quality non-financial preferred stocks at sudden discounts, can present themselves at times during periods of market turbulence like today. And while they may not always work out as well as ALM, the chance to snatch up an attractive yielding name at a short-term discount is reason enough to set aside some time to scour this area of the market during the trading day.
This post is for information purposes only. There are risks involved with investing including loss of principal. Gerring Wealth Management (GWM) makes no explicit or implicit guarantee with respect to performance or the outcome of any investment or projections made by GWM. There is no guarantee that the goals of the strategies discussed by GWM will be met.