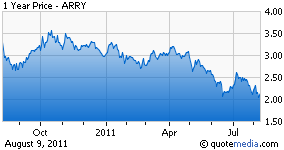 Not everyone had bad news on Monday, although it wasn't until after the markets closed before some in the healthcare sector experienced any traction.
After hours, Array BioPharma (NASDAQ:ARRY) said it signed a deal worth up to $685 million with Genentech, a unit of Roche Holding AG (OTCQX:RHHBY) , to develop cancer compounds, sending Array's shares to 2.23 up 0.18 (8.78%) in post-market trading.
Company officials said that Array will get an upfront payment of $28 million and will be eligible to receive clinical and milestone payments of up to $685 million and up to double-digit royalties on sales.
At the same time, the firm reported results for the fourth quarter and full year of fiscal 2011. It was during this fourth quarter that Array narrowed its proprietary development focus to four core clinical programs including two hematology drugs: ARRY-520 for multiple myeloma and ARRY-614 for myelodysplastic syndromes. The re-newed focus as well as some insider buying caused us to take notice of the stock in late June. Shares climbed for a couple of sessions after we noted the bounce from previous bottoms, but they did not hold up. They had been trading higher again in recent days, but then market conditions pulled everyone down.
It will be interesting to see how investors in this terribly volatile market react to this partnership news going forward since all of Array's core drugs are both novel therapies addressing significant unmet medical needs with large market opportunities. Array said it plans to advance their development both as single agents and in combinations.
Our FDA Trade Catalyst Calendar, which tracks thousands of companies in the healthcare/biotech space for trading opportunities and upcoming regulatory milestones, shows more than a handful of upcoming catalysts, including some clinical trial results which could spur buying. Recently. Array initiated new clinical trials for two proprietary anti-inflammatory drugs: ARRY-797 for pain and ARRY-502 for asthma. ARRY-797 is being tested in a 150-patient Phase 2 chronic pain trial in osteoarthritis patients with top-line results expected in the first quarter of calendar 2012. ARRY-502 is completing a Phase 1 multiple ascending dose trial which Array plans to follow with a 28-day Phase 2 trial in patients with persistent asthma.
In addition, Array has 11 partnered programs consisting of 14 drugs in clinical development, which are currently funded by Array's partners. During the past 24 months, Array has raised $160 million of non-dilutive financing from up-front payments on new partnerships with Amgen (NASDAQ:AMGN), Novartis (NYSE:NVS) and Genentech, and milestones from existing partnerships. The most advanced partnered programs are Array's two MEK inhibitors: selumetinib with AstraZeneca (NYSE:AZN) and MEK162 with Novartis. Array anticipates AstraZeneca reporting data on two Phase 2 combination trials in melanoma and non-small cell lung cancer in the coming months.
Array reported revenue of $19.0 million for the fourth quarter of fiscal 2011, compared to revenue of $18.0 million for the same period in fiscal 2010. The Company recorded expenses of $19.3 million on proprietary research and development for the quarter to advance its clinical development and discovery programs, compared to $16.5 million during the same period last year. Array reported a net loss of $21.8 million, or ($0.38) per share, for the fourth quarter, compared to a net loss of $15.8 million, or ($0.30) per share, for the same period last year.
On March 26, 2009, Genentech, Inc. became a wholly-owned member of the Roche Group. In connection with the privatization, public shareholders received $95.00 per share for their shares and Genentech's common stock ceased trading on the New York Stock Exchange.
Disclosure: I have no positions in any stocks mentioned, and no plans to initiate any positions within the next 72 hours.