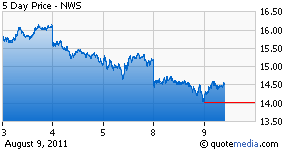 News Corp. (NASDAQ:NWS) is expected to report Q4 earnings after the market close on Wednesday, August 10 with a conference call scheduled for 4:30 pm ET.
Guidance
Analysts are looking for a profit of 30c on revenue of $8.46B. The consensus range is 27c-32c for EPS, and revenue of $8.36B-$8.63B, according to First Call. During the quarter, News Corp was rocked by allegations of phone hacking at its News of the World newspaper, which was later shuttered. News International CEO Rebekah Brooks resigned over the scandal and was later arrested for the alleged illegal interception of voice-mails and police bribery. News Corp. also dropped its bid for BSkyB (BSYBY.PK), saying "it has become clear that it is too difficult to progress in this climate." Following the pulled BSkyB bid, News Corp. is focused on fighting the political and legal fallout of the U.K. phone hacking scandal and is unlikely to quickly decide on any asset sales, but did increase its stock repurchase program to $5B from $1.8B. Chairman and CEO Rupert Murdoch defended his company's handling of its recent phone hacking crisis, saying the company acted "extremely well in every way possible," making just "minor mistakes." Earlier in the quarter, News Corp. sold MySpace to Specific Media. Bloomberg speculated that News Corp. may raise its quarterly dividend by 20% in its earnings report or speed up share repurchases under its current $5B authorization.
Analyst Views
Collins Stewart analyst Thomas Eagan said investors will be focused on questions regarding the potential succession to CEO Rupert Murdoch, and Eagan believes the company may increase its dividend.