I have realized that all the sum-of-the-parts valuation arguments have gotten about as old as Carol Bartz's gun-toting devil-may-care attitude. Each one is seemingly met with a new price low. Yahoo (NASDAQ:YHOO) has, however, reached an unexplainable price level. After already being completely butchered for the past few months it has reached a new 52 week low and closed at $11.10 Monday afternoon. The past three days have seen Yahoo shave nearly 15% off of its market cap, which leaves them at a cap of $14.5 billion.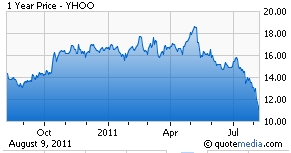 This price begs another look at an actual fair price. With almost no debt and $2.55 billion in cash, or $1.96 of share price, this currently leaves an enterprise value of $11.95 billion while there have only been whispers of rumors regarding a potential takeover, and Wall Street (1987) is not a factual depiction of the Private Equity industry. I can not help but feel with these numbers that there is a Gordon Gekko-esque knight in shining armor out there somewhere just waiting to rescue Yahoo shareholders in distress.
Yahoo Japan
Yahoo currently owns a 35% stake in Yahoo Japan. It is one of their many prized Asian assets. The Yahoo Japan stock price has recently settled near their 52-week low. Its current price, approximately ¥25,050/share, is a mere 10% off from their historical low of around ¥22,450 which was reached in early March 2009. It is hard to see Yahoo Japan dropping off much more in value considering these lows. This still leaves their market cap at around $18.8 billion which puts Yahoo's stake at $6.58. That itself is worth well over 50% of Yahoo's current enterprise value.
Even with an outright sale and incurring a 20% tax, this asset is still worth, at current market lows, $5.26 billion. One would like to believe that in the case of a sale, management would be able to find a more lucrative way of selling this asset. But for conservative measures, we will assume that it will be dumped off for $5.26 billion post-tax. This is $4.04 redeemable per share post-tax.
Alibaba Group
Earlier this year, Alibaba Group (OTC:ALBCF) approached with an offer that would have helped Yahoo redeem 37.5% of its Alibaba stake for $3.5 billion and would have valued the current 40% stake they hold in Alibaba at $9.4 billion. This offer by Jack Ma was made well after they decided to spin off Alipay. One would have to assume that Yahoo would be able to get at least somewhere in that ballpark for their entire stake in Alibaba should enough pressure arise that they sell off their position. Although using comparable companies, valuation for Alibaba Group, with their growth, should be worth much more.
At $9.4 billion, once again, assuming a direct sell off with a 20% tax, this asset sale would be worth $7.52 billion. The S+P 500 has dropped around 18% since its 2011 high point. Discounting the $7.52 billion, 18% further for a conservative measure would mean this asset sale would lead to $6.16 billion for Yahoo post tax; once again assuming they do not figure out a more profitable way of doing the deal.
The inability to sell the Alibaba stake has always been Yahoo's reluctance to dump off an asset they believed had room to grow. Should a sale be actively pursued there is potential for an even higher price tag to be negotiated than was previously offered. For conservative measures though, we will assume the sale nets $6.16 billion. This is $4.73 redeemable per share post-tax.
Buying Yahoo
With these valuations right now, Yahoo is undervalued to the point where a sell-off of its two Asian assets would be worth almost as much as Yahoo's enterprise value, adding together the values $1.96 + $4.04 + $4.73 = $10.73. With a share price of $11.10 at current prices, Yahoo's core business is being valued at 37 cents. It is hard to see any event that could bring them to an even lower point. The core business is still expected to bring in $6 billion in revenues and over $1 billion in earnings. This situation should be tantalizing to all value investors who because of events this past week are getting a safe asset-heavy company at an absolute steal.
Should a play be made by any PE firms or large companies, maybe Microsoft (NASDAQ:MSFT), an offer would at least have to be upwards of $20 billion. That is a 38% premium on current prices. Even with that price tag they would be getting a ridiculous bargain on the 4th most visited website in America, and the number one destination for worldly events.
With all of the blood-shed this past week, opportunities for buying have seemingly popped up everywhere. These companies are all risky because of the future outlook on the American economy and how that will impact their core business. With Yahoo you get an indirect investment into Asian assets that are worth all of what you pay for a Yahoo share. In a world of an ever weakening dollar and tepid GDP growth, Yahoo is the safe bet into markets with significantly better potential futures.
I am currently long Yahoo, and have no intentions to sell anytime in the next few months.
Disclosure: I am long YHOO.
Additional disclosure: Very recently established position.