It's not a sure thing, especially when commodities and stocks are so volatile, but when platinum trades at parity to gold, selling some gold and buying platinum looks very attractive.
First of all, it's extremely rare for the ratio between the two to dip below 1.0.
With platinum trading at about 1,738.4 and gold at about 1,747 as of Tuesday morning, the ratio is (or was) below 1.
Here's a chart showing the ratio going back about 30 years.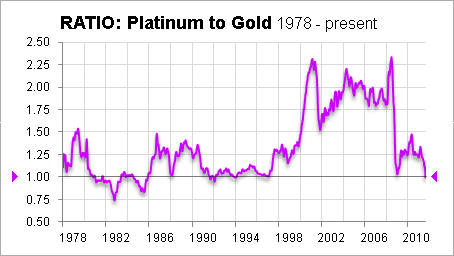 Yes, the ratio could dip further. Based on history, It could spend years trading lower or near parity to gold, but I think there's a better chance that platinum rises against gold. One strategy might be to invest in the Palladium ETF (PPLT) and purchase put options in the gold ETF (GLD) as a hedge.
It's different this time.
Yeah, sure, you've heard that before. But platinum is more than a precious metal that's rarer than gold. It's used for jewelry, but platinum and the platinum group metals (including palladium) have been in high demand as autocatalysts, a level of demand that wasn't nearly as high back in the early 1980s when the ratio stayed low for several years.
So what's different? Platinum hasn't shined as much as its sister metal, palladium. Palladium used to be way cheaper than platinum. And that's why engineers began developing catalytic converters that used more palladium than platinum, especially for diesel engines.
How cheap? Here's a chart showing all three metals since 1978 It was only a few years ago when palladium was only around $200 per ounce.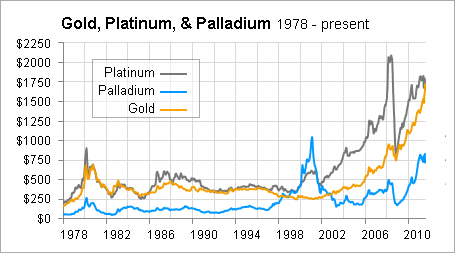 And here's a chart of the ratio of palladium to platinum.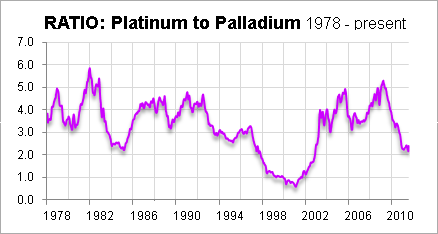 The ratio between palladium and platinum generally hasn't gone much below 2.0. (the late 90s and early 2000s being an exception given a shortage of palladium).
The cure, of course, for high palladium prices is higher prices. If palladium soars too high, platinum starts to become more attractive as an autocatalyst. And I think platinum demand for jewelry will remain steady or even grow.
However, from a supply standpoint, platinum may still be under some pricing pressure.
Palladium's growing use as an autocatalyst is a more recent phenomenon than for platinum. When older cars are scrapped, the catalytic converters that are recycled generally include more platinum than palladium. And that puts some marginal additional supply into the market.
Tough call, but I'd say hedge your bets and buy both, either as physical metals or through the physical ETFs PALL (for palladium) and PPLT (for platinum).
Disclosure: I am long PALL, PPLT.