IMAX is one of the safest, best, recession-proof buys in the market today. It has a solid quarter coming up as well - below are my predictions.
Revenue predictions for Q3 2011 July 1 - September 30th
Movie revenue (these are just my guesses - if you know more, please post in the comments!):
Harry Potter - $90M
Transformers - $60M
Final Destination 5 - $25M
Sector 7 - $15M
Cowboys & Aliens - $25M
Contagion - $35M
Total movie ticket revenues = $250M
IMAX's take = $250M x 22% = $55M
Installation of 10-13 sales-type lease theaters this quarter at $1.3M each
Total revenues = $1.3M x 11.5 = $15M
Theater system maintenance = $6.5M
Distribution = $5.5M
Post production = $1M
Theater Operations = $2M
Other = $1.5M
Total Q3 2011 revenues = $86.5 million
Although these kinds of revenues don't look great for a billion dollar company, IMAX gets some sick gross margin. For the top revenue generator segments, gross margin is between 50-6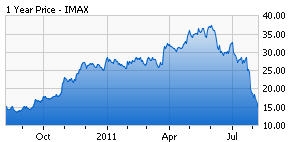 0%. And these top revenue generators are important because that's where IMAX is massively growing. Check out the gross margin and revenues for IMAX's previous quarter on page 28 of the latest 10-Q.
IMAX has the Theater Industry by the Throat
To describe this statement, let's put it in perspective. Picture yourself a movie theater owner. What if I went up to you and said:
"Hire me to change your theater into an IMAX theater. I require $1.3 million up front, you hire me to maintain the system for $50,000 a year with the first year free, and you also gotta pay me 12.5% of the revenues."
You'd probably tell me to keep dreaming, right? Well, that's not what theater owners are saying all around the world because they know that IMAX theaters bring customers. IMAX made 15 of these deals last quarter, and is doing another 10-13 this quarter. And the gross margin for IMAX to do this is sick! It only costs the company $500K to install this theater, and it gets $1.3 million for it up front.
The other option, and it's what IMAX usually does, is a joint revenue theater. That's where IMAX installs the theater and doesn't take the $1.3 million fee. Instead, IMAX takes 30-33% of the revenues and still gets paid for system maintenance.
IMAX has such a huge backlog of theater systems waiting to be installed - almost 300! 153 theater signings have been done this year alone. IMAX is so much in demand right now, it can pick and choose which places that have the highest likelihood of profitability, and hold off on signing with theaters in areas that are uncertain. And IMAX has almost the entire world to choose from. Another big plus to having such a big backlog is IMAX can cut down on its sales force.
Also with the more IMAX theater systems there are, the more demand there is for movies to want to play in one. Final Destination 5 is a recent addition to the IMAX lineup because of IMAX's recent success with Transformers and Harry Potter.
IMAX Entertains All Over the World
One thing I like about IMAX is that it sells a product that anyone can afford. You can be dirt poor but still can afford to buy a ticket. With the exception of the really poor countries like Somali, anyone in any country in the world can enjoy the IMAX experience. 70% of the current backlog is in countries outside the U.S.
Right now, IMAX has 560 theaters in the world, 319 are in the US. Why couldn't there be just as many theaters in China, Mexico, Europe, Russia, or India? There are almost as many or more people in those areas as in the U.S. IMAX is the new and improved theater experience of the 21st century. IMAX DMR, stands for "digital remastering", and revolutionizes the sound and image quality of films. And the great thing about this, is IMAX doesn't have any competition. What other revolutionary theater system company is transforming current theaters?
From the IMAX Q1 2011 earnings call on 4/28/11:
In China, we signed our largest international theatre agreement ever which was also our second largest overall theatre deal in IMAX history. In India, we signed a four-system deal which we hope will create additional interest from other players in the country, and in Russia we signed our second largest agreement ever. Let me briefly highlight each of these.

By year-end, we anticipate having approximately 22 systems in operation in Russia and the CIS, just from what is currently opened and in backlog, compared to six at the end of 2009.

We believe that our four-theatre agreement in India with PVR, the country's leading cinema brand, has the potential to provide us with some traction in this market. Today, we have three theatres in operation in India and we have six in backlog, including the PVR deal.
Where does the stock go from here?
I have a target price of $24 within a year, $21 in the next 6 months. IMAX recently got hammered because the previous quarter was weak. But you know what? IMAX still managed to come out with positive earnings of $4.6 million. And that's with considerable expenses going towards future growth. It's safe to say at this point that IMAX will never again have a losing quarter. I believe this because every theater that IMAX adds has almost zero risk. The sales-type lease theaters give IMAX an instant gain of $800K. The JV theater systems cost IMAX $500K up front, but that is quickly made up from the company's larger cut of ticket sales and maintenance fee revenue. The only risk would be if the theater goes out of business, but I trust IMAX management is careful to only install JV theater systems in popular theaters.
Growth companies with so little competition and risk should have a PE of 20-25.
Currently with a PE of 17, a good quarter coming up, and a good lineup of movies, IMAX has a long way to go towards the upside.
Disclosure: I am long IMAX.