Cisco (NASDAQ:CSCO) has been a core tech holding in most model growth portfolios for quite some time. These recent market dips should be a great opportunity for long-range investors who have had this stock on their watch lists. Let's look at just how far down the price is and make a plan for the right time to hit the buy button.
First let's look at a weekly chart for the last 2 1/2 years and see just what a bargain it is:
Click to enlarge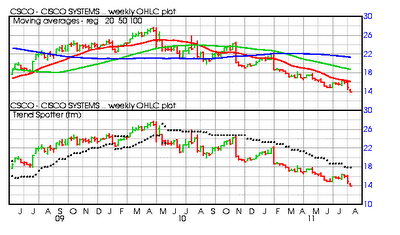 Yahoo Finance Profile:
Cisco Systems designs, manufactures and sells Internet protocol (IP)-based networking and other products related to the communications and information technology industry worldwide. It offers routers that interconnect public and private IP networks for mobile, data, voice and video applications; switching products, which offer connectivity to end users, workstations, IP phones, access points and servers; application networking services; and home networking products, such as adapters, gateways, modems, and home network management software products.
The company also provides security products comprising span firewall, intrusion prevention, remote access, virtual private network, unified client, Web and email security products; storage area networking products that deliver connectivity between servers and storage systems; unified communication products to integrate voice, video, data, and mobile applications on fixed and mobile networks; video systems, including digital set-top boxes and digital media products; and wireless systems.
In addition, it offers optical networking products, cable access and flip video products, service provider VoIP services, Cisco TelePresence systems, Cisco Unified Computing Systems, physical security and video surveillance, digital media systems, and building systems. Further, the company provides technical support services; and responsive, preventive and consultative support services for its technologies. Cisco has strategic alliances with Accenture Ltd; AT&T Inc.; Cap Gemini S.A.; EMC Corporation; Fujitsu Limited; Intel Corporation; International Business Machines Corporation; Italtel SpA; Johnson Controls Inc.; Microsoft Corporation; Nokia Corporation; Nokia Siemens Networks; Oracle Corporation; SAP AG; Sprint Nextel Corporation; Tata Consultancy Services Ltd.; VMware, Inc.; BMC Software Inc.; and Wipro Limited. The company was founded in 1984 and is headquartered in San Jose, California.
Barchart technical indicators:
The stock closed yesterday at 13.94 which is far below its high of 27.74 back in April of 2010.
The 88% Barchart overall technical sell signal can be a signal that the stock is becoming a bargain.
Trend Spotter sell signal - another bargain signal.
Below its 20, 50 and 100 day moving averages.
In the past 12 months the stock had 44 new lows and has dropped 43.72% in price.
Relative Strength Index 28.43% and still falling.
Barchart calculates a support level at 13.48.
Closed yesterday at 13.94 which is below its 50-day moving average of 15.56.
This stock has been a Wall Street brokerage darling and is in the model growth portfolio of over 45 brokerage firms.
At the present time there are 11 strong buy, nine buy, 26 hold and only four under perform recommendations published by the brokerage analysts.
The sales consensus projections are for an increase of 7.40% this year followed by another 5.70% next year.
The earnings estimates are lower by .60% this year but returning to an increase of 6.90% next year and expected to grow by 10.11% annually for the next five years.
Tech stocks normally trade at a P/E premium to the market but at the present time the 10.98 P/E ratio is 78% of the P/E ratio of the overall market, plus this is a tech stock with a 1.9% dividend that is less than 25% of earnings.
General investor sentiment:
This is a wildly popular stock with the readers of Motley Fool and the 10,919 readers that rated this stock voted 99.8% that the stock would beat the market.
The more experienced All Stars are equally positive with a 97% vote for the same result.
Summary: I'm not suggesting that you put Cisco on your watch list because it's popular with both the professional and individual investors. I'm pointing out that this is a time to buy a tech stock with projected increases in sales and earnings at a 41.84% discount from its 52-week high. My plan would be to place a stop buy at its 20 day moving average around 15.50. If the stock continues to go down, move the buy stop down. If it triggers you know you added a bargain to your portfolio.
Click to enlarge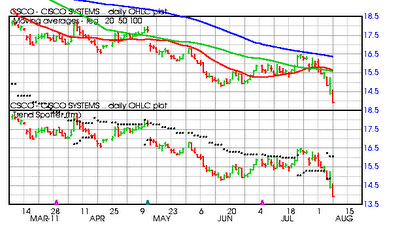 Disclosure: I have no positions in any stocks mentioned, and no plans to initiate any positions within the next 72 hours.