Last week, I went long Snap Interactive (OTCQB:STVI), the Manhattan-based developer of apps for Facebook and smart phone platforms, such as Apple's (NASDAQ:AAPL) iPhone. Based on the company's just-released Q2 2011 earnings report, my speculation might just pay off.

Here are the highlights, straight from the press release:

Click to enlarge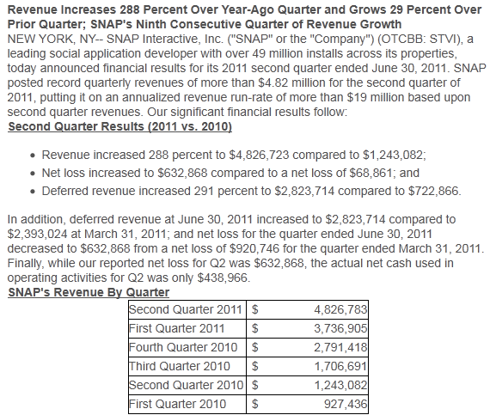 Not only did downloads of the company's AreYouInterested.com and WhoIsNear.com apps increase during the quarter, but the company continued on a torrid pace through July. Just as I was impressed with Tesla Motors (NASDAQ:TSLA) updating its Model S reservation number beyond the quarterly report and into July, I am encouraged by Snap's decision to do the same regarding app downloads. It's a bullish sign, leading me to believe that growth should continue into Q3 and beyond.

Click to enlarge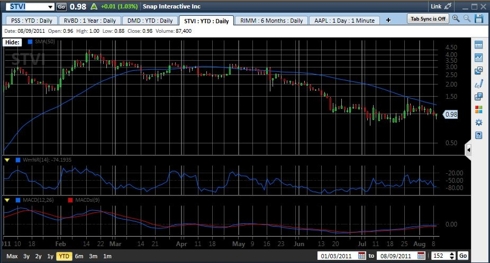 (Chart courtesy of Schwab's StreetSmart Edge)
After its meteoric rise to $4.50 back in February, STVI has come back down to earth, hovering around the $1.00 mark. It closed Tuesday's session at $0.98. I get the sense investors were waiting for the report, which came without fanfare. In fact, I emailed the company Monday night asking when it planned on reporting. Snap's response came in the form of a Tuesday afternoon email containing the earnings release PR.

I am on board. I think this is the type of stock to take some profits on as they come, but to hold as a core speculative position for the long-term. As investors, we constantly try to find tomorrow's big names today (or tomorrow's big takeover targets), STVI could be one of those stocks that makes you rich.

If STVI reaches the $2.00 level where it stalled on the way back down in early June, I might sell half of my position. I would then reload and accumulate on any weakness back toward the $1.00 to $1.50 level. As for what happens out of the gate Wednesday morning, that's anybody's guess, but history shows that this stock can move - up or down - on air with some volume.

Disclosure: I am long STVI.OB, TSLA.

Additional disclosure: I own 1,000 shares of STVI.OB with a cost basis of $1.02.