MGM Resorts International (NYSE:MGM) reported second quarter 2011 adjusted loss of 8 cents per share narrower than the Zacks Consensus Estimate of a loss of 13 cents per share. The better-than-expected result was attributable to the expansion of the company's controlling stake from 50% to 51% in MGM China Holdings Limited when it went public on the Hong Kong stock exchange in June.
On a GAAP basis, MGM Resorts posted a net profit of $3.44 billion or $6.22 per share compared with a net loss of $883.5 million or $2.00 per share in the prior-year quarter. The reported quarter includes a gain of $3.5 billion or $6.30 per share from the MGM China transaction as opposed to a charge of $1.12 billion or $1.64 per share related to an impairment of the company's investment in the CityCenter joint venture in the year-ago quarter.
Net revenue jumped 17% year over year to $1.81 billion; the Zacks Consensus Estimate was $1.59 billion. The year-over-year increase in revenue was mainly driven by strong results from Las Vegas Strip, as economic condition continues to improve, resulting in higher demand.
Inside the Headline Numbers
Total casino revenue inched up 1% year over year to $797.5 million despite lower-than-normal table games hold percentage. The overall table games hold, as a percentage of turnover, was below the low-end of the company's expected range of 19% to 23% in the quarter. The percentage was lower on a year-over-year basis as well. However, revenues from slots climbed 4% during the quarter.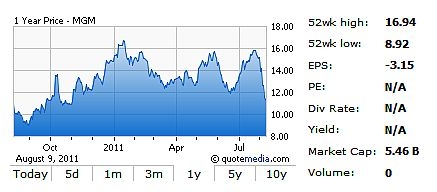 Revenues from rooms climbed 9% year over year primarily attributable to higher RevPAR (revenue per available room) at the Las Vegas Strip (up 10%), as occupancy improved from 93% to 94%, and Average daily rate (ADR) spiked 9.6% year over year to $126. The company also experienced improved revenue in each of its remaining segments except reimbursement costs, which dropped 1%.
MGM Resorts reported an operating income of $3.7 billion compared with an operating loss of $1.0 billion in the year-earlier quarter. Operating income during the quarter benefited from the Macau transaction. Further, adjusted EBITDA during the quarter soared 51% to $366 million, due to strong performance at MGM Macau and Las Vegas Resorts.
Financial Position
At quarter end, MGM Resorts' total cash balance was $922 million. Long-term debt outstanding was $12.6 billion.
Outlook
MGM Resorts provided positive outlook for the second half of 2011.
Our Take
We believe MGM Resorts is ideally positioned to take advantage of both domestic and international opportunities, and is executing well on its business strategy. Moreover, the acquisition of a controlling interest in MGM China will strengthen its position in Macau and ensure higher profitability. Business at Las Vegas has begun to stabilize, MGM Grand Detroit also reported strong growth and results at MGM Macau and CityCenter were also impressive in the reported quarter.
The company holds a Zacks #3 Rank (short-term Hold rating). Our long-term recommendation remains Neutral.
MGM Resorts' close competitors Las Vegas Sands Corp. (NYSE:LVS) recorded adjusted earnings of 54 cents per share in the second quarter of 2011, beating the Zacks Consensus Estimate of 44 cents as well as the year-ago quarter's earnings of 17 cents.