Everyone who has been looking for a clue on the Fed's position on the direction of the economy got it yesterday in the FOMC statement: The Fed sees the economy weakening and inflation moderating; it plans to keep short-term interest rates stay near zero for two more years and do nothing with long-term rates—at least for the time being. What does it mean for investors?
If they want to get some returns on their money, they must stay way from money markets that will continue to pay next to nothing for more years, or even worst, earn a negative return, as banks will be to imposing all kinds of fees (Bank of New York (NYSE:BK) started charging interest instead of paying interest on certain accounts). But where should they go?
It depends on their investment objectives. Investors who seek income should consider the old good places: High-dividend stocks, the big pharma, the tobacco, the real estate trusts, and even technology companies that pay a descent dividend—actually, investors have been rushing in that direction as can be seen form the table below. But they should stay away from US Treasuries (ETFs like TLT), as they had a huge run up going into FOMC meeting, and there will be no QE3 to support further gains.—actually, Treasuries closed lower after initially going higher.
| | |
| --- | --- |
| Stock | Percent change |
| Vector Group Ltd (VGR) | +5.47* |
| Bristol Myers Squibb (BMY) | +1.10 |
| Pfizer (PFE) | +3.96 |
| Merck &Co (MRK) | +2.87 |
| Microsoft (MSFT) | +1.30 |
| Ventas Inc (VTR) | +8.17 |
| Kimco Realty (NYSE:KIM) | +11.27 |
*shortly before 4pm yesterday
click to enlarge image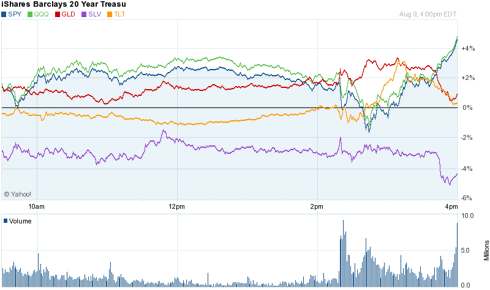 Click to enlarge
Investors who seek equity appreciation should reach for companies with sustainable competitive advantage like Apple Computer (NASDAQ:AAPL) and Google (NASDAQ:GOOG), as discussed in a previous piece. But they should stay away or even sell gold and silver—including ETFs like GLD and SLV; they did have a huge run up going into the meeting and there will be no QE3 to support further gains. Besides, gold has become the new talk of the day for popular programs, as were high-tech stocks one month ago—a contrarian indicator.
The bottom line: The FOMC changed the rules of the game for traders, at least in the near future. Money should come out of US Treasuries and precious metals and flow into high dividend pay stocks and high quality growth companies.