SodaStream (NASDAQ:SODA) manufactures and sells home beverage machines. This article is an abridged version of a free report on our website.
These portable machines make flavored sodas out of ordinary tap water or seltzer/sparkling water. In order to make a flavored drink, SodaStream sells these products:
1. Soda makers (beverage machines) to make the drinks.
2. Carbonators and CO2 refills, which make the drinks fizzy.
3. Flavored syrups such as root beer and colas.
4. Bottles which the soda makers put the soda into.
We believe there's a time and a place for everything. Remember Apple's (NASDAQ:AAPL) Newton? Well, the time and place (United States) are now ripe for SodaStream. What we have here is a confluence of factors creating a whirlwind of demand for SODA. They include a self-aware and knowledgeable American consumer; the greening of America; and a weak economic recovery creating more "do-it-yourself" consumers.
It is SodaStream's job not just to manufacture soda machines but to educate the consumer that its products exist, show how they promote health and wellness, and help protect the environment (i.e, fewer disposable plastic bottles). According to the U.S. Natural Marketing Institute, the "green" consumer market is over $500Bn globally and over $200Bn in the U.S., and growing at a CAGR of 15%.
We believe SODA is a good SRI investment candidate. Our rating is 7 out of a possible 10. This rating incorporates quantitative and qualitative factors, including corporate, social and responsibility efforts.
[Click all to enlarge]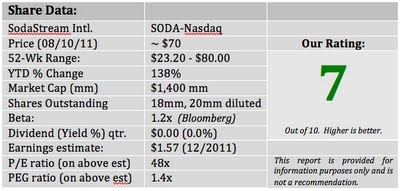 The summary below summarizes key investment factors/risks. With the goal of maintaining objectivity, every investment is required to have a full list of negatives, or if you will, "things we don't like very much."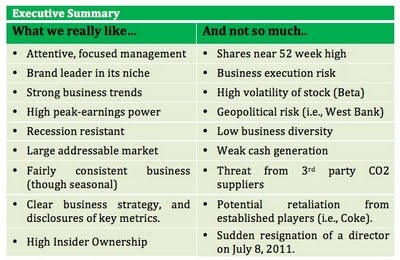 Note: Earnings estimate is diluted, on 20mm shares outstanding, reflecting the April 2011 secondary share offering. EPS converted at an exchange rate of $1.40/euro.
Share data for SODA reveals a company with moderate to high-priced shares, as measured by the price to earnings (P/E) ratio. The P/E ratio is high, but not huge on a PEG basis.

Revenues for fiscal year 12'10 were €161mm, up from €105mm the prior year. Over the last three-year period, revenue and earnings have grown consistently with the exception of a "hiccup" in 2009 attributed to the financial crisis. Data above is on an adjusted basis, which excludes a management fee (to former majority owner Fortissimo Capital) as well as non-cash compensation.
The balance sheet improved dramatically over the last year, as the company moved from an LBO to mainstream company. Shareholders' equity is high and much of the company's assets are in working capital.
FY'10 cash flow was weak after reporting two strong years. SodaStream reported positive free cash flow in FY'08 and FY'09, but FY'10 FCF declined dramatically due to rising accounts receivables and inventories. We estimate A/R and Inv will be a $40-50MM drag on yearly operating cash flow.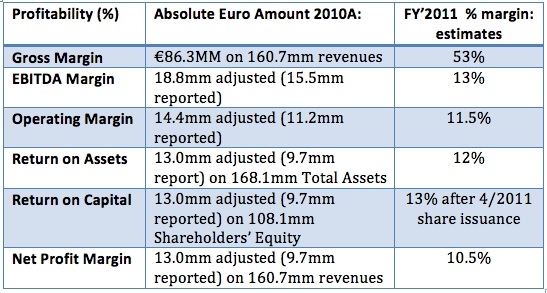 SodaStream's profitability is expected to rise based on simple trend analysis. However, there are several short-term crosscurrents beneath the numbers readers should be aware of. Management fees to Fortissimo Capital affected FY'10 reported profits, and this will no longer continue. Secondly, FY'11 operating margins will continue to be negatively affected by high sales and marketing expenses as management aggressively ramps-up business in the United States.
Thirdly, we expect the denominator to increase (on capital) as the company issues common shares. There was a secondary common stock offering in April, which will increase equity over 25%, and decrease debt to negligible levels.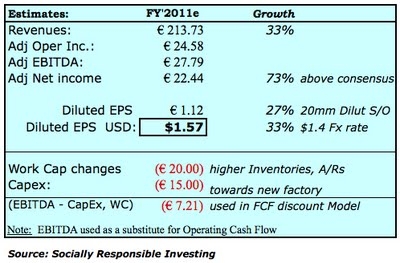 SodaStream's business model is such that longer term (2013-14) profitability could increase dramatically from 2009 levels even as revenue growth slows. By 2013, these factors may occur:
Selling and marketing expenses could decline as consumer awareness increases.
The proportion of U.S. (i.e. "Americas") revenue will increase dramatically. U.S. consumers love getting their sugar fixes, and thus use more syrups than their European counterparts.
A larger U.S. market will also benefit margins resulting from the distribution channel. This is because management has chosen to distribute directly in the U.S. Direct distribution has higher gross margins as the company typically sells its product at a discount to indirect distributors.
The slice of soda makers' share of the revenue pie will decline, as a larger proportion of sales will be attributed to high-margin carbonators (i.e., CO2 bottles).
Optimization of factory logistics, including the new factory being constructed will lower transportation costs.
Operating leverage should help increase earnings at a more rapid clip compared to revenue growth. This is because SodaStream has a fixed component to its cost structure as the company owns most of its factories. Further, half of its general and admin expenses are fixed in nature.
The dilution effect on EPS growth should decrease as the company becomes less dependent on external equity financing.
Note that the above increase in expected profitability is expected despite our view that carbonator margins will decline as new competitors enter the market.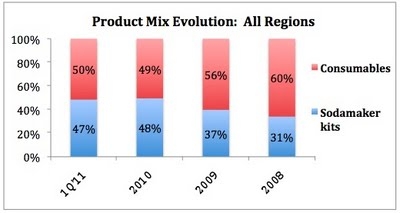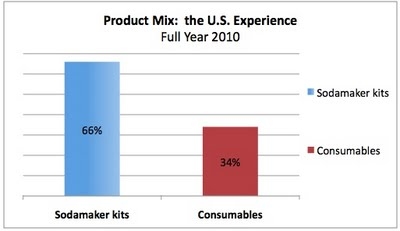 Rather than reiterate the company's statements, we highlight key data points and conference call comments:
Performance was much better than expected by both analysts and management, so much so that SodaStream raised revenue growth from 25% to 30%. The company sharply raised earnings growth from 40% to 60%.
SodaStream is experiencing rising raw materials costs especially for plastics (up 19%) and sugar (up 14%) but so far has been able to pass through price increase to customers.
Profits were boosted by strong consumables growth.
Operating cash flow remained negative, due to higher inventories.
The U.S. launch and ramp-up is performing better than expected.
The company will launch into the Japanese market by 4Q'11.
SodaStream will undergo a "big-box" retailer test this year.
Overall liquidity is not high but sufficient. SodaStream used a portion of its April '11 secondary share offering to repay most of its debt. A small bank line, cash, and minimal debt maturities support liquidity. However, continued FCF deficit and higher (though transitory) capital expenditures for a new factory.

Most indicators of leverage are very low (minimal). Operating leverage, while difficult to accurately measure precisely, appears high given the company's ownership of fixed assets.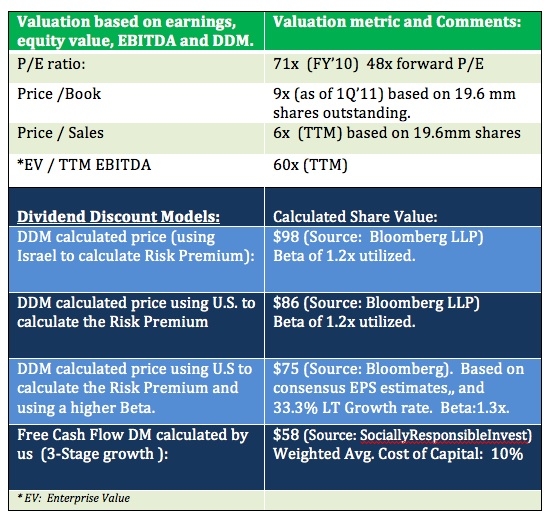 SodaStream's FY'10 P/E ratio presents a rich valuation. FY'11's is lower given the company 's rapid earnings growth. The PEG ratio of 1.4x would have been lower were it not for a 36% increase in diluted shares outstanding. In fact, we are forecasting a 70% increase in adjusted net income for FY'11. The EPS estimate is also subject to the ebb and flow of exchange rates, which we are basing on last year's $1.4/EUR.
Other measures of valuation such as price/book value, price/sales and enterprise value indicate SodaStream's shares are fully valued. We also examined various discount models. Most indicated SodaStream's shares were trading below calculated values (about 20% discount, on average).
However, we conducted a discount model utilizing FCF, which yielded a share price under $60. That calculated price is below the current trading price of SodaStream's shares. Note that our model used more aggressive growth rates and a lower WACC than typically utilized, and we still could not achieve higher than $60.

SodaStream participates in the carbonated soda drink ("CSD") and sparkling water industry. The industry is in the maturity stage of its life cycle. The CSD industry is marked by low growth, high penetration, moderate competition and low revenue cyclicality. Industry revenues approximate $216Bn globally, according to Datamonitor. The sparkling water industry (i.e., seltzer, club soda) is $34Bn globally and far more popular in Europe than in the States. Both numbers exclude soda/sparkling water at restaurants. According to Euromonitor, the U.S. had the highest per capita consumption of 118 liters in 2010, approximating $39Bn in sales.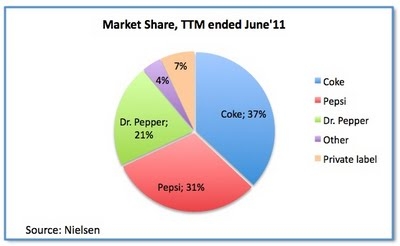 YTD 2011 has shown incremental improvement, due to higher marketing spend. Companies have cited ongoing input cost pressures. SodaStream noted in its conference call (1Q'11) that aluminum prices were up 9%, plastic up 19% and sugar up 14%. All participants have been able to recapture margins via higher pricing.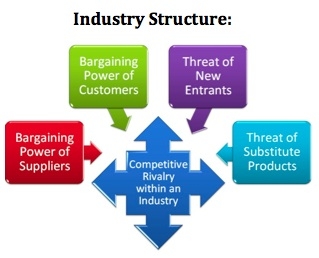 According to industry expert and Harvard professor Michael Porter, an industry can be analyzed using a Five-Forces Model. These forces determine how intense competition is within a particular industry. Industries with low intensity, are considered attractive, as they are profitable. Below we summarize these forces for the CSD industry.
As readers will soon notice, the soda industry structure is quite strong and oligopolistic. Consequently, we expect there will be some retaliation and an answer to SodaStream's market share advances.
SodaStream's a great company with somewhat richly-priced shares. Those interested in investing in the company are recommended to purchase on stock price retrenchments in the $50s area.
Disclosure: I am long SODA.