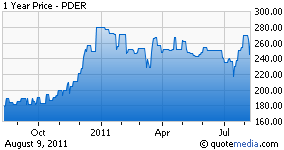 It is no secret now that coal is playing a major role in the growth at Pardee Resources Company (OTCPK:PDER). The company recently reported its second quarter earnings and the story has not changed. Revenues came in at $14.7 million compared to $13.5 million in 2010. Coal accounted for $11.6 million of the total revenues for the second quarter and was responsible for most of the increase. However, it should be noted the newest division, renewable energy, finally showed up in the revenue column and supplied $426 thousand in revenue. Net income for the second quarter was up 17% to $5.91 million or $8.20 per share compared to $5.04 million or $7.07 per share in 2010.
For the six month period ended June 30, 2010 revenues increased 9.8% to $24.7 million driven by a 12.1% increase in revenues from the coal division. Both the oil & gas and the timber and surface divisions saw flat to slightly lower revenues for the period. Net income for the period increased 17.9% to $9.6 million or $13.26 per share compared to $8.1 million or $11.38 per share during the same period in 2010.
Coal production for the first half of the year was 5.1 million tons down 7.8% when compared the first half of 2010. The decline in coal production was anticipated by the company as the Colorado lessee moved off of their property during the period, but has since returned to the property. Pardee saw strong increases for both thermal and metallurgical royalties. Royalties per ton increased 14.8% to $3.79 versus $3.30 in 2010. Timber production increased 8.9% in the first half, but the division was hurt by an 11.1% decline in the realized price per thousand board feet. The oil and gas division saw decline in both production of 1.9% and its price realized per Mcfe of 1.6%. As mentioned before, the company did start to recognize a small positive impact from its renewable energy division as it recorded revenue of $426 thousand and supplied $117 thousand to operating income during the first half.
The company's cash position increased 62.7% during the second quarter to $15.8 million from just $9.7 million at the end of the first quarter. The company has a history of keeping a very conservative balance sheet, but as cash continues to build, I would anticipate that the company is on the hunt for a strategic acquisition similar to the very successful acquisition of the Colorado coal properties it made in late 2009. The company maintained its current quarterly dividend level of $1.50 per share, however a building cash balance could result in a dividend increase or special dividend in the second half of the year if no suitable acquisitions are found.
Disclosure: I am long PDER.PK.