Exchange traded funds that focus on master limited partnerships have regained their footing after a steep drop with the stock market.
MLP ETFs provide investors exposure to energy pipelines and a reliable stream of income. They have grown more popular as income-starved investors explore new areas for yield.
MLPs are not normal stocks — they don't pay corporate taxes, but they act more like a business that passes income onto its investors as distributions, or dividends, says Elliot Gue for MoneyShow. They mostly dabble in energy infrastructure, such as pipelines, natural-gas storage facilities and processing plants. [ETF Spotlight: Master Limited Partnerships]
Since MLPs operate on a fee-based business model, they are not subject to fluctuations in commodity prices — the companies only care about how much energy is being transferred through the infrastructure they provide. The companies also hedge their production for years ahead, which helps secure the stable cash flows they exhibit, Gue adds.
He notes that the average yield on MLPs is hovering around 6% after yields dropped slightly due to their growing performance. However, some individual MLPs are increasing distributions to as much as 10%.
The MLP ETFs may have different tax treatment than other exchange traded products.
Some ETFs in the category include:
JP Morgan Alerian MLP ETN (NYSEARCA:AMJ)
Alerian MLP ETF (NYSEARCA:AMLP)
Credit Suisse Cushing 30 MLP Index (NYSEARCA:MLPN)
JP Morgan Alerian MLP ETN
click to enlarge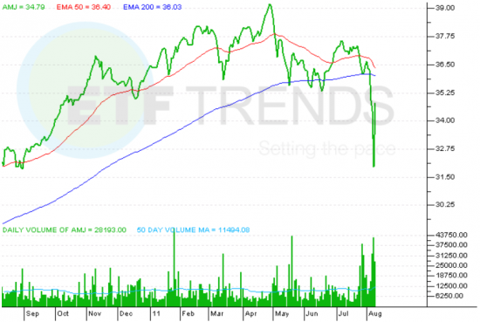 Max Chen contributed to this article.
Disclosure: None