The U.K. arm of the leading technology company, DST Systems Inc. (DST) recently announced the acquisition of Lateral Group Limited, a private company with operational facilities located principally in London, Nottingham and Edenbridge. Lateral Group is engaged in integrated, data driven and multi-channel marketing.
The terms of the transaction were not disclosed. DST Systems is currently in expansion mode, having closed five acquisitions in the last three months.
This acquisition is expected to enhance the company's ability to support the expansion objectives of its multi-national clients and also help pursue and win new businesses in the emerging financial services market.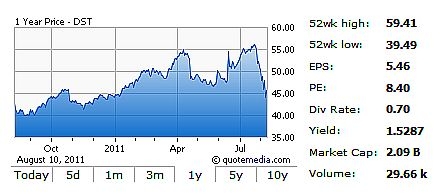 The addition of Lateral Group is a natural fit to the company's existing IOS operations both in terms of services offered and business outlook. The company expects to provide further solutions such as data insight and online marketing through this acquisition.
This represents a clear-cut strategy adopted by IOS to extend and develop the company's product offering - particularly integrating communications through print, data and e-solutions. This will also help the company to develop a market-leading position in its traditional services and help revamp DST's business at a time when the company is undergoing structural changes.
DST Systems is one of the leading providers of sophisticated information processing software and products to the financial services industry, primarily mutual funds. The company has complemented internal growth with strategic acquisitions.
In July, the company acquired privately-held financial services company ALPS Holdings Inc. for $250.0 million. In June, the company acquired the assets of IntelliSource Healthcare Solutions and Canadian company Subserveo Inc.
In May, DST Systems completed the acquisition of Newkirk Products Inc., a communication solution provider to financial services and health care verticals and the assets of Finix Business Strategies LLC, a financial services consulting firm.
We believe the acquisition spree will be accretive to DST Systems' earnings as the complementary businesses will help reduce integration time and costs.
However, DST Systems missed our bottom line expectations for the second quarter. We believe this could be partly on account of its facing a significant threat to its mutual fund shareholder record-keeping business due to the continuous shift in customer preferences toward sub-accounting platforms. Management also anticipates that a few clients may leave DST's platform in the upcoming quarters.
DST Systems faces tough competition from Broadridge Financials Solutions Inc. (BR), Advent Software Inc. (ADVS). The company's high debt burden also remains a concern.
Currently, DST Systems has a Zacks #5 Rank, implying a short-term Strong Sell recommendation.