The stock market's dive that began as we turned our calendars to August was punctuated by the Dow's 634 point plunge on Monday, August 8th. This downturn, and the sell-off that ensued, resulted in a lot of people losing money; however, the market's struggles to begin this month have created great opportunities for investors to profit. Unfortunately, the stock market will inevitably suffer downturns from time to time, but you can learn how to take advantage of a plunge in the market. Below I will outline a few tips to help you make money in the aftermath of a downturn.
1. Seek out bargain blue chips
The effects of downturns and selloffs are indiscriminate. Panic takes over and causes people to unload their winners and losers alike. This type of impatience and ill-advised short-sightedness will allow you the opportunity to buy great blue chip stocks at a deep discount. For example, Apple and Microsoft's share prices both dropped by over 10% between the August 1st opening bell and the closing bell on August 8th, and the share price of Chevron (NYSE:CVX) dropped nearly 15% during the same period. You can target stocks that you think are trading at a bargain price or you can plan ahead, creating a list of companies whose stocks you would like to own but find to expensive right now. Then, place orders to buy them should their share price drop by 10%, 20%, or any other amount. This will help prevent you from second guessing yourself when others are hitting the panic button and the market is in a rut.
2. Consider consumer staples
If you are worried about buying during a downturn as the dreaded "R" word is being thrown around by commentators on CNBC and Fox Business, consider investing in consumer staples. Industries that fall under the umbrella of consumer staples include food & beverages, pharmaceuticals, and household products. Companies that manufacture and sell consumer staples are typically some of the safest investments in times of both prosperity and hardship. Demand for consumer staples is unlikely to be affected by economic struggles. In addition, companies that deal in consumer staples often pay dividends to investors.
3. Invest in companies with strong balance sheets & solid cash flows
Companies with healthy balance sheets and strong cash flows are better suited to withstand the turmoil and volatility of a downturn and achieve long-term capital gains. Look for companies that have limited debt and other liabilities in relation to their current assets. When companies have manageable amounts of debt they will be able to use the cash that they are generating either towards paying dividends to investors, funding for research & developments, or stockpiling cash for strategic acquisitions in the future.
Also, examine a company's cash flows before investing. Strong cash flows exhibit a company's ability to generate cash. Pay closest attention to the Operating Activities section of the cash flow statement. An inflow of cash from operating activities shows that the company is generating cash from the day-to-day operations of the business, such as selling goods and providing services.
Provided below is a copy of Apple's (NASDAQ:AAPL) cash flow statement from Yahoo! Finance.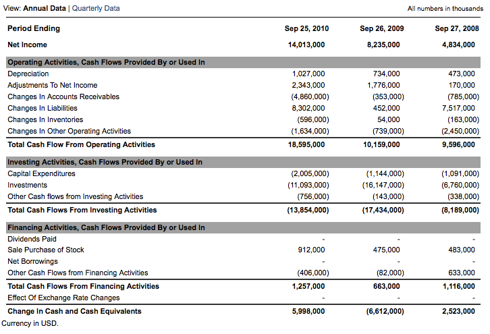 (Click to enlarge)
During the period ending September 25, 2010, Apple increased its cash position by nearly $6 billion. Apple's cash inflow from operating activities exceeded $18.5 billion in 2010, and the company invested nearly $14 billion dollars. The company's exceptional ability to generate cash allows them to pay off its minimal debt, reinvest large sums of money back into the company, and still have money left over to build up cash reserves for future use. All of these factors help to explain why Apple is one of the strongest companies in the United States and the World.
Companies that have healthy balance sheets have substantial amounts of cash and companies with strong cash flows have the ability to generate cash, and the bottom line is that cash is a good thing for a company to have for two primary reasons outlined below.
1. Dividends
Companies that have cash reserves and are able to generate cash each year have the ability to pay dividends to investors. Dividends can help investors build positions over time in companies by taking advantage of Dividend Reinvestment Plans (DRIPs), or they can provide stable income to the investor.
2. Reinvestment & Acquisitions
Many companies do not pay dividends but that does not mean that they aren't worthy investments. Companies such as Apple, Google (NASDAQ:GOOG), and many others do not pay dividends; instead, they focus on reinvesting their cash into their companies and stockpiling cash to be used for acquisitions of other companies in the future. Investments in research & development and acquisitions can drastically increase the value of a company and improve their prospects for future growth.
Disclosure: I have no positions in any stocks mentioned, and no plans to initiate any positions within the next 72 hours.