With the downturn in the markets investors are wondering were to invest. Big healthcare stocks with yields above 4% are a good start.
Volatility in healthcare stocks will also be high, but for the long run prospects for healthcare stocks are promising. Aging populations in the U.S. and Europe, strong growth opportunities in emerging markets and some other factors could be beneficial for this sector.
click to enlarge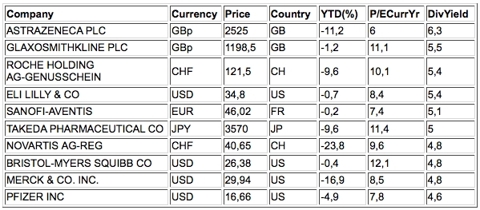 Healthcare stocks have been among the market's better performers this year.
Drug stocks tend to be defensive bets. The companies do well when investors are nervous about the economy and financial markets.
From the listed health care companies with yields above 4 not all of them are of course a buy.
AstraZeneca PLC (NYSE:AZN)
AstraZeneca showed weak Q1 numbers with sales for its main drugs coming in below estimates. The main reason now was disappointing EU drug sales.
The long-delayed blood thinner Brilinta from AstraZeneca PLC won U.S. approval last month but several new drugs from competitors in this area are coming to market as well.
GlaxoSmithKline PLC (NYSE:GSK)
Second quarter results show that restructuring is now working, product risks are largely discounted and a new income stream from the Emerging Markets is rising.
The shares are not as attractive as peers like Sanofi Aventis (NYSE:SNY), though both companies have very strong market shares in vaccines in Emerging Markets. But Glaxo lacks the attraction of having a high quality Biotech portfolio and pipeline like Sanofi now has. The shares are not expensive, nor very cheap but share buy backs will help valuation and the anticipated dividend yield for 2011 of more than e 5% seems secure.
Roche Holding AG (OTCQX:RHHBY)
Q1 results were fine and in line, with the problems highlighted of Chf. strength and Avastin US sales already known. The focus is now also on a possible link up with Novartis, as both companies are battling now with a high R&D cost base in Chf. and Novartis lacking a good Biotech pipeline, while Roche needs better marketing and a generics exposure for Biosimilars at some point.
A lot of action on the M&A side in the rest of the industry could bring the two pharmaceutical giants together. The companies are based in the same city and plans for a merger have been around for a long time (Novartis holds 33% of the voting shares), but the resistance from the Roche family has been the main stumbling block, which is slowly being eroded now.

Eli Lilly (NYSE:LLY)
Guidance is for a lower EPS in 2011. As with most 'Big Pharma' the dividend yield is very high above at 5% and this seems sustainable, but ultimately, the balance sheet is shrinking as cash is being paid out, leaving little hope for a revival of the pharmaceutical business unless cash is spend on acquiring new drugs.
Sanofi Aventis (SNY)
The shares are now at a PE of less than 8 X 2011 and a P/CF of 6,8 X with a dividend yield of more than 5% for 2011. The balance sheet is of good quality, cash generation is high and intensive cost cutting is possible now after the acquisition of Genzyme. With the buy of Genzyme, Sanofi has become less sensitive to the negative effects of the patent cliff for Lovenox and Plavix (both in 2012) with Lantus, the diabetes drug (now 11% of sales) showing good growth.
Sanofi now has 57 drugs in Phase III studies in its pipeline.
Takeda Pharmaceutical (OTCPK:TKPYY)
Takeda Pharmaceutical outlook remains challenging. The absence of new drug candidates is the most pressing issue for Takeda, and that it needs to resolve it as soon as possible to escape from the slow growth we see ahead. Management needs to address the situation by the end of the current medium-term business plan period so that it can confidently forecast sustained growth from FY2013 onwards.
Novartis (NYSE:NVS)
New management with CEO Joe Jimenez will continue to focus on cost cutting, but his hands will still be tied to a large extent by Daniel Vasella, still head of the Board.
New products are slow coming and no updates were given. Patent expiries will start to have an impact soon and this will not be compensated by the new, non pharma, businesses.
Bristol Myers (NYSE:BMY)
Good results and a confident raise of guidance as new drugs are more successful than with other large peers. But Bristol Myers is more a biopharma company than an old style pharma maker with good new molecules developed. The valuation is undemanding at 12.1 X 2011 earnings and the dividend is stable and high at more than 4%.
Merck (NYSE:MRK)
Cost cutting is good for shareholders as margins are protected, but if R&D is not yielding much and staff is to be cut on top of this, what is left is a shell with a lot of cash in it. Merck is going to suffer from the now starting Patent Cliff and no new drugs to compensate for this shortfall much in the year ahead.
A better strategy would have been to go for new products and buy a large biotech company. This way, cost cuts will keep shareholders happy for a while, and management occupied, but valuations of interesting biotech targets are moving up and the selection is getting smaller. Merck shares can be held for yield, but otherwise there is not much to look forward to.
Pfizer (NYSE:PFE)
Reported in line results at the bottom line. Revenues rose in USD due to the favorable FX effect here, because some 57% of the company's sales are achieved outside the US.
Cost cutting and divestments go on and what will be left is anyone's guess, though certainly a lot of cash for now.
Again, a large acquisition in biotech is needed, but not aspired by the new CEO, who is very much a R&D man and wants to prove, the company can get there by itself. At least he keeps an eye on the costs.
Conclusion
From this list of high yield pharma stocks, only Bristol Myers, Roche and Sanofi are considered a buy, based on their growth outlook.
Disclosure: Author has no positions in any stocks mentioned, and no plans to initiate any positions within the next 72 hours.