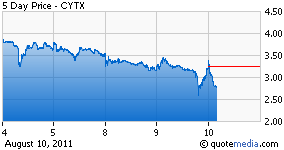 A net loss of $5.138M or $0.10 per share
Product revenues in Q2/11for Cytori Therapeutics (NASDAQ:CYTX) were a $2.4M, compared to $2.1M in Q2/10, and $1.4M in Q1/11. Gross profit was $1.3M with a gross margin of 54% in Q2/11, compared to a gross profit of $1.2M, with a gross margin of 58% for Q2/10. Q2/11revenues include recognition of 1 StemSource® Cell Bank in Japan. In addition, CYTX is on track to complete installation of a Cell Bank in Hong Kong in Q3/1. Cytori expects revenues to continue to recover following a more challenging Q1. R&D expense was $3.07M, followed by S&M at $3.76M and G&A expense was $4.147M.
System and consumable shipments remained relatively flat while PureGraft™ shipments increased by 55% in Q2/11 compared to Q1/11. CYTX ended Q2/11 with 169 cumulative revenue generating units in the field, shipped 229 consumables, including 169 reorders and 1,309 PureGraft™ units. System and consumable order growth is impacted by limited regulatory indications, absence of reimbursement in regions where products are approved, and the above noted shift of resources toward hospital sales in EU.
Net cash used in operating activities decreased to $9M in Q2/11 from $10.5M in Q1/11. Q2/11 operating expenses of $5.7M included a $5.2M offset for non-cash items of change of the fair value of the warrant and option liabilities. Before any non-cash items, Q2/11 operating expenses were $10.9M. This compares to total operating expenses before any non-cash items of $9.8M in Q1/11. Basic and diluted weighted average of common shares was 52.41M.
Guidance: Q2/11operating expenses supported the launch of the EU pivotal acute heart attack trial (ADVANCE), commercial activities related to regenerative medicine applications such as reimbursement, and preparations for a US clinical trial. Ongoing global and regional organizational improvements are expected to result in lower operating expenses and cash utilization in the 2nd half of 2011.
CYTX ended Q2/11 with $33.2M in cash and cash equivalents, plus $2.5M in accounts receivable. Subsequent to the end of Q2/11, Cytori raised $6M in gross proceeds as part of a financing agreement.
Disclosure: I have no positions in any stocks mentioned, and no plans to initiate any positions within the next 72 hours.