The recent market volatility has given investors a great opportunity to buy some quality Dow components at sale prices.
General Electric (NYSE:GE) is, to me, the mother core holding of any long-term portfolio. Sure, it isn't on sale at $5 a share as it was back in 2009, but Tuesday's closing price was 33% off its 52-week high. With GE, you are getting a conglomerate that provides instant diversification across numerous business segments. Energy infrastructure, Technology infrastructure, healthcare products, finance, consumer and industrial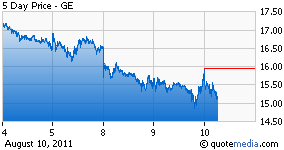 products – you name it. The breadth of the company's holdings allow it to generate hefty revenue no matter what the economy looks like. The fact that it generated over $21 billion in free cash flow over the TTM, which is pretty typical for the company, should give any investor plenty to feel good about, even if the economy tanks. Somehow, GE is still projected to grow earnings at a 14.6% annualized rate over the next five years, yet trades at slightly less than 10 times next year's earnings. A 3.6% yield tops off the reasons to own this treasure.
Intel (NASDAQ:INTC) remains a powerhouse name, and sooner or later investors are going to remember this fact. Although only 17% off its 52-week high, the company carries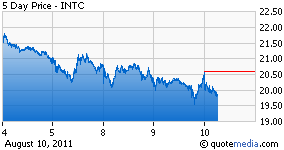 almost $4 per share in cash on its balance sheet, so you are effectively getting this stock at $16.50 per share. The company is on track for a huge rebound this year, growing earnings 17%, and 11% annualized over the next five. An 11 P/E on this year's earnings of $2.38 gives a value of $26.10, meaning the stock is effective trading at a 40% discount to fair value. It also pays a 4% dividend to augment returns.
Walt Disney (NYSE:DIS) is an entertainment juggernaut that is so diversified, you may find yourself consuming a Disney product without realizing it. All the ABC networks and ESPN are part of its television holdings, for example. Resorts, cruise ships, online fee-based websites like Club Penguin, movies, radio, publishing, the list goes on and on. With the acquisitions of Marvel and PIxar, Disney breathed new life into its film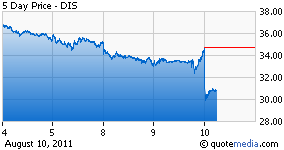 division with two brand names that have always generated enormous revenue. The company just beat earnings estimates on Tuesday, expects 14.85% annualized 5-year growth, trades at a P/e of 11 times next year's estimates, and has solid management in the form of Bob Iger.
Given the recent volatility, I would be inclined to open a half position in each stock and add should the market fall further.

Disclosure: I have no positions in any stocks mentioned, and no plans to initiate any positions within the next 72 hours.