The last few months have been very difficult for stock markets. MLPs had been high flyers for more than 2 years, but they were also hit with selling. The Alerian MLP Index (AMZ) had its greatest rally in its 16 year history, rising from a recession low of 152 in Nov 2008 to 390 on April 28, 2011. The index dropped to 316 on Monday & soared to 342 yesterday (an extraordinary swing, especially for a low beta index). Even after today's rebound, the chart below is depressing:
[Click all images to enlarge]
Alerian MLP Index --- 1 year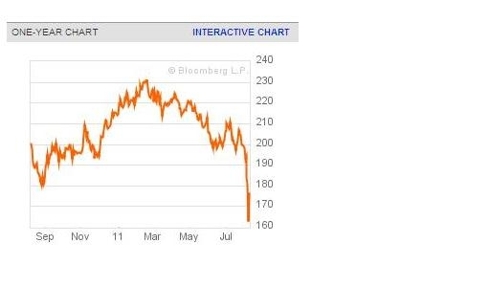 The recent decline may continue for weeks, even months. But for those with long term horizons, markets will come back as they did after the fall of 2008. MLPs should be treated as long term investments. They invest in long term assets designed to last for not years, but decades. Below are 3 of the largest and most successful MLPs along with a weakling which has been struggling.
Enterprise Products Partners (NYSE:EPD)
EPD, with a 5.9% yield, increased the distribution last month to 60½¢ ($2.42 annualized), a 5.2% increase over the distribution paid in 2010. This is the 37th increase since the IPO in 1998 and the 28th consecutive quarterly increase. EPD just reported record distributable cash flow of $778 million for Q2, which provides 1.6X coverage of the new distribution.
EPD is the largest MLP moving natural gas, NGLs, crude oil, refined products and petrochemicals. The assets include over 50,000 miles of pipelines; 192 million barrels of storage capacity for NGLs, refined products and crude oil; and 27 billion cubic feet of natural gas storage capacity.
Enterprise Products Partners --- 10 years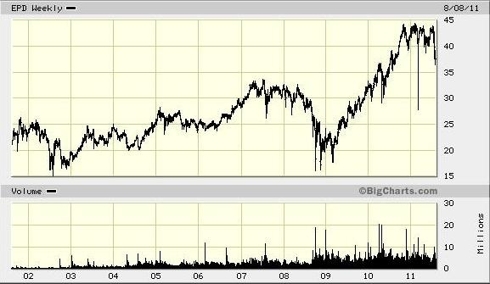 Kinder Morgan (NYSE:KMP)
KMP, with a 6.6% yield, increased the quarterly distribution last month to $1.15 ($4.60 annualized), a 6% increase over last year. The distribution has been increased for 6 consecutive quarters and 41 times since 1997.
KMP is one of the largest transportation and energy storage companies in North America with more than 37,000 miles of pipelines and 180 terminals. Customers include major oil companies, energy producers and shippers and local distribution companies. KMP invests billions of dollars annually to build new energy infrastructure.
Kinder Morgan --- 10 years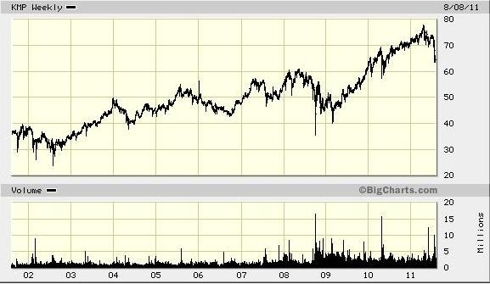 Enbridge Energy (NYSE:EEP)
EEP, with a 7.7% yield, increased the quarterly distribution last month to 53¼¢ ($2.13 annualized), a 3.5% increase from the prior quarter. The company's target rates for annual increases are 2-5%.
EEP operates crude oil and natural gas transportation systems in the US. The oil system is the largest transporter of growing oil production from western Canada to the US, bringing 12% of US oil imports and deliveries to Ontario that satisfy 60% of its refinery demand. The natural gas assets, principally located onshore around Oklahoma, deliver 2½ billion cubic feet of natural gas daily.
Enbridge Energy --- 10 years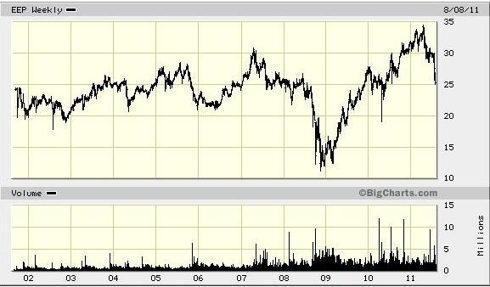 Constellation Energy Partners (CEP)
CEP has been struggling in recent years. Q2 adjusted EBITDA was $56.7 million, which includes $41.3 million in hedge settlements. Excluding the hedge settlements, adjusted EBITDA was $15.3 million (a 14% improvement over Q1). On a GAAP basis, the company reported net income of $3.3 million for Q2, i.e. CEP earned a profit. A $2 million increase in the capital budget was approved for the rest of 2011 so that 2011 spending will be $12-$14 million. Debt was reduced more than 50% in 2 years and should decline from current levels ($109 million), to below $100 million by yearend. This reduction is significant (maybe the US government could learn a lesson), key to increasing capital expenditures and resume paying distributions next year at the earliest.
CEP produces oil and natural gas recovered from coalbed methane properties in the Black Warrior Basin in Alabama, the Cherokee Basin in Kansas and Oklahoma, the Woodford Shale in the Arkoma Basin in Oklahoma and the Central Kansas Uplift in Kansas and Nebraska.
MLPs are yield securities, most pay distributions with records of increases. A few suspended payments in recent years, but most of those resumed paying distributions. CEP is the exception with its units trading around $3 for a couple of years (no graph is presented, the chart is that dreary). Investors attracted to low priced securities with the hope of large rewards, will be interested in CEP. Reducing debt should strengthen finances so that it can afford a more aggressive capital spending program and even pay distributions.
Increasing yields will make MLPs more attractive. The yield on the index shot up to 7.4% and fell back to 6.8% today, from a low of 5.85% at the market highs in April. Investors who locked up yields of 15% or more on quality MLPs at the end of 2008 and early 2009 are happy investors (even today). That is not to say yields will rise to those levels again.
But if yields climb into double digits, locking up those yields should be of interest to investors who want to earn a 10% annual rate of return. The 3 large MLPs, with established records of raising distributions, are yielding 6%-7½% which will rise if prices pull back further. CEP is a low priced security with the potential for substantial appreciation if distributions are resumed. 2012 will be its key test year to see if it can deliver distributions after 2 years of debt reduction. High yields on MLPS make for profitable investments in individual and retirement accounts.
Disclosure: I have no positions in any stocks mentioned, and no plans to initiate any positions within the next 72 hours.