Nucor (NYSE:NUE) is a steel manufacturer and seller operating in Steel Mills, Steel Products, and Raw Materials. Its main competitors are U.S Steel (NYSE:X), AK Steel (NYSE:AKS), and Commercial Metals (NYSE:CMC).
According to Nucor's 2010 Annual Report, 3% GDP growth is the level that has historically been required to raise demand for steel. The Federal Reserve's most recent forecast is for 2.9% growth for 2011. While we are not there yet, the World Steel Association forecasts demand to grow 6% this year and another 6% in 2012. These numbers, while not staggering, are good enough to allow a well positioned company like Nucor to grow earnings. Additionally, Nucor's Annual Report cites that The American Society of Civil Engineers has stated that at the very least, $2.2 trillion must be spent on infrastructure investments over the next five years. A very large portion of these investments will benefit steel companies, and as the second largest steel producer in the United States, Nucor will likely take a large chunk of the orders. Though it is currently quite difficult to imagine our government stepping up and investing in necessary infrastructure projects given the current macro picture and fiscal deadlock in Washington, there is plenty of stimulus money left allocated for building projects. These investments will in fact have to be made at some point, as our current infrastructure is in a dire condition.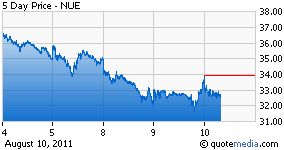 When the Global Economy finally begins to near peak capacity, which is several, long years away, the companies that have had the guts and foresight to invest right now (while interest rates are zero) are going to be the ones benefiting and stealing market share. Nucor has been making strategic investments for the last several years, right through the peak of the recession. While this will bode well for the future in fiscal terms, it also speaks volumes about management, which is led by CEO Dan DiMicco. An example of Nucor's audacious investment tactics was in 2009, when the company purchased 4,000 acres in Mississippi, for a blast furnace operation. In total, $390 million was invested into new facilities in 2009, right at the peak of the recession. Despite lowered volumes, Nucor prepared for future growth and will take advantage of it as it comes.
With a current ratio of 3.35, $7.20 in cash per share, and $1.46 billion in operating cash flow, Nucor's balance sheet is in excellent long-term condition. Management has increased Nucor's long-term debt load in the last two years as a result of wanting to expand while interest rates are at record lows. The company has plenty of equity and long-term growth ahead of it, and will have no problems paying off the debt.
Nucor has grown revenue by the double digits for the last five quarters on a year-over- year basis. Quarterly earnings are anything but consistent, but that is completely irrelevant in the long term. Nucor currently trades at about 23 times earnings, and has a projected forward P/E of 9. 5-year analyst growth estimates call for 12% growth. Its 5-year historical P/E ratio is 28. While earnings may have and may continue to take small hits as a result of Nucor's aggressive investments, Nucor's share price should see substantial gains over the next several years.
My favorite aspect of Nucor is its current 4.50% dividend. Annualized share price gains of only 4% will allow investors to achieve 8% total returns per annum over the long run. Additionally, Nucor has a 5-year history of increasing dividends at a rate of 29.38% per year.

Disclosure: I have no positions in any stocks mentioned, and no plans to initiate any positions within the next 72 hours.