Crude this morning is snapping back. Oversold they say.
Well, that a matter of opinion, as I heard yesterday CNBC's energy trading pits girl, Karen, mention my 50 dollar target. Ha ha, just had uttered my 75 dollar word only a few days back.
The cornerstone of the (my) crude/energy thesis is two-fold: Politics/2012 elections and declining global demand due to economic contraction. Yesterday, even OPEC cut its global demand numbers by 150k barrels a day through year end 2011.
I continue to hold to my crude decline prediction through the election of Nov. 2012. This has been confirmed by Goldman Sachs and JP Morgan — GS announced soon after we hit 110 they thought crude would begin a decline. This book talking is most likely designed to get their closed out long positions and new short positions a grand sendoff. But it doesn't make them wrong.
Recent discussions with senior members of The Kennel brain trust have dissected the past coupling of commodities and more specifically, the connection of gold and crude's tandem movements. Then was then and now is now.
Indeed, gold has officially become recognized as currency (except by the Fed, of course), and flights to safety from fiat paper has heralded a new phase of realism. South Korean and Chinese central bank purchasers and others globally have fueled the price pressures underlying gold and sustained it's breakthrough north of $1,500.
This brings us full circle to crude, where given the removal of the stool's third leg, emerging global growth, has seriously dented the ability of commodities to continue to track with PMs and sustain the inverse relationship with the dollar. That isn't to say continuing dollar value decline won't be a consideration in commodity pricing given the Fed's proclivities to endlessly print paper money. What it does mean, however, is that declining demand for crude due to economic slowdown and subsequent declines in WTI and Brent pricing strips will not track with gold and the newfound realization by world governments that bullion anchors their currencies. Even more to the point, even at these prices, China would rather repatriate their endless supply of U.S. dollars in gold bullion than by keeping buying Treasuries.
All this banter is to get folks to rejigger their former conceptions of what is driving the mule trains now. Our gold bugs will note it's business as usual while those of us that have been more energy oriented will have to be more nimble. There are now few macro buy-and-hold-put-the-portfolio-on-autopilot choices. (Other than precious metals.)
We'll continue to selectively buy on sound fundamentals, however, we do so with the understanding that movements directionally within that sector and the general moods of the markets will dictate the buy and sell timing.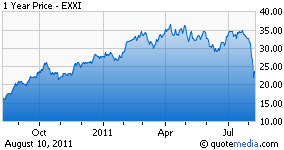 With this in mind, today, we will be re-purchasing our favorite E&P, Energy XXI (EXXI). It's fundamentals have been and continue to be compelling, but, when Mr. Market says otherwise, we will be listening. The McMoran Exploration (NYSE:MMR) prospects which Energy XXI partner in are at this point huge layers of icing on the EXXI cake. Their recent purchases of producing fields, especially the Exxon acquisition, has positioned EXXI as a major GOM/U.S. domestic producer. They have hedged their production very favorably at near 100 dollars a barrel, muting the impact of the decline in crude prices. Recent tops of 37 dollars a share vs. today's price under 24 bucks says it's time to nibble here on the intrinsic value of a share of EXXI.
We see a two-three-four buck run possible here in short time. If crude as a sector compass relaxes here for a brief respite from its march to the 50 dollar seas, we should have a nice rinse and repeat trade. Make no mistake, long term, EXXI as oily as it's mix is, should be a holding if you have any energy stocks in your port.
In times past, we've bought and held to our macro convictions, just because MACRO is MACRO. Well, then was then, and now is now. Wish we had more of that 20-20 around here. We bought GLD in the 50's and here we sit, still long the same shares, plus what we've added, and it's banging 160's. There is no going back to buy more at the 50 range. Same goes for those that bought EXXI back in the split adjusted days of sub 5.00. Tax reasons dictate holding EXXI for those folks.
We sold our Kennel Wolfpack Fund EXXI holdings back in June for $30/share. Deployed the funds shorting the indexes, and crude as well. We've covered the index shorts, stepped off the tracks as 430 point Dow trains whizzed by, and sitting on too much dry powder is a nice problem to have, so, we go to the well, pun intended and reconnect with EXXI this morning at the open for better or worse, for a quick swing as we do our thing.
We're slipping punches and on the move, but we're doing so with fundamentally sound companies. We may soon re-visit Gran Tierra Energy (NYSEMKT:GTE) for its ramping production, Brent pricing and debt free (relatively so) balance sheet. It also has been beaten down. They just announced earnings, and coming up a penny or so short of expectations has dimmed the rebound light, but knowing they have coming some good news on ramping up production reminds us to continue to look forward, not backwards with GTE.
Disclosure: I am long EXXI.