It is a fact, as one looks back into history, that all great empires fall from their lofty heights and inevitably come crashing down. Looking back through millenniums of recorded time and history we see the same inevitable cycle repeat itself again and again as new empires rise from humble beginnings, dominate their surroundings, and eventually fall. Whether it is the Romans, Persian, Greeks, Egyptians, Aztecs, or dozens of others, it does not matter as the end result is the same as a single catalyst or a multiple series of events plays out to bring their rule to an end. The catalysts for the decline can and do vary widely from military conquests all the way to financial Armageddon and everything in-between. The time frame for the fall will also vary widely. Recorded events show that some empires fell relatively quickly while others took many decades to finally succumb to their destined demise. A nice history lesson, but how does it apply today?
Today's modern equivalent of an empire is clearly the United States. One does not often think of the United States as an empire, but if one were to step back and consider the U.S.'s military might and financial powers and how they have shaped the course of the planet's political and economic culture, then it's not really a hard point to argue. For today's income investors though it does not take a doctorate degree in world economics or any advanced understanding of global finance to come to the determination that the foundations of this empire are shaking. Out of control deficit spending, expensive foreign military campaigns, and indecisive leadership at home all provide the necessary ingredients for disaster, which has played out time and time again. Now will the U.S. collapse into a fiery Armageddon while the barbarians overrun our gates and sack our cities? Probably not, but what you will see is an empire consumed by its decades of financial misdealing that will bring it to its knees. The final results are unknown, and no one will be able to accurately predict the final outcome, but it is easy to see that the U.S. will no longer hold its predominate place on the world stage as the empire slowly fades.
It's a sobering thought, to say the least, but it's not hard to accept. The question though is how to handle such a dramatic event and how to protect yourself, your money, and maybe even make a little as events unfold. Whether the fall from grace happens all at once or 20 years from now, income investors need a plan, or at least the makings of one. As an income investor, one is trying to get a portfolio that generates a nice yield of cash. But how can one try to incorporate strategies that might hedge against cataclysmic events on the horizon?
Real Money
Let's face it, the fiat currencies of the world are nothing more than a smoke screen. Being able to flip on a printing press and create money out of thin air is just asking for trouble. Throw on a runaway debt crisis and out of control spending in both the United States, and Europe, and you are creating a powder keg just needing a spark to ignite it. The real money is actually gold and silver, pure and simple. Gold is up 41% for the year and does not look like it is going to stop in the face of economic events. Most income investors are not fond of gold as it does not generate income per se, but the fact of the matter is that holding onto fiat currencies is a sure way to lose in the end. Converting excess cash to the precious metals might be the way to go to preserve asset value. What good is it to generate outsize yields only to find out that your fiat currency is worthless in the end? Below are some investment vehicles one might find interesting to convert their U.S. dollars into gold and silver without taking the physical possession of the commodity. Before we continue, let it be known I picked funds that exist outside of the U.S.to mitigate the risk of confiscation as has been done in the past by the government during times of crisis.
Central Fund of Canada Limited
(NYSEMKT:
CEF
): Central Fund of Canada is a closed-ended commodity mutual fund launched and managed by Central Group Alberta, Ltd. It invests in the commodity markets. The fund primarily invests in commodities like silver and gold. Central Fund of Canada was formed on November 15, 1961, and is domiciled in Canada. The fund holds both gold and silver stored in high security vaults in Canadian charted banks. Now being a closed-end fund makes investors nervous as the price per share can and will deviate from the net value of the assets that back the fund. Currently CEF is at a 1.19% premium so it is still a tolerable level for buyers. The fund also has management fees that run at 0.34%. The current breakouts of assets are as such:
Capital Structure
(As of 8/8/2011)

Total Net Assets:
$5,628.238M
Total Common Assets:
$5,628.238M
Common Shares Outstanding:
238,282,713
Holdings Value%Portfolio

As of 5/31/2011
Silver Bullion Ounces
$2,974.66M

56.18%
Gold Bullion Ounces
$2,603.82M

49.18%
Cash & Cash Equivalents
$76.84M

1.45%

(Click charts to enlarge)
Central Gold Trust
(NYSEMKT:
GTU
): GTU primarily invests in unencumbered gold bullion and also has its headquarters in Canada. Like CEF, GTU is also is a closed-ended commodity mutual fund. The fund invests in gold and has no other precious metals. Also like CEF, Central Gold Trust's share price will deviate from the net value of the assets that back the fund. Currently the fund sells at a premium of 6.75%, which might be a little steep for some. The fund also has management fees that run at 0.40%. As of August 9, 2011, the company has the following holdings:

Click to enlarge
Finally, we do have one gold investment that will appeal to income investors. That is the
The Gabelli Global Gold, Natural Resources and Income Trust
(NYSEMKT:
GGN
). GGN is a closed-ended equity fund launched by GAMCO Investors, Inc. and managed by Gabelli Funds, LLC. Before we go any further it should be known that the fund is not an investment in physical gold. It is an income investment that happens to be using gold, silver, and natural resource stocks to derive income off the selling of covered calls. If we look a bit further into the fund we find it also invests in companies principally engaged in the exploration, production or distribution of natural resources, such as gas, oil, paper, food and agriculture, forestry products, metals and minerals as well as related transportation companies and equipment manufacturers. The gold component is made up of investments in equity securities of firms operating in gold and natural resources industries including companies in exploration, mining, fabrication, processing, distribution or trading of gold, financing, managing, controlling or operating of companies engaged in gold-related activities. The fund does have a 10.07% leverage rate but I think that it is manageable as opposed to other funds that measure much higher in the closed-end fund universe. See below for more details.
Distribution Rate:
10.24%
Distribution Amount:
$0.1400
U.S. Dollar

The U.S. Dollar is one of the most interesting currencies to watch as the world economies shutter under the weight the failing economies. What is most interesting was watching a downgrade of the United States debt by S&P ignite a stock market sell-off of epic proportions, only to end up causing a rally back in the Treasury markets where the original problems started. Some argue that the U.S. dollar is still the safest bet in town and for today that is probably is true. The problem is that this safety cannot remain in place for much longer. It all comes back to the monstrous pile of debt that has yet been addressed by our leadership. As these same leaders bicker over a couple trillion of current cuts, waiting in the shadows lurks the Grim Reaper in the form of $61 trillion of unfunded liability that everyone wants to ignore and pretend is not there. So will the U.S. Dollar remain the reserve currency for the world and always be solid? Sadly I believe the answer is no, so the answer is to not hold U.S. Dollars. There are several ways to do this but one could consider currency ETFs as an option. Now weakness in other currencies exists as well, namely the Euro, so one would want to be very selective where they put their money. Some of the top choices I would see currently for an income investor would be the Australian dollar, the Swiss Franc, and the Canadian Dollar. Below are details of each of these currency ETFs and the current yield. Take a look at the graphs and charts for each over the last 2 years and you can see what is slowly happening. As the U.S. Dollar will fail in the end, these countries give us a better chance at asset preservation.
CurrencyShares Australian Dollar Trust
(NYSEARCA:
FXA
): The investment seeks to track the price of the Australian Dollar, net of trust expenses. The fund seeks to reflect the price of the Australian Dollar. The sponsor believes that, for many investors, the shares represent a cost-effective investment relative to traditional means of investing in the foreign exchange market. The fund is non-diversified. Yield is 3.48%.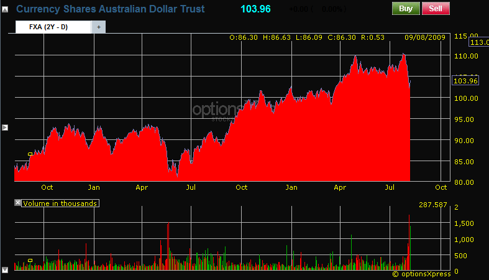 Click to enlarge
CurrencyShares Swiss Franc Trust
(NYSEARCA:
FXF
): The investment seeks to track the price of the Swiss Franc, net of trust expenses. The fund seeks to reflect the price of the Swiss Franc. Yield 0%.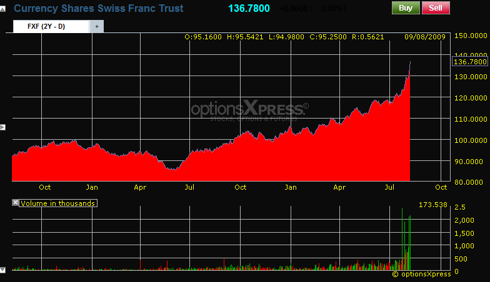 Click to enlarge
CurrencyShares Canadian Dollar Trust
(NYSEARCA:
FXC
): The investment seeks to track the price of the Canadian Dollar, net of trust expenses. The fund seeks to reflect the price of the Canadian Dollar. Yield 0.16%.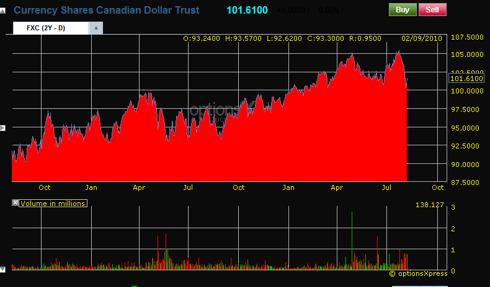 Click to enlarge
Energy
The current theory is that if the U.S. Dollar is going to fail then gold is the safest best. Standing behind that is energy, namely oil. Oil is the commodity that drives the human race. As the population grows and countries like China and India expand, the demand for oil will increase even as the U. S. slowly diminishes in status. So the basic idea would be to hold companies outside the United States that have control of the oil that makes the economic engines turn. Once again you would need to be selective as not all of these countries and companies are equal. For example, companies doing a vast majority of their business in Africa, and the Middle East, are going to be prone to political upheavals and fallout. The same can easily be said for countries and companies in South America, as shown by recent events in places like Venezuela, and Bolivia. That leaves a few places around the world, but what I like best is Canada. A stable political structure with vast resources make this the ideal place for investment. Some of the greatest investments might be involved with the Oil Sands projects and for a more detailed breakout of those companies see the following article:
6 Outstanding Companies Investing in Canadian Oil Sands
. Other than the Oil Sands companies, the two companies income investor should consider are Penn West and Enerplus.
Enerplus
(NYSE:
ERF
): Enerplus is a Canadian company that engages in the acquisition, exploitation and operation of crude oil and natural gas assets. ERF operates on a land base of approximately 420,000 net acres within such well-known plays as the Bakken/Tight Oil play, the Marcellus Shale Gas play, and Deep Basin play. The total estimated proved plus probable reserves were 306,237 thousand barrels of oil equivalent consisting of 149,853 thousand barrels of crude oil, 11,576 thousand barrels of natural gas liquids, and 752,187 million cubic feet of natural gas and 116,662 million cubic feet of shale gas. The reserve life for the company is 10.7 years and production outlook is estimated to be 78,000 to 80,000 BOE/day.
The production is almost an even break of 53% natural gas, 47% crude oil and natural gas liquids. The goal for Enerplus is to increase total production growth by 10% – 15% through 2012. The oil production side of the house is planning to increase by more than 30% over the next two years. To make this growth a reality, ERF announced and completed the sale of a portion of their Marcellus natural gas interests in Pennsylvania, West Virginia, and Maryland, for US$580 million. The proceeds from the sale will be used to repay current outstanding bank debt resulting in the entire $1 billion credit facility being undrawn and available to support future growth strategies. The company's dividend is paid monthly and looks to be stable for a long time to come, when considering that the payout rate is running at 55%. The yield is 8.6%, which should make an income investor take notice.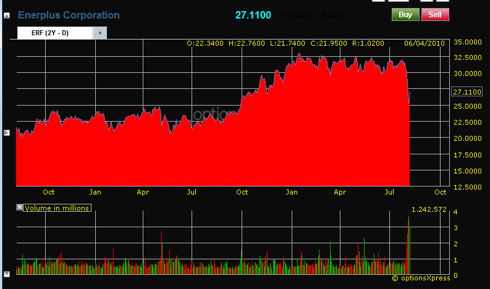 Click to enlarge
Penn West
(NYSE:
PWE
): Penn West is one of the best energy companies in Canada. PWE engages in acquiring, exploring, developing, exploiting, and holding interests in petroleum and natural gas properties in a huge land mass of 6.2 million acres. With this huge land mass PWE is applying new technology in drilling techniques in hopes of increasing reserves on hand. In 2010 the capital expenditures budget for the year was increased to more than C$1 billion. In 2011 expenditures are estimated to be C$1.1-C$1.2 billion. The company drilled 185 net wells in the first quarter of 2011, compared with 65 net wells in the same period of 2010, to fuel the expansion. The company also closed the renewal of its unsecured, revolving bank facility on June 27, 2011. PWE has an aggregate borrowing limit of $2.25 billion on which it currently has drawn approximately $900 million. The bottom line is that PWE will in time have such reserves in place that it will be one of the largest energy companies in Canada outside the Oil Sands Projects. Sitting in the relative safety of Canada, the company should do quite well. The current yield is 5%.
The United States is on a collision course with disaster. The leadership from both parties of Congress up to the White House itself is so lacking that opportunities to avert the crisis are squandered on political infighting and grandstanding. While hope always remains, income investors should take heed to the old saying,
"
Hope for the Best, Prepare for the Worst."
Disclaimer: Data and information are provided "as-is" for informational purposes only, and are not intended as investment advice, tax advice or legal advice. All data and information are provided by optionsXpress Holdings, Inc., and optionsXpress, Holdings Inc. does not endorse or warrant the validity or accuracy of such data and information. Nor is optionsXpress Holdings, Inc. liable for any errors or delays in the data and information, or for any actions taken in reliance thereon.
optionsXpress makes no investment recommendations and does not provide financial, tax or legal advice. Information accessed through this website and any link contained therein does not constitute a recommendation to buy or sell a particular investment from optionsXpress. You are solely responsible for your investment decisions, and you should carefully evaluate the information to determine whether it is right for you and use of such information is suitable for your objectives.