Outside of a buyout, an increased dividend payment represents one of the best pieces of news a company's shareholders could hope for. Generally, an increasing dividend means a steady stream of income and a rising stock price – two good signs for long-term investors. A stock often remains a good buy after announcing a dividend increase. When a company raises its dividend, just as when insiders buy their company's stock, investors on the outside can get a better gauge on a firm's future prospects.
Six Flags Entertainment Corp. (SIX) trades an average of 570,000 shares per day, and has a market cap of $1.77 billion. Six Flags Entertainment Corporation owns and operates regional theme, water and zoological parks in North America. As of December 31, 2010, the company operated 19 parks. Six Flags announced an increase in the quarterly cash dividend from $0.03 to $0.06 per share.
Industry: Recreational Activities
Recent Price: $31.53
52 Week High: $40.25
52 Week Low: $15.93
For the trailing twelve months, the yield is 0.0247%. Based on the current price, and increased payout of $0.06, the stock now has a yield of 0.764%. While still not a high yielding stock, management is clearly showing investors that they are confident in future earnings. The second quarter numbers support this view, with 5% revenue growth, and a 20% adjusted EBITDA growth rate.
For the same fiscal period year-over-year, revenue has improved to $975.89 million for 2010 vs. $898.932 million for 2009. The bottom line has rising earnings year-over-year of $598.926 million for 2010 vs. $-229.17 million for 2009. The company's earnings before income and taxes are rising with an EBIT year-over-year of $97.48 million for 2010 vs. $75.49 million for 2009. Looking at current assets, the stock has a trailing twelve months price to book ratio of 1.74.
At $31.53, the price is currently below the 200 day moving average of 32.45, and below the 60 day moving average of 36.54. Six Flags, like the rest of the market, has sold off in the past week or so. This has brought the price below the 200 day moving average, but is of concern. Looking at the options for Six Flags, I see one that I like. I would prefer to sell the Sept $30 strike price puts, but only if I could receive $1.50 or more. Otherwise, a pullback into the $30 price area may be attractive.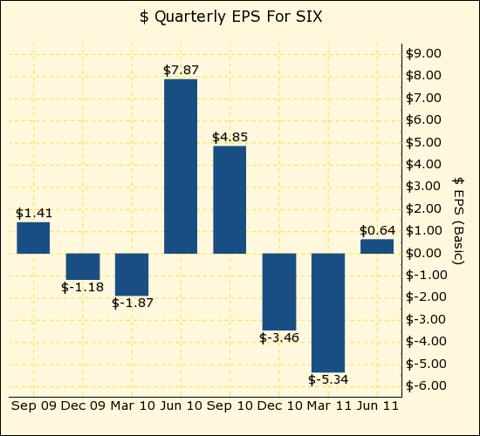 Disclosure: I have no positions in any stocks mentioned, but may initiate a long position in SIX over the next 72 hours.
I use a proprietary blend of technical analysis, financial crowd behavior, and fundamentals in my short-term trades, and while not totally the same in longer swing trades to investments, the concepts used are similar. Based on my criteria, I have come to the following conclusion: This one is worth the time to investigate further for an ideal entry price to either write put options or buy the stock. Of course that in itself does not mean you should, but you may want to use this article as a starting point of your own research with your financial planner. I use Seeking Alpha, Edgar Online, Google Finance, MSN Money, cnbc.com, Zacks and Yahoo Finance for most of my data.