After a slew of new tech IPOs, some investors are looking to add a little something different to their portfolio. One of these recent IPOs happens to be Pandora (NYSE:P), a personalized internet radio service. The service allows users to create custom radio stations that appeal to his or her own taste. It offers an amazing alternative for anyone who just can't seem anything interesting on normal radio.
You can use Pandora almost anywhere, with its integration on TV, the internet, mobile phones, and even in cars. I have used Pandora for myself and can say that the technology is certainly amazing and it offers an incredible alternative to listening to the regular radio where stations are designed to capture a broad audience.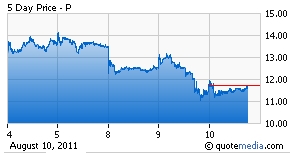 Although Pandora may have a stellar product with exposure on TV, online, and on mobile phones, the other aspects we have to consider as investors are if the company can produce profit from revenue and give us a return on our investment. As of July 12th, 2011, Pandora reached the milestone of 100 million users, of which 36 million were active. Although the company has a large user base, and rapidly increasing revenues, growing from 19 million in FY 2009, to 55 million in FY 2010, to 138 million in FY 2011, Pandora is still faced with the challenge of making a profit.
Even though they monetize their product through ads, Pandora has still managed to end each year with a loss of income. And without properly monetizing Pandora, investors could be in store for more years with negative profit.
Many analysts have recently released price targets in the range of 17-25 dollars, much higher than the current share price of 13.52. As of now, the company is mostly a speculative play and is accompanied by high risk. But if Pandora continues to raise revenues or turns a profit, and continues to gain high-profile customers (such as their recent partnership with Verizon (NYSE:VZ)), then the risk could be very much worth the reward.
I advise investors to review Pandora closely, and make sure that it would be a suitable investment for him or herself before putting the money on the table. Pandora is just starting its life as a publicly traded company, and many questions have yet to be answered.
Disclosure: I have no positions in any stocks mentioned, and no plans to initiate any positions within the next 72 hours.