Are you tired of this volatility. I sure am. Yet, we can take advantage of it with some nice premiums on low risk trades.

We have found four blue chip options trades that can make a nice amount of income on risk that can provide some decent returns. Most of all, these trades are safe. They will gyrate with the market but with much less risk. Further, they are looking extremely cheap, and we are seeing a lot of market makers saying they are interested.

IBM (NYSE:IBM) - Aug20 Bull Put Spread 150/145
Paying: 0.31
Risk: 86% chance of expiring worthless.
Return on Investment: 5.8%

We like IBM to hold its 200-day MA at $159.50. The stock is a stalwart, but it has dropped $20 from its high after earnings. This move is unwarranted, and a move to $150 in IBM in the next seven trading days means a 10% drop in the market at least. Doesn't sound likely.
Click to enlarge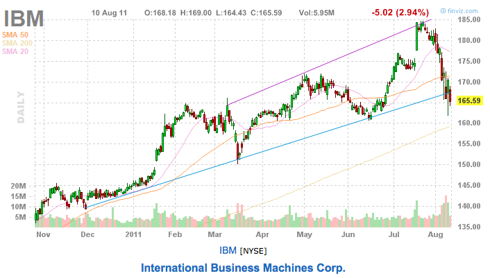 Click to enlarge
Coca-Cola (NYSE:KO) - Aug20 Bull Put Spread 60/57.50
Paying: 0.17
Risk: 85% chance of expiring worthless.
Return on Investment: 6.4%

Coke is right on its 200-day MA right now at $64.50. It would take another big market shift down to take Coke to $60, and we do not see that happening. It's not a huge payment, but it's cheap. You can make a quick $75 for $1,000.
Click to enlarge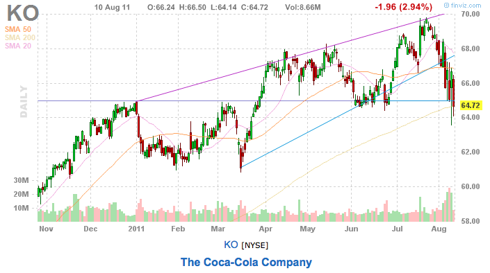 Click to enlarge
McDonald's (NYSE:MCD) - Selling Aug20 $77.50 Puts
Paying: 0.35
Risk: 88% chance of expiring worthless.
Return on Investment: 4.32%

This one is pretty awesome. McDonald's is holding the 50-day MA and 200-day MA. The company just won a great upgrade, and while the payment is small and ROI is small, it is a trade you can count on to come through for you. That is something that we do not have a lot of right now - certainty.
Click to enlarge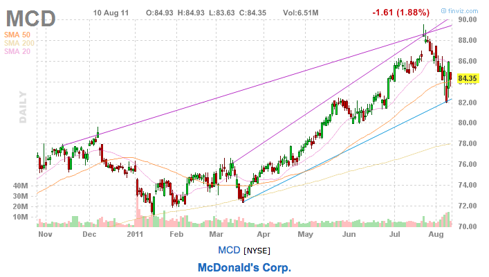 Click to enlarge
Exxon Mobil (NYSE:XOM) - Aug20 Bull Put Spread 62.50/60
Paying: 0.23
Risk: 83% chance of expiring worthless.
Return on Investment: 8.42%

This one is probably the riskiest of all, but it would mean a more than 10% drop in XOM's stock price. XOM has failed the 50-day, 20-day and 200-day MA, so we are basically just hoping that the market is done failing. The stock has not been this cheap since December of 2010, and we see downside as limited from here. Of all ideas, this is the riskiest.
Click to enlarge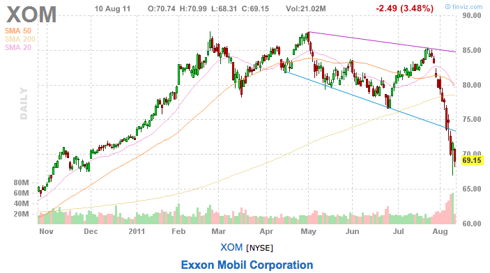 Click to enlarge
Any material presented in this email is provided for informational purposes only and is based upon information that is considered to be reliable. However, neither The Oxen Group nor its affiliates warrant its completeness, accuracy or adequacy and it should not be relied upon as such. Neither The Oxen Group nor its affiliates are responsible for any errors or omissions or for results obtained from the use of this information. Past performance, including the tracking of virtual trades and portfolios for educational purposes, is not necessarily indicative of future results. Neither The Oxen Group or anyone related to The Oxen Group is a registered financial adviser and they may hold positions in the stocks mentioned, which may change at any time without notice. Do not buy or sell based on anything that is written here, the risk of loss in trading is great. Please seek financial advice before making any investments.
This material is not intended as an offer or solicitation for the purchase or sale of any security or other financial instrument. Securities or other financial instruments mentioned in this material are not suitable for all investors. Any opinions expressed herein are given in good faith, are subject to change without notice, and are only intended at the moment of their issue as conditions quickly change. The information contained herein does not constitute advice on the tax consequences of making any particular investment decision. This material does not take into account your particular investment objectives, financial situations or needs and is not intended as a recommendation to you of any particular securities, financial instruments or strategies. Before investing, you should consider whether it is suitable for your particular circumstances and, as necessary, seek professional advice.
Disclosure: I have no positions in any stocks mentioned, but may initiate a long position in IBM, KO, MCD over the next 72 hours.