It's not everyday we come across such a massive mispricing in the market as that of EDAC Tech (NASDAQ:EDAC) at these levels, but nonetheless we are amazed at the upside opportunity presented by this stock.
As part of our process, we employ a discounted cash-flow model to arrive at a fair value estimate for every company within our equity coverage universe. In the case of EDAC Tech, a nano-cap aerospace supplier of precision components to jet engine makers, we think the shares are significantly undervalued at today's prices of roughly $5 per share. Based on our DCF process, our fair value estimate for EDAC Tech is $10 per share (assuming a 9.4% weighted average cost of capital), and we reveal our forecasts and valuation summary below to make our case for investors interested in picking up a potential double.
Valuation Summary
Click to enlarge



Source: Valuentum Securities, Inc.
For starters, let's evaluate EDAC Tech's performance through the first six months of this year.
Click to enlarge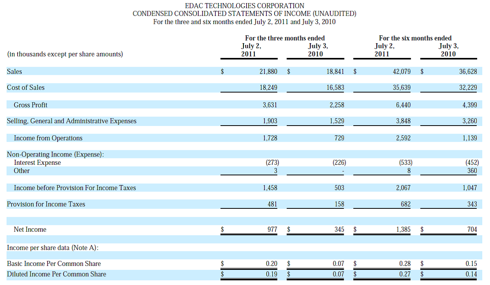 Source: EDAC Tech's 2Q Form 10-Q.
As you can see from the performance thus far this year, EDAC is on track to earn roughly $0.54 per share in 2011 (diluted income per common share was $0.27 through the first six months). Importantly, however, the firm's second quarter results are more revealing of the trajectory of the firm's business, in which it earned $0.19 per share. From our second-quarter earnings note:
EDAC's revenue reached record levels, jumping 16%, while net income almost tripled. Sales in all three of its major product lines improved – EDAC Aero, APEX Machine Tool and EDAC Machinery – while the firm's bottom line improved materially thanks to more cost-effective manufacturing and a better product mix (gross margin increased 460 basis points in the period) ... The company's backlog now stands at $168 million, up from $134 million sequentially (that's just three months ago), and represents over 6 times its market cap. We believe this backlog to be of the higher-margin variety, and increased throughput should continue to drive margin improvement.
We think the firm's second quarter performance is more indicative of what investors can expect in the third and fourth quarters, where we are forecasting earnings per share of $0.12 and $0.19, respectively - putting our full-year 2011 earnings per share forecast at $0.58. By extension, EDAC Tech is currently trading at about 8.5 times this year's earnings and less than 7 times next year's earnings (based on our forecasts). These are ridiculous multiples.
Let's dig a bit deeper into the sustainability of this performance. On EDAC Tech's second-quarter conference call, the firm noted that it expects a slight sequential decline in revenue (5-10%) in its third quarter due to seasonality (which explains our relatively lower third-quarter EPS forecast), but noted that revenue should be particularly strong in the fourth quarter of this year as it begins to recognize revenue from a recent large European order.
Regarding sustainable long-term growth, EDAC has secured a nice position on the geared turbo fan engine from United Technologies (NYSE:UTX) - which represents about 40%-50% of total revenue - and also has a presence on CFM's (GE/Safran) LEAP-X engine, which is an option offered on the best-selling A320neo (new engine option). We expect commercial aircraft deliveries in the next few years to expand considerably, led by increased production rates by Boeing (NYSE:BA) and Airbus (OTCPK:EADSY) in the narrowbody segment (A320, 737). The recent Paris Air Show and American's (AMR) large order for 460 replacement planes this year speak to the strength of commercial aerospace in coming years.
Click to enlarge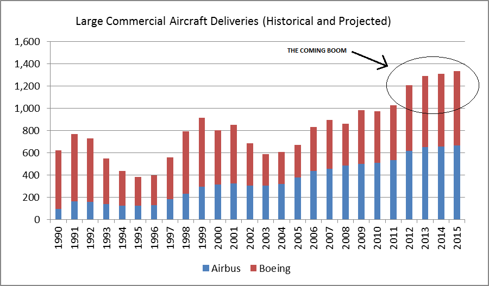 Importantly, however, EDAC noted that it expects to continue to improve margins in the years ahead, which will be a critical driver behind earnings expansion. Given the operating leverage we've seen out of other jet-engine suppliers like Precision Castparts (NYSE:PCP) during previous cycles, we're fairly confident in the company's claim regarding margins. We reproduce management's comments from its second-quarter conference call:
Q: I'm just curious about the sustainability of margins at this level ... I mean it's really a remarkable improvement and I was just wondering if you can retain these levels.

EDAC: Our objective is to maintain these levels and by no means be our ceiling. We hope to continue to improve as we work through our development parts that we have done last year and this year. We are very optimistic that we'll able to continue to hold or improve these margins.
With the company's top-line growth trajectory and the prospects for further margin enhancements, we would not be surprised to see the firm earn $0.72 next year - less than 7 times its current price on the heels of about 25% earnings growth. Of note, we don't expect EDAC Tech to achieve the gross margin levels that it achieved in its second quarter (about 16.6%) - the levels management says it can maintain and improve upon - until 2013 (see below), meaning our $10 per share fair value could even be conservative. We expect EDAC Tech to expand earnings at a double-digit pace going forward given the expected strength of the commercial aerospace cycle, which we had outlined above. We reproduce our income-statement forecasts for EDAC Tech below:
Click to enlarge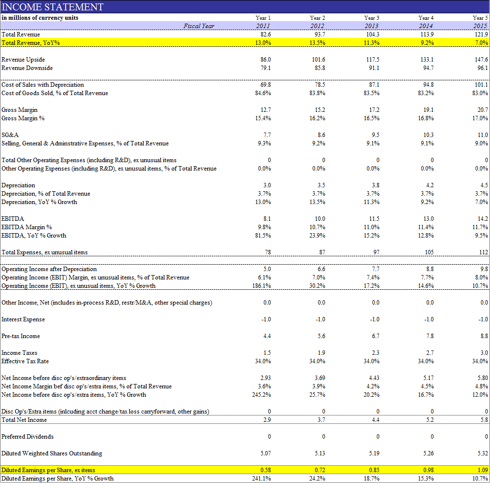 In all, we think EDAC Tech is significantly undervalued in the $5 per share range. And as it relates to our conviction in the call, the name represents the largest holding in our Best Ideas portfolio at this time.
Disclosure: I have no positions in any stocks mentioned, and no plans to initiate any positions within the next 72 hours.
Additional disclosure: Our Best Ideas Newsletter and portfolio is for information purposes only and should not be considered a solicitation to buy or sell any security. Valuentum is not responsible for any errors or omissions or for results obtained from the use of our Best Ideas portfolio or this article and accepts no liability for how readers may choose to utilize the content.