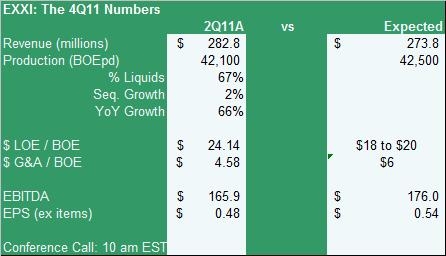 Click to enlarge chart
The 4Q11 Numbers for Energy XXI (EXXI): Production was impacted during the quarter due to a pipeline related curtailment. This looks to have resulted in lower than Street consensus EBITDA due to abnormally high workover and maintenance expense associated with pipeline repair work. The 10-Q isn't filed yet and I don't see comments on it in the press release but if that's it then otherwise cash costs looked to be in line and I would expect LOE to return to more normal levels after the current quarter.
Production:
42,100 BOEpd in 4Q11 (with 4,000 BOEpd offline due to the pipeline issue and rig movements) The pipeline is now fixed.
Current production is 43,500 with 2,600 BOEpd still curtailed due to temporary operation issues.
Note that the last read I had on "productive capacity" was 46,500 BOEpd but that included 1,800 BOEpd that was sold at 6/30/11.
So while we are still at 46,100 BOEpd of productive capacity the company has managed to scrounge up an additional ~ 1,400 BOEpd of production from new discoveries and recompletions mentioned in the press release on top of fighting normal base declines.
Highlights
Ultra Deep Shelf Update:

Nothing new in the post regarding well results.
The company should have further results from Blackbeard East and Lafitte in the next several weeks and we should get a better idea on timing on the conference call. The best guess is we are four to eight weeks away from news at either or both wells.

Reserves:

YE FY11 proved reserves were up 54% vs FY10 to 116 MMBOE.
57% of the reserves are oil.
The company had Netherland Sewell run a potential reserves report on the combined recoverable hydrocarbons at Davy Jone and Blackbeard (Lafitte was excluded as they don't have enough data yet). Net to EXXI, Netherland put potential reserves at 162 MMBOE or 140% of the current total company proved reserves.

Guidance:

1Q11: The aforementioned pipeline related curtailment has meant roughly half of the current quarter saw production of 40,700 with the remainder likely running north of 43,000 BOEpd.
FY 2012:

Capital Budget of $380 to $450 mm, up 15% on the mid to last year's budget of $360mm which is not much and speaks to a lack of inflation in the offshore at present.
Notably only 23% goes to the Ultra deep projects which I think is wise, prove then up (and we'll get multiple flow tests and some new wells with this cash this coming fiscal year) while putting 56% of the budget into development projects and low hanging fruit from the Exxon Mobil (NYSE:XOM) acquisition.
Production: Look for flavor on the call.

Balance Sheet: Debt to cap fell sequentially from 59% to 54% this quarter. I have noted in recent days the more leveraged names are getting hit the hardest in the group. My sense is that the market is over-reacting to 2008 like fears.
Nutshell: A solid quarter for the company. At the present share price, the name is trading at a TEV to proved BOE of $18.52 per barrel, which means little if any value is currently placed on potential success and associated reserves from its Ultra Deep Shelf program at a time when that program is weeks away from more well results and just four to five months away from first production from the Davy Jones discovery well. Meanwhile, the company is just getting started exploiting the neglected (under funded/under exploited) assets of the Exxon transaction while still making progress de-leveraging the balance sheet. I continue to hold the name in the ZLT having added as recently as yesterday.

Disclosure: I am long EXXI.