As an incredible export-driven country, China's GDP growth is lessening as the world economy continues its stagnant recovery. One of the biggest commodities to be hit lately is oil which has dropped about 20% from its $100 per barrel days. If the stock market drops, one of the beneficial effects for the general populace is that gasoline should head down in price since oil generally correlates with equities on general economic sentiment. Although other sectors may benefit from drops in oil (Airlines for instance), I will emphasize retailers today since they are among the safest and most undervalued stocks currently available.
With oil at $82.07 per barrel there could be a significant increase in sales volume despite the possibility of an economic slowdown. In addition to more people driving to the store, shipping costs from manufacturers to warehouses to stores will be reduced significantly which should noticeably effect retail industry EPS, since profit margins should improve. Most retailers also pay dividends, which will supplement gains for long-term plays.
Here is a list of retailers which should benefit as long as oil stays low:
Best Buy (NYSE:BBY) - Real Sales and Dividend Growth but Skimpy Earnings
As of now Best Buy is trading at a P/E of 7.8, yielding a dividend of almost 2.7%, and trading about 50% below the average price target, it looks cheap and has good growth prospects. Operating income has been clearly increasing in the past, but net income has been stagnating as of late which is likely why the P/E multiple is trading so low now.
Looking at their liabilities, I found that a significant chunk of BBY's liabilities come from asset depreciation and other miscellaneous problems, but at the root of it is a cheap earnings multiple with market growth. In addition BBY has been increasing its dividend while its payout ratio has been stagnant now sitting at about 19%. This leaves more room for improvement in the future.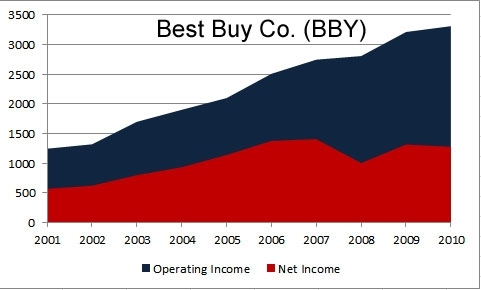 Walmart (NYSE:WMT) - Strong Growth on All Fronts
No retail list would be complete without Walmart. The current multiple of about 11.3 is incredibly cheap for such a proven defensive stock, and the 3% dividend yield alone makes this stock a much better bet than any fixed-income instrument or annuity. Walmart has been a very consistent performer, increasing its sales in a relatively steady line for over a decade and having faithful increases in its dividend and payout ratio every consecutive year. WMT is just a solid play in every aspect. There is little risk and there are sizable rewards for buying this equity.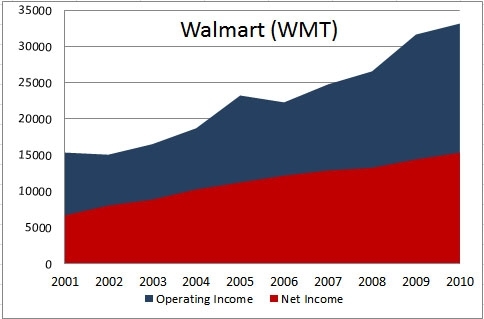 Radioshack (NYSE:RSH) - Stagnant Dividend, Faltering Growth
Although its strong focus on consumer electronics makes this more risky than the likes of Walmart, Radioshack is trading at a lower multiple. Current P/E for the stock is about 9, and the dividend yield is hovering around 2%. The average analyst pegs the price of the shares at about 17$, about 30% above where the stock is currently trading. But there are a few issues which make it look much less attractive than Walmart or Best Buy right now.
One of the most glaring problems is that it hasn't had dividend growth since 2002. Next, there is really something wrong with how operational income and earnings have been moving. Radioshack is in direct competition with stores like WMT and BBY, selling similar products. It would seem as if RSH is slowly losing the battle, as the industry has generally seen gains since at least 2006. Combined with the lack of dividend increase, the numbers say that RSH is a stagnant company. Although it is included on the list, I wouldn't recommend it - especially when you can buy WMT or BBY in its place.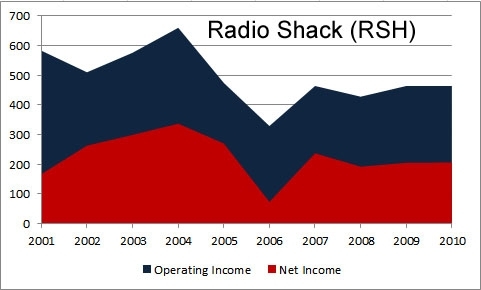 Walgreen Co. (WAG) - Does Slow and Steady Win the Race?
Being the biggest major drug-retail chain around, Walgreen has very safe profits which should be in healthy condition with an aging population. However this is a double-edged sword, as the growth rate will rarely be overwhelming. A significant portion of the net earnings slowdown has been due to increases in Walgreen's debt.
The average analyst prices it at about 48$/share, which implies a potential 28% upside. In addition to its safety, WAG has a nice dividend of 2.6% which has been increasing surprisingly quickly in the last few years. It's definitely a buy if you like dividends.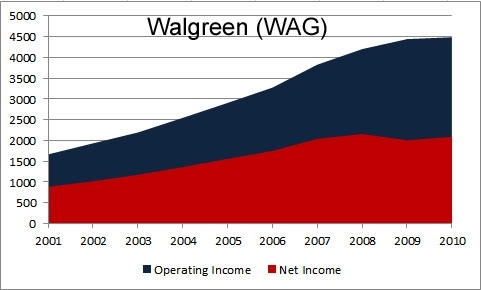 Gamestop (NYSE:GME) - Who Needs Dividends When You Have Growth?
The video game industry has become a real staple of the economy in the big picture, and continues to grow. Older generations may scowl at the kids who choose to play Call of Duty instead of baseball in the backyard, but Gamestop isn't complaining. It's the largest game retailer in the United States. It's trading at a P/E of 7.5 right now, which is exceptionally low for a high growth stock like this one. Analysts have the target price averaged at about $31 a share, a 34% increase from the current price of $20.54 a share.
While operational income and net income have been stagnant for the last few years, don't be fooled thinking people have stopped buying games. Revenues are still climbing, and with lower shipping costs due to lower oil and cost-cutting measures taken by the company the impact on earnings should be quite significant. If you don't mind the lack of a dividend and you're looking for growth in the retail sector, GME should prove useful.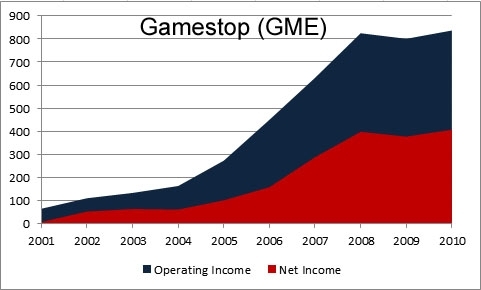 Abercrombie & Fitch (NYSE:ANF) - A Potential Rebound to 2008? It's a Tall Order
A&F has had some great quarters in the past but isn't where it used to be. It (along with other apparel companies) needs significant sales growth in Europe, which is of course going through too many problems to list in one article. This video (if you can ignore the ridiculous opened-shirt guy with the abs in Italy) offers a simple explanation of how essential the European market is to these clothing companies.
It's interesting to note however that ANF is trading as high as it was in it's peak years (2006-2008). This, on top of a rather small dividend yielding 1% with sporadic and slow growth of it over the years. If ANF can massively boost income through European expansion and cut the costs, the P/E of almost 32 might almost be worth it. It's hard to say though, as both stiff competition and shaky performance make the risk/reward ratio on this play relatively unfavorable in many ways. Analysts have the target price of the stock at $85, about 23% above the current price.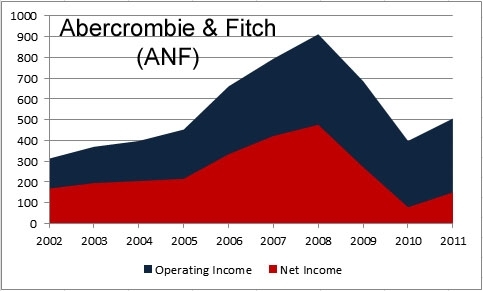 In conclusion, I think that all retailers should benefit at least a little from the current weakness in oil prices. I've done basic quantitative analysis on the income, dividend, analyst targets, and net income of these companies and attempted to draw some conclusions.
Based on these measures, a special nod goes to WMT which has been the most consistent and profitable equity on the list trend-wise. As massive as WMT already is (and as generic it is in portfolios), its history tells us not to underestimate its reliable sales volume and cost-cutting efficiency.
Disclosure: I have no positions in any stocks mentioned, and no plans to initiate any positions within the next 72 hours.