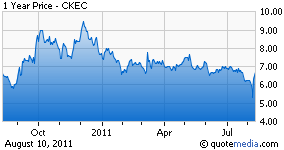 The recent market downturn has created opportunities. One oversold opportunity is Carmike Cinemas (NASDAQ:CKEC). Carmike is a small cap company and, as a result, the stock can be volatile but in this case it is this volatility that has taken Carmike to a level well below its true value creating a unique investment opportunity.
Carmike's stock closed at $6.67 as of the market close on August 10. This implies a market capitalization of $87 million and an enterprise value of $392 million.
The company is the fourth largest motion picture exhibitors in the United States and as of June 30, 2011, had 235 theatres with 2,215 screens. The majority of Carmike's screens are digital and 724 of its screens are 3-D enabled. Carmike targets small to mid-size non-urban markets.
Carmike fell dramatically in the recent market downturn. From a closing price of $6.91 on June 30th, Carmike closed as low as $5.31 on August 8, a decline of approximately 23%. Considering that even in a downturn people still go to the movies and Carmike's operations having no connection to the sovereign debt issues in Europe that are impacting global markets, the decline in Carmike's stock price is unwarranted. It was cheap to begin with and now it's super-cheap.
After the market closed on August 8 Carmike reported stellar second quarter earnings highlighted by a 49% year-over-year increase in adjusted EBITDA and an 8% increase in attendance per screen.
Further with a record July box office the company is poised for continued strong performance. President and Chief Executive Officer David Passman commented on the earnings conference call:
Our goal moving forward is to increase our theater and screen count, taking into account planned closings. As we look ahead to the remainder of this year and beyond, we're encouraged with the excellent start for the third quarter from the earlier mentioned sequel, Cars and Transformers.
After years of shrinking their theatre count while they paid down their debt Carmike is in growth mode again. Mr. Passman also commented on the Harry Potter opening, which helped fuel a record box office in July:
We completely sold out 57 entire complexes for Harry Potter's opening night. In addition to Cars, Transformers and Harry Potter, Captain America, Cowboys and Aliens, The Smurfs and Rise of The Apes have been strong performers domestically in the third quarter, with reasonably good expectations for upcoming Q3 titles which include this coming weekends diverse lineup with something for everyone: 30 Minutes or Less, Final Destination 5, The Glee 3D Concert Movie, and of course, The Help.
Carmike remains significantly undervalued. At 7x 2011 estimated EBITDA of $71mm Carmike would trade at almost $15 per share. Given where comparable companies trade (see below) and its cash flow generation this is not unreasonable and, in fact, leaves room for upside.
| | | | | | |
| --- | --- | --- | --- | --- | --- |
| | Market Cap ($mm) | Enterprise Value ($mm) | EV / 2011 EBITDA | Price / 2011 Cash Flow | LTM Free Cash Flow Yield |
| Carmike (CKEC) | $87 | $392 | 5.5 x | 3.3 x | 38.9 % |
| Regal (NYSE:RGC) | $1,917 | $3,743 | 7.5 x | 6.8 x | 12.9 % |
| Cinemark (NYSE:CNK) | $2,109 | $3,277 | 6.4 x | 6.7 x | 7.2 % |
Source: Bloomberg as of market close 8/10/2011
The market decline dragged Carmike's share price down as investors sought shelter from the storm and sold equities indiscriminately. This creates an opportunity that should not be passed up.
Disclosure: I am long CKEC, RGC, CNK.