Mortgage REIT investors have experienced a significant amount of volatility over the last few weeks with the debt ceiling debate and the subsequent U.S. debt downgrade. Despite the near-term volatility, we think that investors should continue to allocate a portion of their portfolios to these high dividend securities. As shown in the chart below, most mortgage REITs have significantly outperformed the S&P 500 (yellow line) the past few months.
The recent comments from the Federal Reserve indicate that it continues to worry about disinflation and deflation. The highly charged political landscape in the U.S. indicates that fiscal policy will be on hold for some time. We do not believe there is the political will for further fiscal stimulus. As an academic and student of the Great Depression, Ben Bernanke is very focused on the plight of the average American. We think that this means that the Federal Reserve will likely continue to maintain excessively easy monetary policy to boast asset prices. The Fed's policy will likely hurt savers, who are being forced to take excessive risk to earn any level of yield.
Yield in a Slow Growth World
As we have discussed in previous posts, the "new normal" of subpar, uneven growth with structurally high unemployment will likely persist for years to come. We believe this backdrop is extremely bullish for mortgage REITs. Mortgage REITs, which benefit from a steep yield curve with low short-term funding costs, provide investors a yield haven in a slow growth world. On average, the mortgage REITs below have a dividend yield of 16.9%.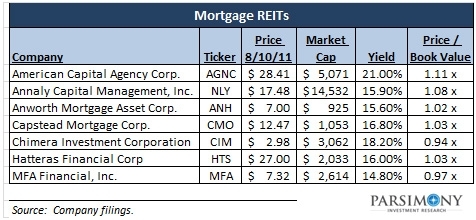 Disclosure:
I am long
AGNC
,
NLY
,
MFA
.