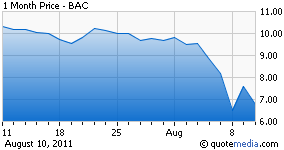 Bank of America's (NYSE:BAC) stock has been crushed over the past week and now trades at valuation levels indicating a substantial equity raise is imminent. I think the market has it wrong on the stock and I feel even stronger about that after listening to today's conference call arranged by Fairholme Capital's Bruce Berkowitz (to see Berkowitz's top holdings, click here).
Bank of America's valuation levels right now are unhinged from reality. Their price to tangible book ratio is 0.5. Tangible book is the best way to value a bank. For a bank like Bank of America, this ratio should be three to four times the current level. What this tells us is that investors are very skeptical about reserves, put backs, and their European exposure.
What's not in the numbers, and what I think is also occurring in the stock is that some hedge fund managers are driving down the stock price and promoting false ideas on their fundamentals. I don't blame them since it seems to be making them money, but I also think it's important for more slow money investors to put this most recent price drop in perspective. It's not based on fundamentals. The market is not rational or efficient.
Here are my takeaways from the conference call today with CEO Brian Moynihan, CFO Bruce Thompson, and Berkowitz:
1. There was a lot of interest. More than 6,000 listeners called in live. Countless others listened to a replay or read the updates.
2. Moynihan sounded very well-prepared, prudent, and competent. No Bank of America shareholder is happy about the stock price over the past year, but I don't buy the case for Moynihan to be pushed aside.
3. Moynihan wanted to get across four key ideas: The core franchise is growing, the company is transforming by selling non-core assets, capital levels are higher than ever, and management is working diligently to clean up mortgage issues, reduce operating costs, and lower risk.
4. Overall loan reserves totaled $37 billion. That's 1.64 times annual charge-offs. That's high. Investors should feel comfortable on reserving. Mortgage loan loss reserves are $21 billion, which is 2.5% of all mortgages and 7% of all home equity loans.
5. The bank is reducing risk. Their prop trading is gone and they are working to shed non-core assets.
6. In Europe they brought down risk last summer and now have $16.7 billion in European exposure. Of this, $1.6 billion is to sovereign entities and they have $1.5 billion in credit default protection.
7. Management is comfortable about the mortgage putback situation and will fight others in court. Moynihan is also comfortable they won't need to raise capital for this issue or any other issue.
8. The ultimate goal is to pay out 30% of earnings in the form of dividends and use any excess to special dividends and buybacks. This won't happen until 2012 at the earliest.
9. In response to a question about why insiders haven't been buying stock, Moynihan said "Rest assured all my net worth is in this company." There's been only one insider buy this year, though there were many others last year.
Ultimately, I was satisfied with the call. Can we trust Bank of America's management that there won't be any capital raises? I have no doubts they don't have plans to, but the question is if they will be forced to in the future. At this point it appears they have enough non-core assets to sell off and enough pre-tax, pre-reserve earnings to take care of any immediate needs. The spinning off of Merrill Lynch is an interesting idea, but it's not something they would consider. The problem is, and will continue to be, Countrywide.
I've owned Bank of America for some time and followed them for many years. It's not a perfect company, for sure. But the margin of safety in the stock right now is the greatest I've ever seen. If your opinion is that they won't need to raise capital anytime in the near future, which is how I feel, then the current stock price is completely detached from the actual business. If you think they will need to raise capital, that raise is already priced in.
Disclosure: I am long BAC.