To be honest, I haven't caught an episode of Mad Money in several months. I generally find the suggestions to be sort of played out like, 'you must own gold!' Thanks Jim, Usher said the same thing last week when he rang the morning bell.
However, I decided to watch Monday since the happenings of this weekend will likely be taught in economics books 10-20 years from now and I'd like to know how he's informing the masses. Much to my liking there was a pyramid of Band-Aids on the set.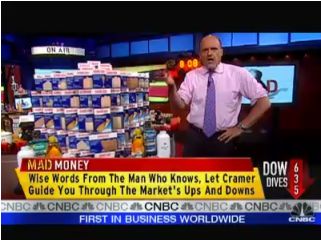 I am a big fan of Johnson & Johnson (NYSE:JNJ) as a stock, mainly because investing in it requires almost no maintenance. In the last week the company has dropped by more than 10%. However, it is still priced above my buy-in price and there's an ex-div date coming up- so the drop in price will help out my DRIP. Johnson & Johnson is commonly referred to as a dividend champion because it has been increasing its dividend annually for the past 47 years. Think what that dividend has been through: An oil crisis, several wars, three major market collapses, two huge oil spills, and now a credit rating downgrade of the United States.
On Monday S&P reaffirmed Johnson & Johnson's AAA rating. The three other stocks at this level are Exxon (NYSE:XOM), Microsoft (NASDAQ:MSFT), and Automatic Data Processing (NASDAQ:ADP). Pfizer (NYSE:PFE) and General Electric (NYSE:GE) were the last two to get knocked off of this rating.
Anyway, it's amazing Johnson & Johnson can maintain this rating with all of the negative press it has had over the last few years. It goes to show that the recalls do not have as great an effect on the bottom line as the press seems to think. So this credit reaffirming led Mr. Cramer to discuss J&J's safety as compared to Treasury notes. Basically, there were a number of reasons to pick Johnson & Johnson: Capital appreciation, higher yield, tax incentives of dividends rather than coupons, etc.
But does Johnson & Johnson make for a sound investment right now? The naysayers would quickly point to the diminishing earnings growth. Its 5 year EPS growth is 4.8%, but it has been worse over the last 2-3 years. On the contrary, the company saw nearly constant earnings during the recession and has picked up the M&A, which is a sign that the company is trying to tighten some things up. Plus, Johnson & Johnson is only trading at 12 times earnings right now, which is still below pre-recession levels.
Since you should know the companies you're investing in, Johnson & Johnson is pretty evenly dispersed among medical devices, pharmaceuticals, and consumer healthcare. The latter two often cause Johnson & Johnson to be grouped into categories of companies which have much narrower product lines. The medical devices are things like artificial knees and shoulders. These have been the topic of some serious litigation. Furthermore, Johnson & Johnson has gotten out of the stent industry, cutting 1,000 jobs in New Jersey in the process.
The pharmaceuticals segment covers a wide variety of blockbuster prescription drugs. The big issue that Johnson & Johnson is facing here is the number of drugs that are coming off patent in the next few years, so the company will be fighting more generics. Consumer healthcare includes products like Tylenol, Band-Aids, Neutrogena, and Visine, among others. The problem here has been the number of Tylenol recalls. Remarkably, Johnson & Johnson has persevered through all of these issues and its stock price has been rising in the process.
Click to enlarge: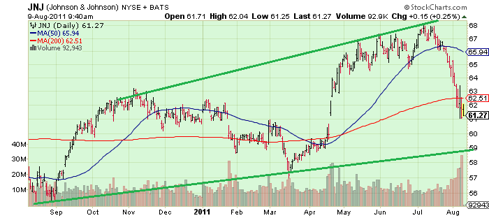 Click to enlarge
Knowing when to buy is extremely important when picking up large dividend-paying stocks, or really any stocks for that matter. Johnson & Johnson has been prone to some swings in share price and there have been a few occasions over the last year where shares could be bought for under $60.
Wednesday's $61 share price means a yield of 3.73%. Shares will have to drop to $57 to yield 4%. Of course, 3.7% is by no means poor, given the safety you'd be buying in to. It is certainly worthy of an investment at these prices. However, there are a few alternatives that could be purchased if you don't feel like listening about recalls on a regular basis:
Procter & Gamble (NYSE:PG) has dropped down to $58.51. Tuesday's $60 share price meant a yield of 3.5%. P&G offers equal reassurance to investors, since it has been increasing its dividend even longer than Johnson & Johnson.

A potentially even better pick is Abbott Labs (NYSE:ABT), which has dropped by about 11%. The company has been increasing its dividend for 38 years and is yielding 3.8%. Opting for Procter or Abbott Labs would allow you to play a more specific industry, therein taking on a bit more risk than Johnson & Johnson's diversified field of products. But either way, all three would make for an excellent backbone to a portfolio.
Disclosure: I am long JNJ.