I normally go with the flow, but when it comes to the money center banks like Bank of America (NYSE:BAC), I'm going to take a very contrarian view. Money center banks are wildly popular with both professional and individual investors, but a look at the numbers show they do not deserve a thumbs up from anyone.
First let's look at the trading action on BAC over the past year with a daily price compared to its 20-, 50- and 100-day moving averages as computed by Barchart:
[Click to enlarge]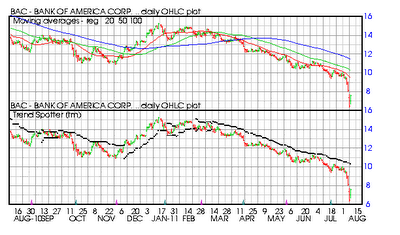 BAC, a financial holding company, provides banking and nonbanking financial services and products to individuals, small- and middle-market businesses, large corporations, and governments in the United States and internationally. The company's deposits segment generates savings accounts, money market savings accounts, certificate of deposits, and checking accounts; the global card services segment provides U.S. consumer and business card, consumer lending, international card and debit card services. Its home loans and insurance segment offers consumer real estate products and services, including mortgage loans, reverse mortgages, home equity lines of credit, and home equity loans. It also provides property, disability, and credit insurance.
The company's global commercial banking segment offers lending products, including commercial loans and commitment facilities, real estate lending, leasing, trade finance, short-term credit, asset-based lending, and indirect consumer loans; and capital management and treasury solutions, such as treasury management, foreign exchange, and short-term investing options. Its global banking and markets segment provides financial products, advisory services, settlement, and custody services; debt and equity underwriting and distribution, merger-related advisory services, and risk management products; and integrated working capital management and treasury solutions.
The company's global wealth and investment management segment offers investment and brokerage services, estate management, financial planning services, fiduciary management, credit and banking expertise, and asset management products. Bank of America Corporation serves customers through a network of approximately 5,900 banking centers and 18,000 automated teller machines. It was formerly known as NationsBank Corporation and changed its name on October 1, 1998. Bank of America Corporation was founded in 1874 and is based in Charlotte, North Carolina. (Yahoo Finance profile.)
Barchart technical indicators:
100% Barchart technical sell signals
Trend Spotter sell signal
Below its 20-, 50- and 100-day moving averages
11 down days and off 28.97% in the last month
Relative Strength Index is 31.04%
Barchart computes a support level at 6.33
Closed yesterday at 7.60, which is far below its 50-day moving average of 10.27
Wall Street brokerages keep pushing money center financial institutions. Wall Street brokerage analysts have currently in place eight strong buy, 10 buy, 14 hold and no underperform recommendations released -- but look at the numbers they base this on. Sales consensus projection are a decrease of 18.10% this year and a return of 18.70% next year -- barely break-even. Earnings estimates are for wild fluctuations of an 126.70% decrease this year and a 765.20% increase next year, with a five-year annual increase of 11.20% annually. A comment about the sales and earning consensus: The earnings predictability score for this stock is only a 30 out of a possible 100, so these brokerage recommendations are based on very unreliable consensus estimates.
I'm sorry to say that a lot of the individual investor sentiment is based on investors stuck with the stock and praying for their losses to disappear, and a herd mentality following what brokerage advisors are sending them to read. As recorded on Motley Fool, the 10,336 readers expressing an opinion on this stock vote 88.00% that it will beat the market. The more experienced All Stars also vote in the same direction with an 87.00% positive outlook.
BofA has been slapped with a lawsuit from AIG of $10.5 billion for the losses it experienced with the mortgage backed securities that were dumped on them. This won't be the only such suit filed, and BofA will have a hard time selling to a jury that knows its poor or in some cases non-existent underwriting practices; it agreed that these were AAA investment it was peddling.
In the case of BAC, wishing won't make it so. When the analysts' recommendations are strongly positive but the stock's price action is very negative, great caution should be exercised. Do not follow the herd and buy in to all the Wall Street recommendations. The fundamental projections have wide fluctuations in forecasts and are based on very unreliable numbers. The AIG lawsuit will not be the last one. If you buy BAC, you are not buying into great management but are buying into who has the best spin doctors and lawyers. Take a pass on this one and look for the companies that have stable and growing sales and earnings.
Disclosure: I have no positions in any stocks mentioned, and no plans to initiate any positions within the next 72 hours.