As the 10-year U.S. treasury plummets to 2.16% and further evidence mounts that the Federal Reserve will remain on hold for an extended period, investors continue to clamor for yield and are desperately seeking investments with a solid risk/reward profile. The best advice we have for these investors is to turn off the "Markets in Turmoil" broadcasts on CNBC and do some research on mortgage REITs.
Invest in the Industry Veteran
In general, we think interests rates will remain low for the foreseeable future (and the Fed seems to agree based on Bernanke's recent comments) and we believe REITs offer investors an extremely compelling risk/reward profile.
That said, we recommend that income investors add industry veteran Annaly Capital Management (NYSE:NLY) to their portfolio. NLY was formed in 1997 and the management team has a proven track record of successfully managing their portfolio through various interest rate cycles. (Click charts to enlarge)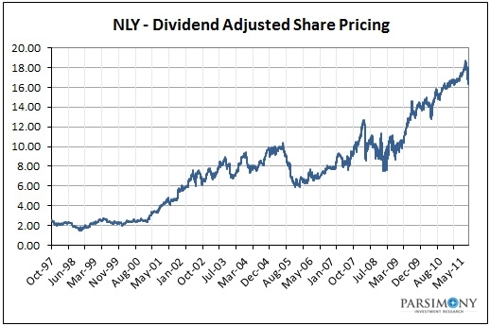 Interest Rate Spread and Prepayment Trends
Mortgage REITs earn money by borrowing short and lending long. As long as the yield curve remains steep and short-term rates remain low, mortgage REITs should continue to provide strong dividend yields to investors.
In addition to interest rate spreads, investors should also monitor a REIT's constant prepayment rate (CPR). Prepayment speeds determine the timing of principle cash flows coming back to the MBS investor. The faster the prepayment rate, the quicker cash flows are paid back to the bond investor, and therefore the shorter the life of the fixed income investment. Conversely, when prepay speeds slow down, the average life of the bond's cash flows are extended, which is good for mortgage investors.
In the latest quarter, NLY benefited from a slowing prepayment rate and a healthy net interest spread.


Current Valuation (vs. Historical)
At a book value of $16.48 per share, NLY trades at 1.08x book value. Since 1998, Annaly's average price to book value has been 1.24x (see table below). So at the current level of 1.08x, the stock is actually trading well below its historical average.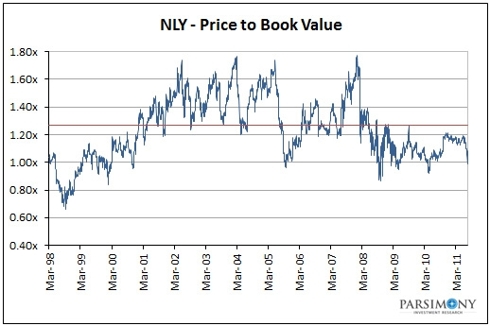 Peer Valuation
As shown in the chart below, NLY currently trades at a slight premium to most of its mortgage REIT peers. That said, NLY is by far the largest mortgage REIT (by market cap) and it has a very tenured management team with a proven ability to manage its mortgage portfolio through various interest rate environments. Due to these factors, Annaly has historically always traded at a premium to its peers.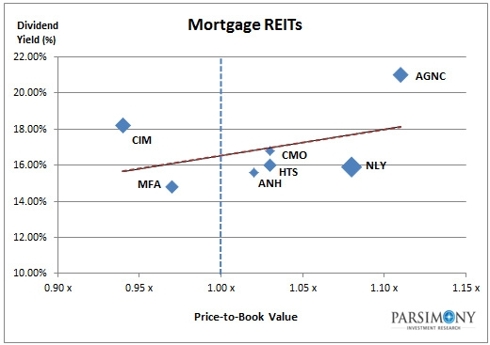 Parsimony's Position
NLY, American Capital Agency Corp. (NASDAQ:
AGNC
) and MFA Financial (NYSE:
MFA
) remain our main mortgage REIT holdings and we continue to believe that the best strategy for investing in this space is to own a portfolio of mortgage REITs to diversify your risk. However, we caution investors to watch interest rates and prepayment rates very closely if invested in the space.
Disclosure:
I am long
AGNC
,
NLY
,
MFA
.