NOTE: Please click here for a link to a full PDF with better quality pictures.
BT Prudhoe Bay Royalty Trust (NYSE:BPT)
Click to enlarge

Thesis: My view is that BPT is an extremely attractive short opportunity at its current valuation, either as an alpha-generating hedge for an investor with other energy long exposure, or as a stand-alone short for an investor who is neutral or bearish on oil prices. I believe that current long holders, who own the stock for either dividends or capital appreciation, are better served owning any number of energy stocks, as BPT is demonstrably overpriced by at least 69% based on current oil prices. I think the fundamental problem is that the market is currently rewarding BPT for its "attractive" current dividend yield, yet neglecting to understand the lack of sustainability of the dividend and the unfavorable structure of the trust (explained below), both of which limit the true value of the stock to ~$64, significantly below where it is currently trading. I do not think that purchasing BPT for its current dividend yield is a sound investment, as the true value of the Trust Unit is significantly less than the current market price, and the current dividend level is not sustainable going forward. Any of the following scenarios would also result in even more downside for BPT's stock price:
Production from Prudhoe Bay declines faster than we are modeling; this is likely, as we are being conservative

Inflation causes an increase in the CPI Index, which directly affects BPT's cost structure

Interest rates rise, decreasing the relative attractiveness of the current yield vs. treasuries
Details: BPT is a royalty trust, entitled to a formulaic net cash flow from a capped amount of production from BP's 1989 working interests in the Prudhoe Bay field in Northern Alaska. On a conservative set of assumptions, I believe BPT is significantly overvalued with an NPV of $64/sh vs. the $107.31 current price. I believe that the way the trust is structured, investors benefit substantially less in a rising oil price scenario than they are hurt in a falling oil price scenario, due to the (1) the Trust's increasing "chargeable cost base," which determines the production tax value of the oil produced (analogous to a gross margin), and (2) Alaska's progressive tax regime, both of which are discussed below. In the short term, BPT's stock should drop by the amount of each dividend paid. Eventually, the market will correct the current mispricing, and the stock should trade much closer to its NAV of $64. A longer-term potential problem for BPT shares is the development of gas production from the fields (which the unit holders are not entitled to), which would reduce oil production at the expense of the unit holders, discussed below.
Background: Prudhoe Bay, discovered in 1968 by BP and Standard Oil, is the second largest producing area in the U.S., and 18th in the world, and has produced 11 billion barrels to date. It was developed in the 1970s and production peaked in the 1989 at 1.5MM bbls/day. It currently is declining roughly -3%/yr, and current production from the Prudhoe Bay Field is 250k bbls/d. In 2006, there was a leak in the oil pipeline, and production from the East half of the field was shut down. BP fixed the issue and replaced part of the pipeline (completed in 2008) and production resumed.
Trust Structure: The BP Prudhoe Bay Royalty Trust ("BPT") was created at peak production in 1989, and "entitles the Trust to a royalty on 16.4246% of the lesser of (i) the first 90,000 barrels of the average actual daily net production of crude oil and condensate per quarter from the working interest of BP Alaska as of February 28, 1989, in the Prudhoe Bay oil field located on the North Slope in Alaska or (ii) the average actual daily net production of crude oil and condensate per quarter from that working interest." (from 10-K). The 1989 working interests entitled BP to 50.68% of oil production and 13.84% of condensate production. The production share of the trust is then multiplied by the WTI crude oil price. Applicable chargeable production costs (rising on a set schedule plus indexed to CPI) are subtracted to determine the production tax value of the oil, which are then taxed at a progressive rate (the higher the production tax value, the higher the incremental tax rate) according to Alaska's Clear and Equitable Share ("ACES") tax structure. (Click here for details.)
Example of trust earnings calculation:
Click to enlarge

There are two key variables here that affect BPT's value: The increasing chargeable cost base, and the progressive ACES tax.
Chargeable cost base: There are two components to the chargeable cost base: (1) The fixed increasing annual component, laid out in the 1989 Trust Agreement, and (2) the adjustment factor, tied to the U.S. CPI Index. We assume a 1% inflation rate going forward, which we believe is conservative.
Click to enlarge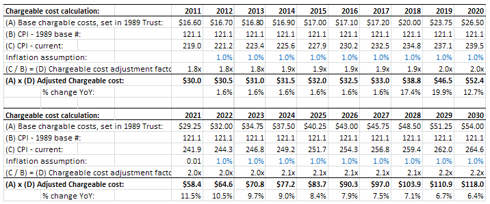 The takeaway here is that the Adjusted Chargeable Cost is equivalent to "Cost of Goods Sold (COGS)" for other companies (or "LOE" in the oil industry). What's different than other companies is that regardless of the actual cost of lifting the oil out of the ground, the Trust holders "COGS"/"LOE" increases rapidly - particularly starting in 2018. Every year after 2020, the base chargeable costs increase by $2.75/yr. Assuming 1% inflation, the adjusted chargeable costs will more than double to $64.6/bbl by 2022, and triple to $90.3/bbl in 2026. I am not aware of any other potential oil investment that is guaranteed to as rapid a rise in cost structure as BPT.
ACES Progressive Tax: without going into the minutia of the ACES tax structure, suffice it to say that it is progressive based on the difference between the WTI spot price and the production tax value calculated. The example below shows just how much it affects BPT's earnings power. To my knowledge, this is one of the most penalizing tax regimes in North America. If oil prices were to return to peak levels of $150/bbl, BPT holders would only receive net cash flows equivalent to $58/bbl, after BPT has paid its production tax to Alaska.
Click to enlarge

There is currently discussion in the Alaskan legislature to reduce the tax burden and change the ACES regime. However nothing was done in the recent legislative session, and any changes will have to come in 1H2012 at the earliest. We think the odds of reducing the progressive tax structure is low, as oil and gas tax revenues account for 80-90% of Alaska's total state tax revenues.
Click to enlarge

Limitations on the Trust and risk of natural gas development: The Trust only has claim on the production from the 1989 Working Interests in the Prudhoe Bay field, and not any other fields included in the Prudhoe Bay Unit (i.e., apart from any new technology to extract additional reserves from the field, there is no potential upside from additional acreage or new development). This is an important distinction from nearly any other energy stock, where there is generally "free" optionality for management to create shareholder value by entering additional new energy plays. Trustees have no operational control and limited voting rights. There are no corporate taxes due to the Trust structure, and distributions are made quarterly to the unit holders.
Also important to note is that the Trust holders have no actual say in production or claim on the total hydrocarbon reserves - just on the Royalty on the oil/condensate. This is important in the case of gas development. Currently there is no gas development in the PB field. However, within the past year BP and TransCanada are both working on potential pipeline projects for gas development. If gas were to be developed, I believe the change in reservoir pressure from gas production would decrease the oil production and accordingly the value of BPT – this is a common phenomenon in the oil and gas industry. Additionally, several companies are moving forward in the development of the Kitimat LNG liquefaction and export terminal in BC, Canada. Though it is fairly far from PB, the development of liquefaction could develop a demand for PB gas. Additionally, if for whatever reason BP stopped oil production (pipeline spill, accident, etc.), the value of the Trust could drop to zero. Currently, no risk for any of these potential events is being priced in.
Reserves: At YE 10, BP's reservoir engineer estimated that there were 78.275M bbls of proved reserves, net to the Trust (see 10-k). At 2010 average prices of $79.43/bbl WTI, the total future net revenues to the Trust are estimated to be $1,992.6M with a NPV of $1,186.5M at 10% discount rate. Currently, oil prices are higher than the $79.43 price used in that calculation, but the market cap of BPT is ~2X the PV-10 – substantially greater than the economic difference created by higher oil prices, particularly given the tax regime.
Production: From 1987-2005, production declined at an average annual rate of -9.5%. In 2006, there was a leak in the pipeline, causing production to decline -23% that year. Production rebounded in the following two years (+5%, +3%), and has started falling off again in 2009 and 2010 (-2%, -3%). Important to note is that in 2010, average production was for the first time below the Trust's production cap of 90kbpd. Various experts predict decline scenarios of -2 to -6% per year. While we do not have a specific geological edge in predicting this, I believe an average decline rate of -3% is reasonable, and I use that in my modeling. The key issue is that going forward, net production to the BPT unit holders will begin to decline. While there is always a chance BP and the other owners figure out how to extract additional reserves from the field, it seems highly unlikely that they haven't tried every trick in the bag already given that production peaked in 1988 and oil was at substantially higher prices two years ago than it is now.
Click to enlarge
January 2011 pipe leak: In January, a leak was discovered in the Prudhoe Bay pipeline, temporarily bringing production down 95%. (Financial Times, click here, Anchorage Daily News, click here). The pipeline has since been fixed and production is back on. I am surprised that BPT did not release an 8-K notifying investors of this issue, as any shutdown in production is a risk to cash flows received by the Trust unit holders. I think any public operating company would have disclosed this as material information to investors. Going forward, my understanding from talking to experts is that as the production level of oil continues to decline, the chances of additional pipeline issues will increase. None of this risk is being priced into the stock at current levels.
Valuation:

Combining all the above mentioned factors, one can value BPT on based on its discounted cash flows. Here are the key assumptions I am using in my valuation:

Production decline rate

: 3% per annum, see rationale above.

Oil price

: The current NYMEX WTI forward curve averages out to ~$93/bbl for the next six years. We use a 2011 average price of $90, and increase it by 1% per year, implying higher prices than the current forward curve.

Inflation

: We use 1%. This is conservative vs. the 10-yr TIPS breakeven inflation expectation of 2.1%.

Discount rate:

10% is a standard rate used in most oil and gas calculations. We use 9% to be conservative, also based on the current market environment where many investors are bidding up MLPs to yields of 6-9%.
Based on these assumptions, here is my model and valuation:
Click to enlarge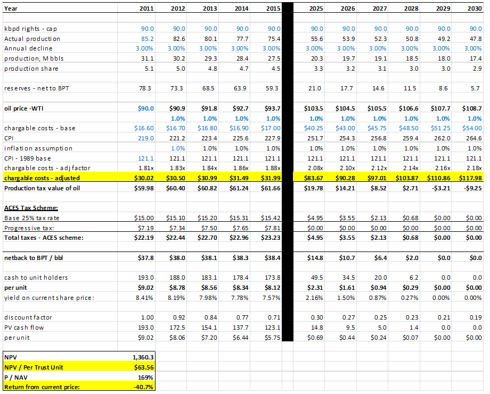 (The model pictured above is compressed so it is easier to read - years 2016-2024 are hidden for readability. The cash flows from those years are still included in the NPV value and the sensitivity table below. You can view a PDF with better quality graphics here.)
This sensitivity table shows the output of the DCF model under a range of oil price and discount rate assumptions. The standard discount rate used in oil and gas valuations is generally 10% for proved reserves (highlighted). Accordingly, one would need to believe that oil prices average $150/bbl in 2011 and increase 1% every year thereafter, to justify the current stock price of $105. If that is one's view on oil, I believe any number of other oil and gas stocks, futures or ETFs would provide a much better expression of that thesis, and much stronger returns than BPT. Accordingly, I believe BPT is an attractive short, particularly when paired with a long position in other oil and gas stocks that have better risk/reward.
Click to enlarge

Resources used in this analysis:
1. Public SEC filings here (type in "BPT" under Ticker Symbol)
2. Alaska Oil and Gas Conservation Commission - production data here
3. Alaska Department of Revenue - Tax Division here
Disclosure: Any and all statements, opinions, valuations, analyses or conclusions written below are purely the author's opinion, and are not any investment advice for readers or offer to buy or sell any securities. Investors should consider their own investment needs, read appropriate SEC filings, and perform their own analysis. The author is short BPT stock. All prices and data referenced are as of 8/5/11."TomHagen" is a username, and not the author's real name.
Disclosure: I am short BPT.