Two events, the implosion of Dendreon (NASDAQ:
DNDN
) and the recent global market sell-off, have just played havoc with investments on the speculative side of healthcare. Stock prices have been decimated as fear returns to the streets and investor spend little time doing analysis as they are quick to hit the sell button no matter the price. Add to this the triggering of stop orders, margin calls, and wholesale panic and you get a dramatic drop in price of some of the best speculative healthcare stocks.
It is tough for the retail investor to sit and objectively look at individual stocks as the overall market's trading resembles a runaway roller coaster ride. Add to this major media coverage and market pundits screaming contradictory advice and then the retail investor is left with little useful information and lots of raw emotion. But what is also left in the wake of the carnage is a sale. The speculative healthcare stocks took a huge beating in share price while the underlining story for most has not changed. Let's take a look to see what stocks might be worth the risk now as prices are depressed.
Keryx Biopharmaceuticals, Inc
(NASDAQ:
KERX
): KERX is a biopharmaceutical company focused on the acquisition, development and commercialization of medically important pharmaceutical products for the treatment of life-threatening diseases, including cancer and renal disease. Keryx is trying to bring two drugs to the market and make their claim in the healthcare sector. The first product is Perifosine which is their oral anti-cancer drug. The drug is designed to treat advanced colorectal cancer and initial testing has delivered some very promising results. KERX derived the drug from a commercial license agreement in 2002 with Zentaris AG, which is a wholly owned subsidiary of AEterna Zentaris Inc. In a recent conference call the company's CEO stated that they made significant progress in their Phase 3 programs and they had completed of enrollment of Perifosine's Phase 3 program in advanced refractory colorectal cancer.
KERX's second product is Zerenex, which is an oral compound that is used to treat end stage renal disease. The drug is also in a Phase 3 study with the FDA and KERX is working with the Japanese under a partnership to complete the trial. The company also said in their recent conference call that results for the Zerenex Phase 3 short-term study data will be presented in an oral presentation at the NKF annual meeting.
At June 30, 2011, the Company had cash equivalents, interest receivable and investment securities of $52.5 million, as compared to $28.5 million at December 31, 2010. In May 2011, the Company completed an underwritten registered offering of common stock, which provided proceeds to the Company of approximately $30.8 million. The net loss for the second quarter ended June 30, 2011 was $3.1 million compared to a net loss of $5.2 million for the second quarter in 2010, representing a decrease in net loss of $2.1 million. The three months ended June 30, 2011 included license revenue of $5.0 million related to a milestone payment from the Company's Japanese partner for Zerenex (ferric citrate), Japan Tobacco Inc. and Torii Pharmaceutical Co., Ltd., for their commencement of a Phase 3 clinical program of ferric citrate in Japan. Management also stated that since the solidifying of the balance sheet with the $33 million registered offering, they believe they are well capitalized to execute on their business plan.
KERX started the month of August 2011 with a share price of $4.50. Since the sell-off the stock is trading right around the $3 dollar mark making for a 33% drop in price with no negative news related to the company itself. This stock might be one to consider as the company pushed forward on their business plan.
Antares Pharma Inc.
(AIS): AIS is a small pharmaceutical company that has a focus on self injection technologies and topical gel-based products. The catalyst for the company comes in the form of a gel- based product Anturol, for overactive bladders. With 33 million adults in the United States suffering from overactive bladders, it makes for a market that exceeds $1.8 billion. The company is looking to the end of 2011 for a FDA ruling. To add to the company's good fortune was the decision by Watson Pharmaceuticals who announced an exclusive licensing agreement to commercialize AIS's topical gel product in the U.S. and Canada. On top of this the company announced the positive results of a clinical study evaluating VIBEX MTX, a proprietary auto injector product designed to give a rapid subcutaneous injection of Methotrexate (NYSE:
MTX
) for the treatment of rheumatoid arthritis.
For the most recent six month period ending June 30, 2011 the company incurred a net loss of $2,934,730. At June 30, 2011 the company had a cash balance of $33,327,248 which they believe will provide the company with sufficient funds to support operations for at least the next 24 months. Revenues for the three and six-month periods ended June 30, 2011 were $3,542,873 and $7,112,420, respectively, compared to revenues for the same prior-year periods of $3,050,987 and $6,415,073, respectively. Product revenue was $2,218,536 and $3,623,662 in the three and six-month periods ended June 30, 2011, respectively, compared to $1,151,978 and $2,478,030, in the three and six-month periods ended June 30, 2010, respectively.
AIS had a share price of roughly $2.40 at the beginning of August. After the sell-off the stock value fell to a trading level of $1.99 where it still trades. That is a 18% drop in price for a company that has lots of future potential.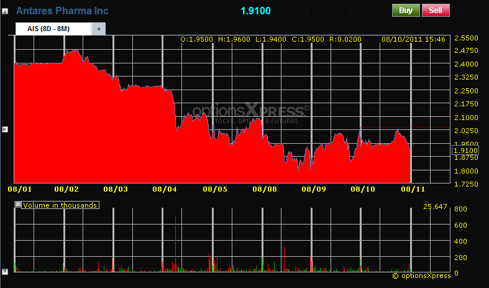 Click to enlarge
Oncothyreon
(ONTY): ONTY is a biotechnology company dedicated to the development of oncology products for cancer patients. The company is focusing on the non-small cell lung cancer vaccine (Stimuvax). ONTY does have other products in the pipeline but Stimuvax will be the major driver for the company and its future. ONTY has partnered with Merck KGaA of Darmstadt, Germany who is developing Stimuvax under a license agreement. The two Phase 3 trials of Stimuvax are underway and interim results are due by the end of this year. Earlier in the year company raised $43 million at a public offering of 11.5 million shares of its stock at $4 each. If you look at the current price you will see that the company is much higher that the $4 offering. Since that time the stock had more than doubled in price in anticipation that the upcoming results on Stimuvax. As of August 1, 2011 the shares traded as high as $8.36 and in mid July where trading in the $10 range. After the recent sell-off, ONTY shares trade around $6.27 making for a drop of 34% from the August 1 price. Stimuvax still shows such great survival benefits in the studies and the company is still on track.
As of June 30, 2011, the company incurred a net loss of $41.1 million for the six months ended June 30, 2011 compared to a net loss of $5.1 million for the same period in 2010. The increase in net loss was primarily due to the increase in fair value of warrant liability, which was primarily attributable to the increase in the price of their common stock. In future periods, they expect to continue to incur substantial net losses as they expand their research and development activities with respect to the small molecules product candidates. If you believe in ONTY then this company is definitely on sale.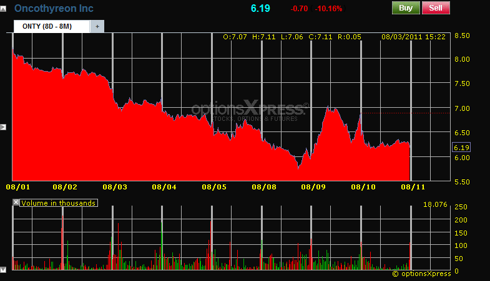 Click to enlarge
Geron
(NASDAQ:
GERN
) /
Advanced Cell Technology
(ACTC.OB): Last but not least are our stem cell companies who offer great discounts if you are a buyer. Geron, the larger of the two companies, is developing biopharmaceuticals for the treatment of cancer and chronic degenerative diseases. The company has multiple Phase 2 trials dealing with cancer therapies, but the real story is focused around the Phase 1 clinical trial dealing with treatment of spinal cord injuries with stem cells. The initial human trials have started and the test subject has not shown any adverse effects from the treatments. In May 2011 the study added a second subject as part of the trail so the process is moving forward. Advanced Cell Technology has also started its human testing as they attempt to cure macular degeneration with their stem cell line. Initial results won't be released until later this year but so far the tests seem to be moving along at a nice clip. Financial results for the two companies are similar in that the cash burn rates are a concern to investors. For example GERN recently reported a second quarter loss of $21.1 million, or 17 a share, widened from a loss in the same period last year of $17 million, or 18 cents a share. Geron was trading around a high of $3.91 on August 1, 2011 and today trades around the $2.50 mark for a discount 34%, while ACTC's is on sale for a 13.7% discount when compared to their trading value during the same time frame.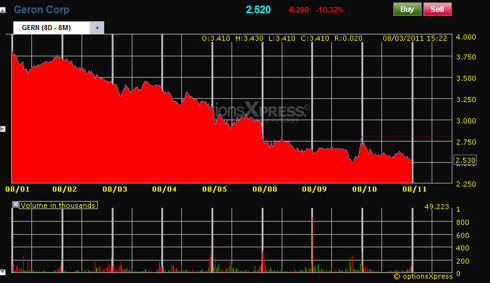 Click to enlarge
In conclusion, there are many other speculative healthcare stocks out there that got their stock price beaten down for no other reason other than they were caught up in the global sell-off. The shares were sacrificed in the name of safety as fear took hold and the herd mentality forced retail investors blindly into a selling frenzy. The end result is that lots of great speculative companies are now on sale at greatly reduced prices for those brave enough to take the risk.
Disclosure:
I am long
KERX
.