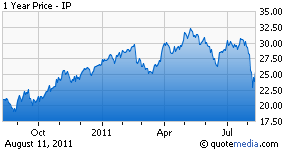 I am no fan of Jim Cramer but when he mentions a specific stock, I sometimes check it out for grins.
This morning he touted International Paper (NYSE:IP). And for once he's right.
IP current sports a P/E of less than 9, but a dividend yield of over 4.3%, based on a quarterly payout of 26 cents per share. The stock isn't going to sing during good times, but it doesn't deserve the hammering it has taken lately.
Two events seem to be keeping it down, one a short-term problem, the other one for the longer term.
In the short term its acquisition of Temple-Inland is getting a close scrutiny from the Justice Department They're worried about a possible monopoly, and with 37% of the U.S. corrugated market they would have some pricing power. But in time they're going to give the go-ahead, because the U.S. isn't the world market, and in the world market there remains plenty of competition.

In the longer term we're using less paper here. Newsprint demand is down, coated paper stock demand for magazines is way down, catalogs have gone online, and we're not shipping stuff to the world in corrugated boxes anymore. But I think the global economy will keep growing, which means much of its paper can be exported. I think they will do fine.
You won't get rich on IP stock. Over the long run the demand for plain typing and printing paper should decline. But there are lots of other types of paper. There are literally billions of people in Asia and Africa, right now, entering the global middle class for the first time, and wait until they get a load of our toilet paper.
If you can get a yield of over 4% on a stock when U.S. 10-year bonds are still trading at a little over half that, and the government paper isn't even AAA, why would you not? It's the biggest no-brainer in the history of Earth.
Don't put all your money on IP, but your safe dollars will stay safe there for a long time.

Disclosure: I have no positions in any stocks mentioned, and no plans to initiate any positions within the next 72 hours. I promise to stay away from IP stock for at least a week. If it's doing this well at the end of the money, I may well tell my bookie to buy some.