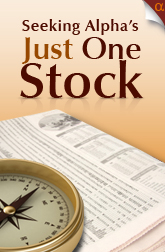 Seeking Alpha's Jason Aycock asks money managers about their single highest-conviction position - what they would own (or short) if they could choose just one stock.
---
Mark S. Starosciak is founder and managing partner of Infinium Investment Advisors, an RIA based in Denver. He spent more than a decade advising clients at Merrill Lynch. Tyler Thalken is a financial analyst at the firm.
Welcome, Mark and Tyler. If you could only hold one stock position in your portfolio (long or short), what would it be?
McDonald's (NYSE:MCD) is our selection if we could only own one stock position.
Tell us more about the company behind the stock.
Overall, McDonald's stock will continue to reward investors given its global reach, ability to innovate and keep product offerings fresh, exceptional operating performance, and ample international growth opportunities.
McDonald's is the world's largest restaurant chain as measured by systemwide sales, and operates more than 32,800 locations in 119 countries serving 58 million customers a day. MCD plans to grow their global footprint by adding nearly 750 restaurants in 2011, a 30% increase, vs. an average of 575 new openings in 2009 and 2010. Beyond their status as the proverbial 800-pound gorilla in the fast food industry, McDonald's recently ranked No. 4 on WPP's BrandZ Top 100 Most Valuable Global Brands 2011 study, behind Apple (NASDAQ:AAPL), Google (NASDAQ:GOOG), and IBM respectively.
If you've been inside of a McDonald's lately, you most certainly have noticed their growing emphasis on the beverage portion of the menu with coffee taking center stage. In fact, management called the McCafé specialty drink offering their most significant push since launching breakfast in the 1970s. McDonald's ability to successfully innovate in this space has paid off handsomely as those sales stood at 6% of total revenues in 2010 compared to only 2% of revenues in 2009. Recently, McCafe's gains were up 29% YOY in 2Q of 2011.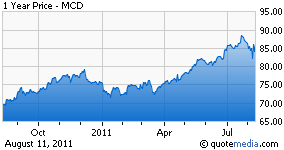 Starbucks' (NASDAQ:SBUX) CEO Howard Schultz viewed the move as a direct assault on their home turf (and rightfully so) and recently countered with the launch of their premium Artisan Breakfast Sandwiches. There is little doubt rivals will continue to battle it out for a greater share of consumers' stretched wallets and we believe tough economic times plays into McDonald's superior quality/value proposition.
Digging deeper into the financial outlook for McDonald's, their dividend of approximately 3.0% and history of stock buybacks shows the company's willingness and ability to return cash to its shareholders. Between 2008 and 2010, McDonald's gave back $16.2 billion to its shareholders through stock repurchases and dividends, almost doubling the previous cash return over a three-year period of $8.7 billion.
Over the past five years, operating margins have expanded by 10%. In 2010, the company posted revenue of $24 billion with an operating profit of $7.5 billion. McDonald's is very healthy financially, with a debt-to-equity ratio of 0.79 at year-end 2010. Return on equity has grown substantially over the past decade, doubling its 17.51% return in 2001 to 35.46% (trailing twelve months), and reflects the company's future ability to grow earnings.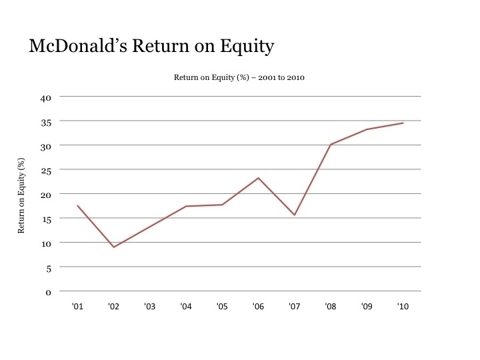 Click to enlarge
(click to enlarge; from McDonald's: A Solid Long-Term - and Post-QE2 - Investment, Eric Parnell)
McDonald's generates steady cash flow, even in challenging economic times, through their long-term franchisee royalty and rent payments under its subsidiary the Franchise Realty Corporation. With McDonald's owning 45% of the land and about 70% of its restaurant buildings at year-end 2010, it is one of the largest land owners in the world.
Many investors may not realize McDonald's generates more than two-thirds of its operating revenue outside of the U.S., giving shareholders significant exposure to fast-growing international markets. Geographic areas like Asia/Pacific, Middle East, and Africa consistently show greater same-store sales growth than more developed markets like the U.S. and Europe. Management sees Asia, in particular, as a prime target for growth and already operates 1,300 restaurants in China with plans to reach 2,000 units by 2013. Rival Yum Brands' (NYSE:YUM) Kentucky Fried Chicken, by contrast, is the largest restaurant operator on mainland China with more than 3,200 outlets in 700 cities.
Regional Chief Executive Kenneth Chan commented at the end of 2010: "China has been the fastest-growing market for McDonald's worldwide with regard to new restaurant opening. It took us almost 19 years to reach 1,000 restaurants. We will get our next 1,000 restaurants within three years," he said. We believe McDonald's focus on emerging economies will be the engine that continues to drive revenue, profits, and dividend growth for the foreseeable future.
How does your choice of McDonald's reflect your fund's investment approach?
Infinium Investment Advisors provides financial planning and investment management to affluent individuals and families. When a client seeks to outperform inflation, we may utilize one of our three individual stock portfolios to accomplish this goal. Currently we own MCD in two of our three strategies for its proven track record of growing earnings and dividends, and the stock's history as a superior defensive play in rocky markets. As evidenced by its performance during the financial crisis of late 2007 through early 2009: MCD was down approximately 7.5% while the S&P 500 cratered an astounding 56%.
How much is your selection based on the company's industry, as opposed to a pure bottom-up pick?
McDonald's operates in the quick-service restaurant (QSR) industry. The top five publicly traded competitors in the industry - Yum Brands (YUM), Chipotle Mexican Grille (NYSE:CMG), Wendy's (NASDAQ:WEN), Jack-in-the-Box (NASDAQ:JACK) - along with McDonald's, have a combined market capitalization of approximately $115 billion.
Our selection is based more on a bottom-up analysis and the dominance of McDonald's vs. its competitors than with the QSR industry overall, which is subject to changing consumer tastes, volatility in commodity costs, and currency fluctuations especially for globally focused companies.
How is McDonald's positioned with regard to competitors?
McDonald's has always faced broad competition from a number of global quick-service restaurant chains, yet it has outperformed its nearest rivals by a large margin in large part due to the sheer size and scale of the company. Several data points lead us to believe McDonald's will continue to dominate the QSR industry: With a market capitalization of more than $80 billion, McDonald's trumps its nearest competitor, Yum Brands (YUM), by $66.3 billion. McDonald's generates a net profit margin far superior to its peers, at about 21% vs. an industry average of just 10%, which indicates that the company is very efficiently run. If an investor believes that higher profits translates into higher stock prices (as we do), then McDonald's bellwether status and long history of efficient execution of its strategy should warrant consideration.
How does MCD's valuation compare to its competitors?
Present analysis suggests that the stock is priced very close to, if not slightly under, its fair value estimate. The stock is currently trading around the mid-80s, while 20 brokers project a mean target price of $88.65 according to Thomson/First Call. MCD also trades at less than half the volatility of the market with a beta of 0.48. Valuation is in-line with JACK on a forward earnings basis, but MCD trades at a discount to YUM and CMG, making MCD even more attractive to us.
Unless and until McDonald's management fails to deliver on its proven track record of expanding into growth markets worldwide, product innovation, and operational expertise, we believe investors can comfortably view the stock as a core holding.
Does your view differ from the consensus sentiment on MCD?
Current sentiment on MCD is in-line with our position to hold and accumulate the shares. The stock is trading well notwithstanding the current market sell-off from late April, as it is above both the 50-day and the 200-day moving averages. Twenty-five analysts surveyed by Thomson/First Call project an average EPS estimate of $5.12 year-end 2011, and $5.60 year-end 2012, suggesting that the investment community believes McDonald's can continue to grow despite a soft economy.
Does MCD's management play a role in your selection?
The management of McDonald's plays a tremendous role in our selection. Through his efficient operations, innovation of menu items, and the implementation of the Plan-to-Win strategy, CEO Jim Skinner has generated extraordinary results for the company. Since taking the helm as CEO in November 2004, Skinner has nearly doubled return on invested capital from 10.10% at year-end 2004 to 19.49% at year-end 2010.
Overall, McDonald's has a deep, experienced roster of seasoned company veterans including:
Don Thompson, Chief Operating Officer (21 years with McDonald's)

Mike Andres, Central Division President - USA (27 years)

Steve Easterbrook, President - Europe (18 years)

Tim Fenton, President - Asia, Pacific, Middle East and Africa (38 years)

Jan Fields, President - USA (33 years)

Jeff Stratton, Executive Vice President & Chief Restaurant Officer (38 years)
We believe these and other examples of tenured senior managers is a testament to the strong culture which is so prevalent in companies that excel over the long term like McDonald's, and is yet another reason why we view the stock favorably.
What could go wrong with your pick?
Many investors see cost of inputs, or commodity inflation, as one of the biggest concerns for McDonald's, as with all competitors in the fast-food restaurant industry. The company has a proven track record of running a tight ship and keeping costs under control. Given their buying power and global reach, we believe MCD is better positioned than most other QSR operators to use their size to attain more favorable pricing on cost of goods sold. Several inputs, such as wheat and livestock, are well off of their 2011 highs, which should translate into less pressure on McDonald's bottom line and may provide a tailwind for earnings as the company enters the back half of the year.
Thanks, Mark and Tyler, for sharing your thesis with us today.
Disclosure: Infinium Investment Advisors holds MCD in client portfolios and one or more employees maintain long positions in their personal accounts.