Baxter International (NYSE:BAX) reported second quarter adjusted (excluding one-time items) earnings per share of 1.07 cents, beating the Zacks Consensus Estimate of $1.02 cents, and surpassing the year-ago earnings of 93 cents.
The results exceeded Baxter's earlier guidance range of $1.01 to $1.03 for the second quarter. Among the positive factors, Baxter retains a strong product pipeline with several products in late-stage clinical development.
Highlights from the Second Quarter
Reported net income increased to $615 million (or $1.07 per share) versus $535 million (or 90 cents a share) a year ago.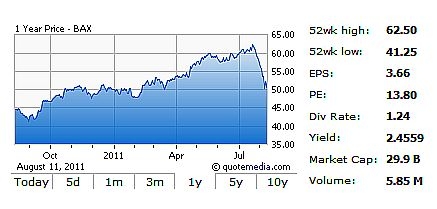 Total revenues were $3,536 million, up 11% year over year, beating the Zacks Consensus Estimate of $3,378 million. U.S. revenues for the quarter jumped 5% to $1,418 million while ex-U.S. sales were higher 15% (up 7% in constant currency) to $2,118 million.
The Plasma Proteins business, where Baxter had encountered structural problems in the past, performed well with revenues of $363 million, up 16% (up 11% in constant currency) year over year. Antibody Therapy also delivered good results with sales of $381 million, climbing 23% (up 21% in constant currency) year over year.

Agreement – Estimate Revisions
The overall trend in estimate revisions for fiscal 2011 is overwhelmingly positive since the release of the second quarter results. Out of a total of 17 analysts covering the stock, 15 have raised their estimates over the past month with no instance of downward revision. Likewise, 11 analysts (out of a total of 19) have raised their forecasts for 2012 over the past month with only one lowering his/her estimate. There was no movement at all in either direction, over the past week, for either 2011 or 2012. Improved execution by the company led to the positive outlook for the coming years.
Magnitude – Consensus Estimate Trend
Upward estimate revisions, accompanied by directional agreement for the most part, have led to a rise in annual forecasts for Baxter. Estimates for 2011 and 2012 have gone up by 4 cents each, over the past 30 days. Estimates for 2011 and 2012 have been flat, over the past 7 days.The current Zacks Consensus Estimate for fiscal 2011 is $4.30, reflecting an estimated 8.03% year-over-year growth.
Baxter Stays at Neutral
Baxter issued its guidance for third-quarter fiscal 2011 and raised its earnings estimates for 2011. For the third quarter, the company expects growth in revenues in the range of 3% to 4% in constant currency and adjusted earnings per share in the range of $1.07 to $1.09.
For fiscal 2011, Baxter still anticipates growth in revenues in the range of 3% to 4% in constant currency and raised expectations for adjusted earnings per share to a band of $4.27 and $4.32 (earlier $4.20 and $4.28). In addition, the company forecasts cash flow from operations of about $2.8 billion.
The news regarding Baxter still remains mixed. On the positive side, Baxter's focus on life-sustaining products, which are not commoditized, partly insulates it from an economic downturn. The company is able to generate recurring revenues, and consistent cash flow, due to its focus on chronic diseases.
On the flip side, despite recent improvement in Plasma Proteins and Antibody Therapy sub-segments, we are concerned about stagnation in sales, a slightly somber outlook for some hospital spending and tightening of reimbursement.
Improved execution has lifted sentiment somewhat toward Baxter. Baxter is a good bet for value investors willing to wait as fundamentals improve further. Among others, it competes with Becton, Dickinson and Company (NYSE:BDX) in certain niches. We currently have a long-term Neutral rating on Baxter.
About Earnings Estimate Scorecard: Len Zacks, PhD in mathematics from MIT, proved over 30 years ago that earnings estimate revisions are the most powerful force impacting stock prices. He turned this ground breaking discovery into two of the most celebrating stock rating systems in use today. The Zacks Rank for stock trading in a 1 to 3 month time horizon and the Zacks Recommendation for long-term investing (6+ months). These "Earnings Estimate Scorecard" articles help analyze the important aspects of estimate revisions for each stock after their quarterly earnings announcements.