On Tuesday, August 9 after the close, Pegasystems (NASDAQ:PEGA) released its second quarter results. Here is a quick look at them and reasons to be interested in the name:
Bottom-line: Non-GAAP EPS was $0.16, above expectations of $0.14.
Top-line: Revenue rose to $104 million from $82 million a year ago. Analysts were expecting $102 million.
Price change: The stock was up $5 (or an increase of 14%) to $41.
Other information: The company added new industry-specific products and released a new version of its core business process management software.
Thesis: Pegasystems' stock is an interesting investment given its revised go-to-market strategy, strong competitive positioning, strong differentiators, significant business momentum, and attractive valuation.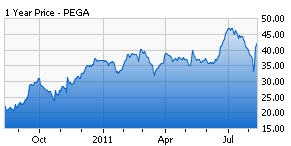 Company Description: Businesses often want to change their processes faster than IT departments can update the underlying technology, creating a significant disparity between how a firm wants its systems to work and how they operate. Business Process Management (BPM) software attempts to bridge the aforementioned execution gaps in a manner that is both quick and cost effective. In our view the firm with the best BPM solution is Pegasystems. Its solution enables enterprises to graphically map the processes and rules in a particular business in order to design new applications or modify existing ones. This software has provided customers with many benefits, including productivity gains and significant cost savings. Improvements seen by Pegasystems' customers include a five-percentage point increase in customer retention, a 40% improvement in productivity, and 30% growth in revenue. As a specific example, Farmers Insurance used BPM software to automate its SMB commercial insurance quoting process, reducing the process time from 14 days to 14 minutes.
Business Model Change: Six years ago, Pegasystems changed its go-to-market strategy. Rather than targeting large up-front license megadeals via heavyweight applications as it did in the past, Pegasystems adjusted its focus to small piecemeal platform-based or light framework-based projects. These projects are much more palatable for decision-makers. To support its customers, the company also began to develop strategic relationships with consultants. Before 2005, the company did not partner and primarily performed all its own professional service work. These new relationships have opened doors for the company and led to business that Pegasystems would not have won previously. We believe these changes have led to a better business model, with more recurring revenue and less reliance on large deals.
Strong Differentiators: While large infrastructure vendors have expanded their BPM presence in recent years, Pegasystems, in our opinion, has two key differentiators, which should allow the company to continue its market leader position and its impressive top-line growth. First, Pegasystems' offering combines a rules-based engine with a workflow/process engine, providing the company, in my view, with an architecturally superior product. Other BPM vendors have to integrate multiple solutions to compete with Pegasystems' unified BPM offering. Second, Pegasystems' platform was designed so that business users could graphically describe and help build applications, thereby reducing the need for IT assistance. Most BPM software requires a significantly greater amount of IT expertise.
Disclosure: I have no positions in any stocks mentioned, and no plans to initiate any positions within the next 72 hours.