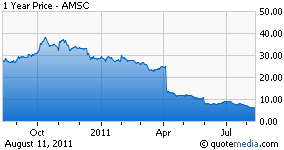 I believe renewable energy is the sea change that is going to get us out of our present economic trouble.
We have more cheap renewable energy here than there is anywhere else. The old saw of having 4% of the world's population while using 25% of the world's energy has a flip side. It's easier for us to gain efficiency.
Getting us to the energy efficiency of Europe or Japan is a huge opportunity. We can save electricity, sell products, make money and create new markets.
One of the leaders in scaling cost savings is American Superconductor Corp. (NASDAQ:AMSC), which is now trading around its 52-week low. Knowing why it's near that low and why it can still become relevant, is important.
The problem is AMSC's decision to become a wind turbine player and a single customer, Sinovel Wind Group. Sinovel stopped taking new turbines it had contracted for back in March, leading to a huge revenue drop at AMSC and big layoffs. It has also been forced to back away from a previously announced acquisition in Sweden because it lacks the cash.
Wind turbines and China were a big bet AMSC seems to have lost. Investors are right to be disappointed. But that's not the whole story here.
The really big deal at AMSC is Amperium, a second generation high temperature superconducting wire it has learned to make at scale.
Such wires are a really big deal because they can save hundreds of gigawatts of power worldwide, power that now blows off in heat in everything from long-haul transmission to the little inverters by your laptop. Touch the box after working a while. It's hot. That conversion from AC to DC power costs power, costs money.
AMSC got a huge order for this wire last year, 3 million meters to be exact, from a Korean utility. This means a dramatic expansion of capacity that should bring other orders from around the world because an Amperium wire can run 100 times more current than the same width of copper. They might even let utilities bury high power wires.
It's a big deal. There's an order, there's scale, there's intellectual property. Fixing its wind problems will take time, maybe even the spin-out or sale or Amperium. And there's active research on high temperature superconductors going on around the world, so in time there will be better, even cheaper, alternatives. Whether AMSC has the capital base to pursue all that is an open question.
But there is real technology, scaled manufacturing, firm orders and serious change going on, thanks to AMSC. Private investors may want to divest because it trusted the wrong Chinese customer , but don't let that sour you on the sector or the company.
Disclosure: I have no positions in any stocks mentioned and no plans to initiate any positions within the next 72 hours.