Crocs (NASDAQ:CROX) is a designer, manufacturer, and retailer of footwear that is built with comfort on the mind.
Key Points
Significant turnaround story
Now a fundamentally different company
No longer a one trick pony - now offers over 250 different styles
Proprietary material (Croslite) is key competitive differentiator
Already owned significant mindshare
New strategy is resonating with consumers
Channel checks have been coming in very strong (seen in Q2 results released on Wednesday)
Significant upside to current Street estimates for 2012 and 2013
Attractive valuation
Story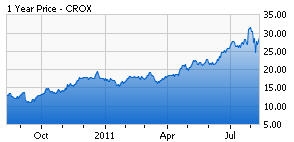 A significant turnaround story, Crocs is now a fundamentally different company than the one that had its stock plummet from $69 in October of 2007 to $1 in November of 2008. The company is no longer a one trick pony as Crocs has expanded its footwear styles beyond its classic models. The firm now offers all types of shoes from sandals to sneakers to flats to hiking boots, with over 250 different styles in total. In fact, the firm's original clog models now contribute less than 10% to sales.
Crocs' more well-rounded offering appears to be resonating very strongly with consumers. A number of different analysts have recently commented that sales in both adult and children's styles are performing well above expectations and that 2012 distribution plans are being revised up. In particular, the newer translucents, sneakers, and sandals are leading the charge. Further, the company's newly offered Chameleon color-changing kid's shoe is supposedly off to a great start and should be able to help materially add to revenue growth in 2012 when it begins to ship to wholesalers (it was just sold in Crocs retail stores in 2011).
Two core competitive differentiators have allowed the company to turn around its story:
Proprietary Material Provides Unmatched Comfort - Since the beginning, Crocs has positioned itself as a footwear designer focused on comfort. To meet this end, the firm created a proprietary material called Croslite, which allows shoes to be more comfortable, lightweight, & odor-resistant - a disruptive change in the footwear industry. Despite attempts, no competitor has been able to create a compound that represents a meaningful alternative to Croslite. All of Crocs shoes are designed with Croslite, which is a trade secret closely guarded by the company.
Mindshare Leader for Comfort Shoes - Crocs' classic offerings are well known, with opponents hating their look and proponents loving their comfort. The company has a bit of a cult following, in that people who like Crocs tend to purchase many different shoes by the company. The believers typically think of Crocs immediately when they are looking for new shoes. Either way, the company is talked about frequently - tremendously helping brand awareness.
As further support of Crocs' current popularity, Amazon, the gigantic online retailer, provides a ranking of its best selling shoes. As noted below, Crocs is performing extremely well in the overall ranking as well as across the board when segmented by age and gender.
Amazon's Best Sellers in Shoes
Overall
Top 4 pairs; 9 of the top 20; 18 of the top 50
Men's
3 of the top 5 and 5 of the top 20
Women's
2 of the top 4 and 6 of the top 20
Girl's
Top 4 pairs; 6 of top 7; 9 of top 20
Boy's
Top 3 pairs; 4 of top 5; 9 of top 20
Including the previously-mentioned internet channel, the company is experiencing broad-based growth across distribution channels as well as geographies. The broad-based growth has led the company to beat Street expectations and guidance for the past year and a half, including Wednesday's results.
Given an economic backdrop of weak consumer spending due to high unemployment and falling housing prices, the company's recent results have been quite impressive. Since, the company is still in the beginning stages of its transformation, I believe Crocs can grow revenue 20%-plus over the next two to three years, with even higher EPS increases.
My forecast used the following assumptions:
2012 revenue growth should benefit from full launch of Chameleons & translucents, increased supply of styles to Kohl's, and getting past the devastating earthquake in Japan (15% of the company's revenue).
Flat gross margins since they are already the highest in the footwear industry and will be difficult to improve given the higher costs of some of the newer styles as well as inflationary pressures.
SGA should go down as a percentage of revenue as no new large infrastructure projects are needed and the number is spread over a larger base, leading to some operating margin expansion.
Tax rate is at the 20% mentioned on the most recent earnings call and share count is up slightly, in line with previous quarters.
As far as the company's most significant near-term risks, the two biggest ones appear to be a change in fashion taste and competition. However given recent moment, these risks appear to be minimal in the near term.
Regarding valuation, Crocs appears to be attractively priced compared to other footwear vendors. The stock is trading in line on a P/E basis, but is growing significantly faster.
Disclosure: I have no positions in any stocks mentioned, and no plans to initiate any positions within the next 72 hours.