This is a follow-up to part 1 of my article, "My 10 Favorite, Must-Own Dividend Stocks (Part 1 of 2)". Due to market volatility, I want to share how I hedge my positions. Hedging, in my opinion, should be a choice for an entire portfolio, a single sector, or an individual stock with unique characteristics. Absolute portfolio returns should reflect the costs incurred with hedging positions.

I am in no way suggesting my hedging is the "best". Everyone is different. I want to hedge but be cost effective too. I am only sharing what I do, how I think, and how I purchase hedge-positions on specific securities.

The purpose of hedging is to minimize and manage risk. I try and keep my portfolio simple and risk free to the extent that I can sleep at night. I require dividends, MLP distributions, and capital gains for living expenses.

AGNC Agency mREIT Option Hedging
I will use 100 shares of American Capital Agency Corp. (NASDAQ:AGNC) as my example. This would apply, of course, to my other agency mREIT positions: Hatteras Financial Corp (NYSE:HTS); Annaly Capital Management, Inc. (NYSE:NLY); and Cypress Sharpridge Investments (NYSE:CYS). Here are a few points of reference to ensure awareness of what I am hedging pertaining to AGNC:
AGNC has a June 30th book value per share of $26.76.
AGNC was leveraged at a 7.5x on June 30th.
AGNC owns 100% agency mREITs. This implicitly means AGNC's long Government Sponsored Entities (GSE) holdings are all U.S. Federal Government backed.
AGNC closed at $28.75 yesterday.
I expect to receive $140 in ex-dividends on approximately September 21st. I expect to receive $140 in ex-dividends on approximately December 21st.
AGNC, as all mREITs do, internally manages risk via swaps, derivatives, and (click to enlarge):


The above points illustrate that agency-mREITs are already hedging their positions and the Federal Government is guaranteeing the GSE paper. Here is a hedge trade I would enter to cover a 100 AGNC share position:
1) Purchase 2 AGNC Dec 2011 25.000 puts (AGNC111217P00025000) for a cost of [($1.15 x 2-contracts) x 100 shares = $230]. The $230 cost is a debit (cash outlay) to your margin account. The put options expire December 16th, 2011 (3rd Friday of each month).
2) Sell 1 AGNC Sep 2011 28.000 put (AGNC110917P00028000) for a credit of $80 to my margin account. This contract expires September 16th, 2011.
3) My net cost is [($230 - $80) = $150].
4) The December $25 put provides a hedge for a worst-case scenario of [($2500 - $150) = $2350] being able to sell your 100 shares for a net [($2875 - $2350) = $525] $525 loss. This does not factor in the $140 ex-dividend received on September 21st. Assuming the short September 2011 $28.00 is not exercised, I will remain long 2 AGNC Dec 2011 25.000 puts on September 19th.
5) I fully expect, if the world markets are efficient, the AGNC stock will ramp higher on a dividend run on September 16th and trade north of $29.00 per share. My full expectation is my short AGNC Sep 2011 $28 put will expire worthless.
There are a wide array of option trades to utilize to minimize the worst-case-scenario for agency mREITs. The above one does expose me to a $525 loss, but does not expose me to an overall position killer. There are many calendar, diagonal, iron condor spreads, vertical spreads to minimize your risk. The above suffices me as I believe a net outlay of $150 is reasonable.

AGNC Agency mREIT Inverse and ETF Hedging Options
One can own an inverse ETF, ProShares Short Financials (NYSEARCA:SEF), to have a positive return if financials fall apart. This gain should partially offset the loss from AGNC, assuming AGNC falls in sympathy with the financial sector. Because of rebalancing, I recommend using 1x inverse funds unless day trading.

Investors may consider an inverse ETF to hedge against the Treasury Yield curve. Such instruments include Short Treasury ETFs, including: ProShares Short 7-10 Treasuries (NYSEARCA:TBX) and the ProShares Short 20+ Year Treasury (NYSEARCA:TBF). In theory this sounds terrific. There are caveats specific to the agency-mREIT niche which may discourage inverse interest rate ETFs.

In reality we know Fed Chairman Ben has said the Fed Funds rate will be 0% for 2-years and inferred deflation is here. Yes, some items have risen in price. Brass tacks: employment income has flattened or decreased for most employees, the real unemployment rate continues to increase, and housing prices continue to decrease. We are either in a recession or depression, depending upon how one looks at the data.

The other key issue is that agency-mREITs are hedging their positions within the company. Management at HTS, AGNC, NLY, CYS are operating with 2001 HAL-type machinery indicating the hedge allocation. If you hedge, are you simply duplicating the efforts of management? I don't know the answer. I do know if we stick with 100% agency mREITs, and competent agency mREIT management teams, then we should do just fine.

High-Yield Dividend Hedging
I would recommend utilizing a short position in Global X SuperDividend ETF (NYSEARCA:SDIV) to offset your personal high-yield portfolio. SDIV owns 100 high yield names which will all be negatively impacted if interest rates move against you.

For high-yield energy names, I would recommend a long ProShares Short Oil & Gas (NYSEARCA:DDG) position. This would serve as an effective hedge for MarkWest Energy Partners LP (NYSE:MWE) and Enterprise Products Partners LP (NYSE:EPD). Although MWE and EPD provide midstream energy services, they will typically go down in tandem with pure play oil names such as MV Oil Trust (NYSE:MVO).

Keeping It Simple Hedging
If an investor who wants to keep their hedging simple, I would advise adding ProShares Short S&P 500 (NYSEARCA:SH) as a hedge. SH has an inverse relationship to S&P 500 returns. It's not a perfect correlation, but it will provide an offsetting position if all markets crater. In this event, the investor will need confidence their stock picks should outperform the general market.

A net long-MWE and short SH position over 10 years, would have proven to be very fruitful. MWE averaged a 20.9% rate of return vs. the -2.9% short -SH would have yielded. Of course, not all positions will be this profitable, but the goal is to hedge to the extent one can to mitigate risk. One needs to ensure their hedge position is adequate to the respective long-position(s). Click to enlarge: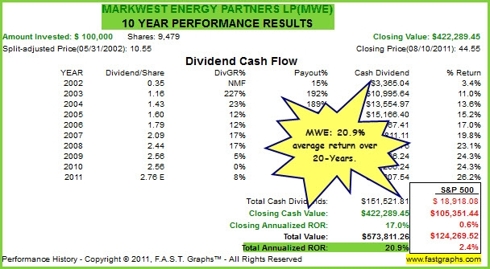 You want to hedge a terrific name because it will smooth out the "mini-crashes", geo political risks, and offer a hedge to your long positions - which is the goal, to provide positive absolute returns over time. Even if the S&P 500 or Dow is down for 3 years, you want to show a positive return. Simply losing less than the market doesn't make me feel good or make me any money. In fact, it's quite disappointing and prevents me from meeting my financial goals.

Here is a 10 year MWE earnings yield estimate. The data is forecast by analysts following the company, per FirstCall and Standard & Poors. If you have a sizable position in MWE, a simple oil or S&P 500 hedge can smooth your daily returns. Absolute returns means there will be good days and bad days. At the end of the day, you want to have an absolute return and hedges will provide a vehicle to get there with less portfolio volatility. Click to enlarge: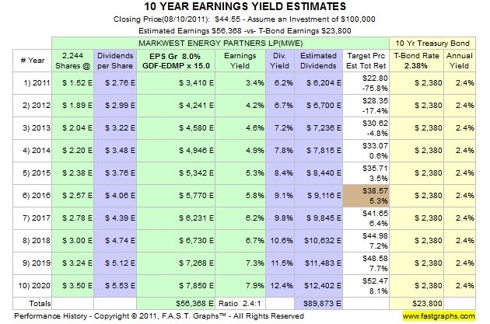 | | | | | |
| --- | --- | --- | --- | --- |
| Company | Symbol | Price | Dividend | Yield |
| American Capital | AGNC | $28.62 | $5.60 | 19.5% |
| Hatteras | HTS | $27.00 | $4.00 | 14.8% |
| Cypress | CYS | $12.77 | $2.40 | 18.8% |
| Annaly | NLY | $17.48 | $2.60 | 14.9% |
| StoneMor | STON | $27.80 | $2.34 | 8.4% |
| Collectors | CLCT | $17.76 | $1.30 | 7.3% |
| MarkWest | MWE | $44.50 | $2.80 | 6.3% |
| Enterprise | EPD | $42.06 | $2.42 | 5.8% |
| Student Tra | STUXF.PK | $6.17 | .552 | 8.9% |
| Government | GOV | $21.23 | $1.68 | 7.9% |

Disclosure: I am long AGNC, HTS, CYS, NLY, STON, CLCT, MWE, EPD, STUXF.PK.