Harris Corporation (NYSE:HRS) is an international communications and information technology company serving government and commercial markets in more than 150 countries. The company's makeup consists of the following business segments:
Government Communications Systems provides communications and information technology and systems integration for mission-critical government applications. This segment includes the Civil Programs, Defense Programs, and National Intelligence Programs businesses.
RF Communications provides tactical and land mobile radios, systems, and networking applications for global defense, security, public safety and public service, transportation, and utility markets. This segment includes the Tactical Communications and Public Safety and Professional Communications businesses.
Integrated Network Solutions provides IT services, managed services, cyber integration, interoperability, imaging, and digital media management solutions to support government, energy, healthcare, broadcast, and enterprise networks. This segment includes the Harris IT Services, Healthcare Solutions, and Broadcast Communications businesses, as well as the Harris CapRock Communications and Cyber Integrated Solutions businesses.
A concern is the U.S. is cutting back on defense spending which could impact Harris. While true, I think the bulk of any cuts, assuming the cuts are real, will be in the high ticket hardware items vs. cuts in communications and IT services.
Pentagon officials may have to eliminate as much as $28 billion from the pending fiscal 2012 defense budget in the first installment of the Defense Department's contribution to the new debt-ceiling agreement. This is not a $28 billion cut from current expenditures but a freeze in current spending. When Congress talks about "cuts" it is based on a projected baseline, not the last fiscal year expenditures.
If the special congressional committee (established in the debt agreement) fail to find an additional $1.5 trillion in overall deficit reduction by late November the $28 billion could rise by another $22 billion. The fiscal 2010 budget was $528 billion which excluded overseas contingency operations which adds another $163 billion (Source: DoD). If there are any real cuts and that's a big if it would be in the low single digit percentage range. I believe a large portion of the cuts could come from the winding down of the wars.
The bottom line is I don't see Harris talking any meaning hit from all the talk about cuts.
Market turmoil is creating opportunities such as HRS. The valuation outlined in this article makes HRS a compelling addition to the portfolio. The dividend yield is in excess of 3% and the stock trades at a substantial discount to fair value. Here is one fair value analysis based on the numbers. Fair values are based, in part, on the following: discounted cash flow, a modified Graham's intrinsic value formula and a P/E analysis. The valuation model consists of two parts.
The discounted cash flow and the modified Graham's intrinsic value are blended to arrive at a fair value.

A P/E analysis based on historical adjusted values.
Fair value used is the minimum value of the two parts.
Part 1: Discounted cash flow and the modified Graham's intrinsic value.
Longer term earnings growth estimate: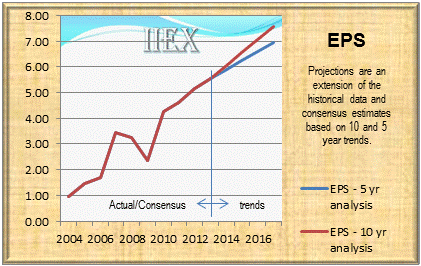 Projections are arrived at by calculating the statistics for a trend line using the "least squares" method. This determines the line that best fits the historical data. Projected earnings growth through 2017 averages about 7.07% based on a combination of the 10 and 5 year trends.

Analysts are even more optimistic, with five-year growth rates of 10%, as shown below. (Source: nasdaq.com)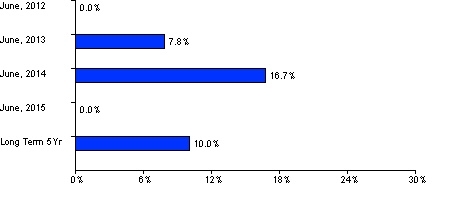 For the full fiscal year 2011, revenue was $5.92 billion, an increase of 14% and about a 5% higher on an organic basis. Non-GAAP earnings per share were $4.89, an increase of 10%,
Longer term cash flow growth: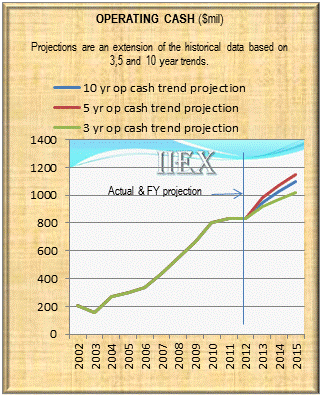 Projected free cash flow growth is 7.51% from 2011 to 2016.
Estimated long term EPS and cash flow rates going forward are 7.07% and 5.38%, respectively. Running these projections through our pricing model produces a fair value of $62. Needless to say, the result is sensitive to changes in these growth rates as illustrated below.
| | |
| --- | --- |
| HRS | |
| EPS & Cash Growth rates | FV |
| EPS-8.07%; Cash-6.38% | $65.00 |
| EPS-7.07%; Cash-5.38% | $62.00 |
| EPS-6.07%; Cash-4.38% | $58.00 |
| EPS-5.07%; Cash-3.38% | $54.00 |
| EPS-4.07%; Cash-2.38% | $52.00 |
Part 2: P/E Analysis
The pricing model produces a PE of 10 yielding a fair value of $50. We consider Harris more of a value vs. growth stock so the PE seems reasonable given our single digit EPS growth rates.
Final fair value is the minimum of the two methods or $50. This would also support a lower EPS and cash growth rates as shown in the above table. The stock is trading at a 28.7% discount at the time of this writing. S&P has a five star rating and a price target of $47. Yahoo Finance list analysts' estimates in a range of $45 to $65 with a median of $56.
Is Harris a Bargain?
This would depend on the investors risk tolerance, margin of safety and other personal considerations.
I calculate an attractive entry price below $38 based on the fair value, dividend yield, and a reasonable margin of safety. Eventually the fundamentals will return as the driver of pricing as the recent market turmoil starts to subside. In the meantime earning 3% plus until fear is replaced by fundamentals could make the wait easier to handle.
The economic uncertainty poses the biggest risk not only for Harris but all stocks. Then again the economic uncertainty provides buying opportunities for companies with a history of solid cash flows, increasing dividends and earnings. Harris falls into this category.
Guidance for fiscal 2012 also confirms solid cash flows going forward. From the August conference call:
We revised guidance for fiscal 2012 as follows: cash flow from operations in a range of $825 million to $875 million; depreciation and amortization of $280 million to $290 million; and capital expenditures, including capitalized software of $265 million to $285 million. Our non-GAAP effective tax rate is now expected to be 33% compared with our prior guidance of 33.5%. The tax rate for any given quarter could vary up or down as a result of discrete tax events occurring therein. We continue to operate from a position of financial strength, which allows us to invest for the future while delivering significant value to our shareholders in the forms of share repurchases and higher dividends. Our outlook for operating cash flow remain strong and fiscal 2012 should be another year of solid financial returns.

A detailed summary of all financial data used in the analysis is here.
Disclosure: I have no positions in any stocks mentioned, but may initiate a long position in HRS over the next 72 hours.