After Tuesday's market close, Demand Media (DMD) came up with its earnings and both the top and bottom lines came in ahead of expectations, very slightly. I did not get a chance to verify the market reaction at the opening and since I do not use intra-day stops, it did not matter much anyway. However, when I did look, Demand Media was doing incredibly well, rising nearly 20% on the day and leaving my trade at -30% or so.
Here is the two-day chart for DMD:
[Click all to enlarge]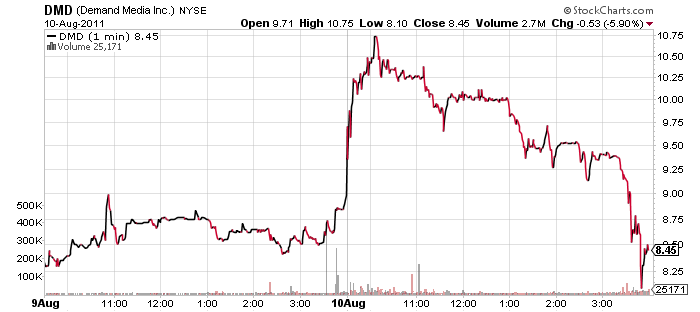 However, those who had taken Demand Media to these incredibly highs seem to have ran away at 10AM EST or so, leaving the stock to tank. Look at this year-to-date chart: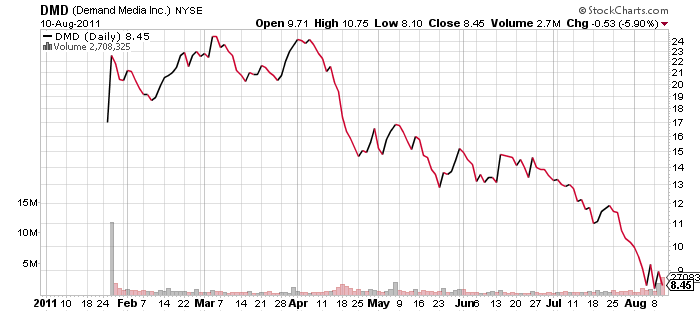 Impressive post-IPO performance, eh? That is what happens when a company relies on an unproven business model, has a shaky accounting history and depends heavily on a company, Google (NASDAQ:GOOG), that is trying to send less of its business to properties like those DMD owns (often referred to as content farms). I still do not understand how Demand Media could have closed at $8.98 on Tuesday, reached $10.75 (a 20% gain) only to end the day 23% lower than its high of $10.75. I know the markets are volatile and undecided these days, but can someone provide any type of explanation?
I'm obviously not complaining as my trade on Travelzoo (NASDAQ:TZOO) and Demand Media now stands at a much more reasonable -11% (with my annualized return at 165%).