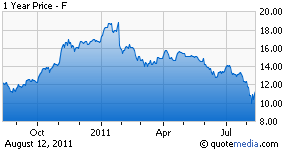 I have been bullish on Ford (NYSE:F) for several months, but the equity just does not seem to be capable of getting a leg up and holding it. The company has demonstrated strong financial numbers, has benefited from stylish designs that consumers love, and seems to be well on its way to reducing debt. So what is overhanging Ford that is keeping it down?
The easy answer is that the pending negotiations with the UAW create uncertainty. Another is the weakness in the economy, and still another is the potential impacts of a recall that has well over 1 million Ford pick-up trucks being recalled.
It is no secret that Ford has the best selling trucks in the U.S. In fact, truck sales are a staple of Ford's business. The company has advertisements that accentuate this. Suffering a major recall will carry an impact, but my opinion is that the recall alone is not a reason to turn bearish on this equity.
To me the combination of the three items I listed have combined to act as a kind of leash on this equity. The good news is that the bad press that Toyota (NYSE:TM) suffered from recalls has not plagued Ford thus far, and likely will not. The bad news is that until the union issue is resolved, and consumers feel good about the economy this leash will continue to remain in place.
I felt good about Ford at $15 per share. That sentiment has not changed. i feel even better about the company at less than $11. I see this as a big buying opportunity that can deliver real nice returns in short order. The reason? Simply stated Ford has clearly demonstrated that it is on the right path on the business of producing and selling cars. The overhangs that currently act as a leash will soon release, and this company has a chance to see major appreciation in short order. Once the leash of the UAW and economic issues ease up I think Ford can break free and move upward past that $15 mark that I already felt good about.
Certainly it is frustrating when a company seems to be hitting on all cylinders but the equity is not responding. This sometimes happens. Patience can be rewarded, and Ford is a business staple here in the United States that will not fail. It is simply going to take a bit more time before the leash loosens on this equity. In the meantime, investors may want to consider averaging down or grabbing up this opportunity at an entry point. The recall ... not an issue.
Disclosure: I am long F.